Seamless Play in Lectora 17 For a Better Elearning Experience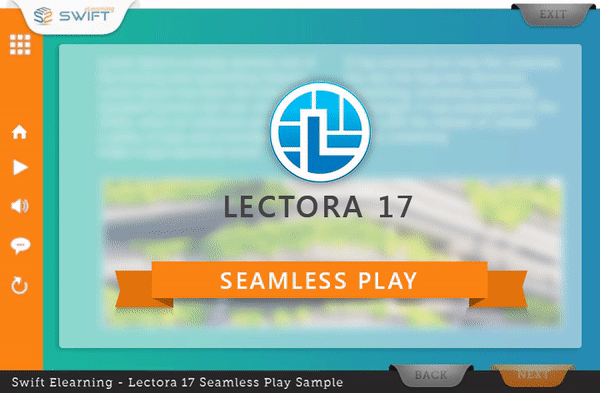 Trivantis is back again with its upgraded version, Lectora 17, the new eLearning authoring tool which is more focused on responsive eLearning design for mobile learning. As an eLearning developer, I look forward to seeing how Lectora 17 would accelerate eLearning development be it any format – HTML5 based responsive eLearning, video-based learning (Camtasia), custom eLearning, rapid eLearning, or mobile learning.
Let's explore the new Seamless Play feature in Lectora 17 to find out how it can enhance user experience.. At the end of this blog, you can also view the demo sample that illustrates how Seamless Play publish option works in real time.
What is Seamless Play in Lectora?
This feature facilitates smooth transitions between the pages or slides of eLearning courses for an immersive learning experience.
In the earlier versions of Lectora, HTML5 eLearning course pages loaded with a screen wipe out effect while jumping from page to page. It is now solved in Lectora 17 with "Seamless Play" publish option.
To activate Seamless Play, select "Seamless Play" option in publish settings Lectora 17 also provides the flexibility to enable or disable this option.
For example, you've customized the course heavily and if this custom script conflicts with Seamless play option, you can always go ahead and turn it off.
How Seamless Play Works Behind the Scenes?
Title is loaded just once (when the course starts). Each page is then pushed into the title eliminating the need to reload the total page. This strategy is popularly known as Single Page Application (SPA), where only necessary components of a web page will be loaded while the common components remain the same.
What are the Advantages of Seamless Play in Lectora Inspire 17?
Auto-Play Media on Mobile Devices
In the previous versions of Lectora, the "auto-play" media on mobile devices was not supported because the mobile devices have a special restriction on playing audio or video.
But now in Lectora 17, by taking the advantage of Seamless Play, HTML pages no more load each slide as an individual HTML page. This allows us to play any audio or video that was set to play when the slide starts on any mobile device.
Persisting Background Audio
Earlier in Lectora, it wasn't possible to play any audio such as background music throughout the course. This is because Lectora reloads every object including audio once the slide changes. But now in Lectora 17, we can easily add background music throughout the course continuously as Lectora 17 doesn't reload any object that is placed in the title. It also enables you to add triggers to Play, Pause and Stop audios that are playing across eLearning course pages.
Improves Performance
As Lectora doesn't load the common objects placed in title, eLearning Courses will load much faster and seamlessly when changing slides.
Minimizes Mobile Data Usage
Lectora's Seamless Play option lets you create the courses that consume less mobile data. Instead of reloading every component on each page, it will just load the slide elements minimizing usage of mobile data.
Extremely Effective for Responsive eLearning Courses
This Seamless Play publish option will be very effective in responsive eLearning courses and is very user-friendly and comfortable on mobile devices.
Conclusion
Seamless Play publish option in Lectora Inspire 17 can make a difference in eLearning development. If you are looking to create responsive eLearning courses or courses that need heavy customization, Lectora 17 can be recommended.
We have created a demo in Lectora 17 for you to experience the difference between the courses with Seamless Play and without Seamless Play in real time.  Do share your comments and feedback.
Our Services: Custom eLearning Development, Flash to HTML5 Conversion Services, eLearning Company
https://www.swiftelearningservices.com/wp-content/uploads/2022/09/Swift-eLearning-Services-logo_220.png
0
0
Godwin
https://www.swiftelearningservices.com/wp-content/uploads/2022/09/Swift-eLearning-Services-logo_220.png
Godwin
2016-12-26 18:44:34
2022-07-15 16:18:39
Seamless Play in Lectora 17 For a Better Elearning Experience