Lectora 17: Using Camtasia for Simulation and Video-Based Elearning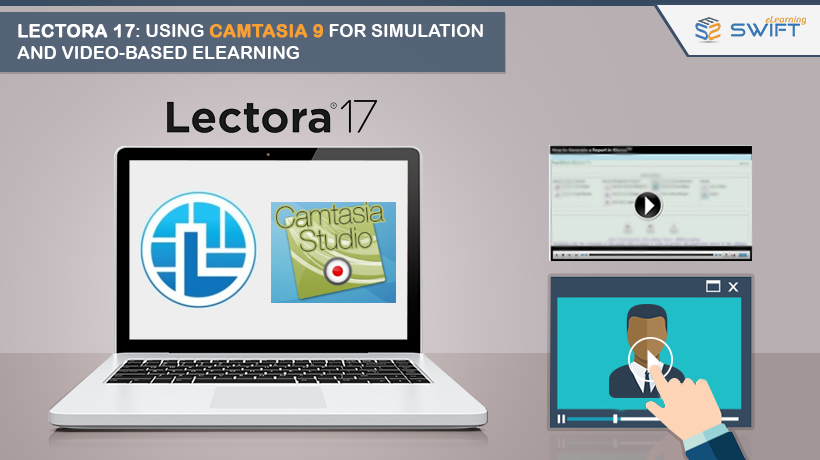 The newly released Lectora 17, eLearning authoring tool, is now fully loaded with enhanced versions of Camtasia Studio and Snagit to help you create interactive eLearning. These screen recording and capturing tools within Lectora Inspire 17, especially Camtasia Studio, enable you to build custom eLearning / rapid eLearning, be it:
Video-based elearning and/or video tutorials
Simulation-based learning and/or software application training
Mobile Learning
Process training and/or product training
Creating video-based learning has never been so easy with the new Lectora 17. In this blog, you will learn how the new features of Camtasia 9 within Lectora 17 can help you build effective online video-based learning courses. You can also preview a free video-based eLearning course sample on Fire Safety training to see how it works.
What is Camtasia?
Camtasia, by TechSmith, is a video-based screen capturing and editing tool to create video tutorials. It enables you to record your on-screen activities by direct recording plug-in or by screencasting. While capturing screen you can either record your audio or add other multimedia simultaneously.
Camtasia comes in two software versions – Camtasia Studio and Camtasia for Mac.
What are the Uses of Camtasia Studio in Lectora 17?
Enables You Create Engaging Videos: Instructional designers and eLearning developers rely heavily on Camtasia to produce engaging video-based learning or screencasts for training purposes. Now the latest version of Camtasia in Lectora 17 can help you:
Incorporate screen recordings and videos into your eLearning course
Record and add narratives, music tracks
Add media, apply transition effects, callouts and much more
Create interactive videos with quizzes based on your recording
Saves eLearning Development Time: Camtasia saves a lot of eLearning development time by eliminating the need for switching multiple tools to create video-based or simulation-based eLearning courses.
Supports Microlearning Format: Provides a cost-effective option to quickly create and deliver just-in-time training that supports microlearning format.
Creating Interactive Video-Based eLearning in Lectora 17 via Camtasia 9
Let's see what we can do to create effective video-based eLearning. Camtasia 9 for Lectora 17 enables you to:
Capture – full screen, window or specific region screen recordings
Provides flexibility to import a pre-recorded video of any supported format
Fully edit it to create a professional video presentation
Use title clips to add title pages or introductions to emphasize a specific section
Add smooth transitions between scenes or clips for more professional look
Add captioning through speech-to-text feature
Add cursor effects, adjust volume and zoom and pan effects
Publish videos to SCORM
Publish HTML5 videos that support mobile learning
What's New in Camtasia 9?
Brand new UI for application layout
Added motion graphics and "lower thirds" to the library
New annotations with callouts
New transitions
New behaviors for text and images
Visual effects
Faster rendering
Drag-and-drop editing
Conclusion
With Camtasia 9, Lectora 17 is now more powerful when it comes to video-based eLearning (process or product training). If your requirement is creating video-based learning or simulation-based eLearning course then Lectora 17 would be an ideal eLearning authoring tool.
Watch a free video-based eLearning course on Fire safety training built in Lectora 17. The video in this demo is exclusively created using Camtasia 9. Do share your comments and feedback. Click preview button to access the demo.



Our Services: Convert PowerPoint to eLearning, eLearning Translation Services, eLearning Vendor
https://www.swiftelearningservices.com/wp-content/uploads/2022/09/Swift-eLearning-Services-logo_220.png
0
0
Swift Elearning Services
https://www.swiftelearningservices.com/wp-content/uploads/2022/09/Swift-eLearning-Services-logo_220.png
Swift Elearning Services
2016-12-20 19:47:13
2022-07-15 16:13:02
Lectora 17: Using Camtasia for Simulation and Video-Based Elearning