Enhanced Features of Lectora 17 for Effective Rapid Elearning Part 2 – 2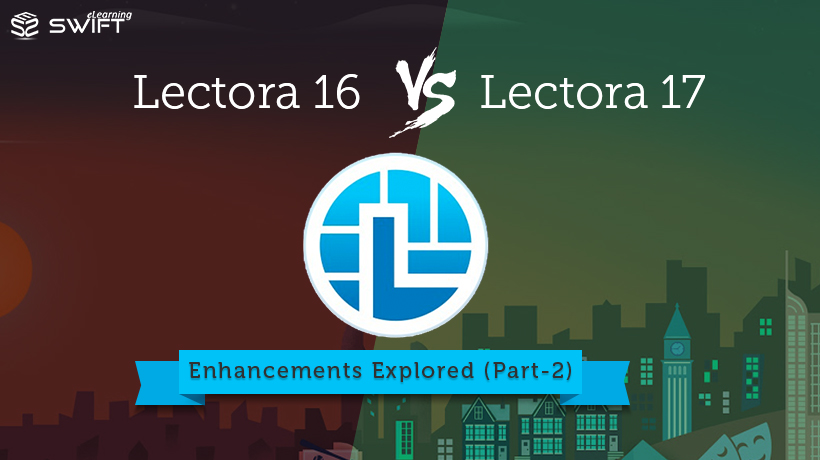 As you know, Trivantis launched the new eLearning authoring tool – Lectora 17 successor of Lectora 16 to create effective rapid eLearning and responsive eLearning courses. In my previous blog (Part 1), we have discussed the Enhanced Features of Lectora 17. Now, in this blog, we will continue to explore other enhancements of Lectora 17 to help you better understand the tool before you get started.
What's Improved in Lectora 17?
Set Default for Closed Caption for Display (Enhanced)
In the last release of Lectora 16.2, we have seen some additions to the Closed-Captioning file in following formats:
The learner can always choose to turn on and off the closed captions earlier, but the problem with that was most of the times users were not aware of the availability of closed captions even if you build them in the course. So to solve that problem in Lectora 17 a new option has been added in Lectora Preferences to keep the closed captions turned on by default if you want your learners to take advantage of the closed captions. And if the learners don't need closed-captions, they can still turn them off.
Improved Characters Properties (Enhanced)
Earlier in Lectora, if you want to change the character or the pose of the character, you need to delete and then go find another character or pose that you want to replace.
Now we don't have to go through such try and error process for selecting the character anymore. In Lectora 17, the characters property is more improvised to change the character or the pose without having to delete it. This can again be a quick time saver.
Target List Grouping (Enhanced)
Earlier in Lectora 16, every developer might have experienced this trouble of finding their object in the Target List. Well, Lectora 17 makes it easy by sorting all the items in the "Target List" grouped perfectly by Object Type in the alphabetical order.
Control How to Open the Media Library (Enhanced)
You might have experienced popping up of media library interrupting your work when you get too close to the right end of the window while working with earlier versions of Lectora. This will no longer happen in Lectora 17. You can simply go to the Preferences and choose to open the media library when you click the relevant media library buttons.
Conclusion
I really love the way Trivantis has considered the eLearning developers' concerns and delivered Lectora 17 as a much better eLearning authoring tool that supports multi-device responsive eLearning development. Stay tuned to learn more on each new feature of Lectora 17 along with their samples.
Our Services: Rapid eLearning, Custom eLearning Solutions, Flash to HTML5 Conversion
https://www.swiftelearningservices.com/wp-content/uploads/2022/09/Swift-eLearning-Services-logo_220.png
0
0
Godwin
https://www.swiftelearningservices.com/wp-content/uploads/2022/09/Swift-eLearning-Services-logo_220.png
Godwin
2016-12-19 18:55:13
2021-07-12 14:49:04
Enhanced Features of Lectora 17 for Effective Rapid Elearning Part 2 – 2