Enhanced Features of Lectora 17 for Effective Rapid Elearning Part 1 – 2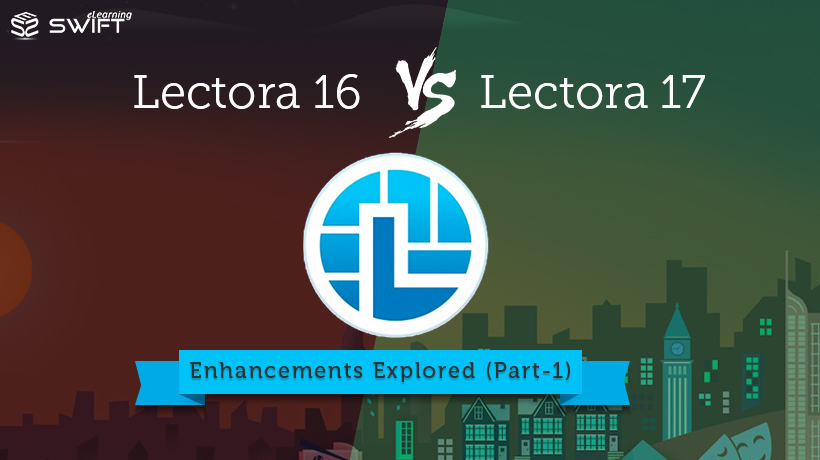 Our exploration of new eLearning authoring tools continues. As part of our expedition, we are sharing our insights on Lectora 17, the newest version of Lectora by Trivantis. We have exclusively discussed the new features of Lectora 17 in the previous blog – "New Features in Lectora 17 to Enhance Custom Rapid Elearning Development". Let's now dig deeper to understand what's improved in Lectora 17 when compared to Lectora 16 and how it is going to make a difference in rapid eLearning development.
What's Improved in Lectora 17?
Updated Camtasia and Snagit Versions (Enhanced)
With the new Lectora 17, you also get the latest versions of Camtasia and Snagit which is definitely a value add on.
Camtasia 9:
With improved version, Camtasia 9 allows you to do screen recordings as you're working on any application on your computer. You can also edit those videos, add video recordings using your computer's webcam, synchronize audio, add transition effects and many more.
Snagit 13:
Snagit allows you to capture your screens, edit the images, add shadows, highlights and many other effects.
Convert Shapes to Buttons (Enhanced)
In previous versions of Lectora, if you have a shape on your title and you wanted it to work like a button with all the states like Normal, Hover, Down and Disabled, you need to delete the shape and insert a new button then redesign it. But now you don't have to go through such pain anymore. Lectora 17 comes with a new feature called "Covert to shape". It enables you to convert any shape into a button giving you access to all the states and other style elements that a button usually has.
Initially Disabled State for Buttons (Enhanced)
Previously, in Lectora when we want a button to be in disabled state, we need to set an action on pageshow to set the button to disabled state once the page has loaded. You no longer need to do all that in Lectora 17 as it provides a new option for buttons to set them to Initially Disabled. This feature can be a quick time saver in the development process.
Create Image Buttons with Disabled State (Enhanced)
Now in Lectora 17, we can add disabled state to custom image button directly when it is created. Unlike previous versions, where you need to create a custom image button, you were only allowed to set Normal, Down and Hover states while creating it. And you need to open the states if you need to set another image for disabled state. This new enhancement can be a good time saver.
SVG Rendering of Shapes and Buttons (Enhanced)
This is one of the effective new enhancements that provides two benefits:
1. Shapes that are created in Lectora 17 are actually published as Scalable Vector Graphics. This will make all the shapes look clearer and crispier on all kinds of devices.
2. There will no real image source reference in the publish files. This will massively reduce the file size, boosting the performance of your eLearning course.
Maintain Aspect Ratio for Videos (Enhanced)
While working with videos, earlier in Lectora 16, it was very hard to maintain aspect ratio of the videos, especially when we want to resize them in Lectora. We had no option to lock the aspect ratio or to reset to original size like we have for images. This is no more the case with Lectora 17 as these option are now available for videos also. And now it:
Maintains the aspect ratio as the video is resized
Resets the video to its original imported dimensions
Conclusion
With these enhanced features, Lectora 17 is certainly going to be a developer-friendly tool to create custom, rapid or mobile eLearning seamlessly. I will be covering a few more enhanced features of Lectora 17 in the upcoming blog. Stay tuned to learn more!
Our Services: eLearning Services, Convert PPT to eLearning, eLearning Localization Services
https://www.swiftelearningservices.com/wp-content/uploads/2022/09/Swift-eLearning-Services-logo_220.png
0
0
Godwin
https://www.swiftelearningservices.com/wp-content/uploads/2022/09/Swift-eLearning-Services-logo_220.png
Godwin
2016-12-17 16:56:16
2021-07-12 14:49:07
Enhanced Features of Lectora 17 for Effective Rapid Elearning Part 1 – 2