New Features in Lectora 17 to Enhance Custom Rapid Elearning Development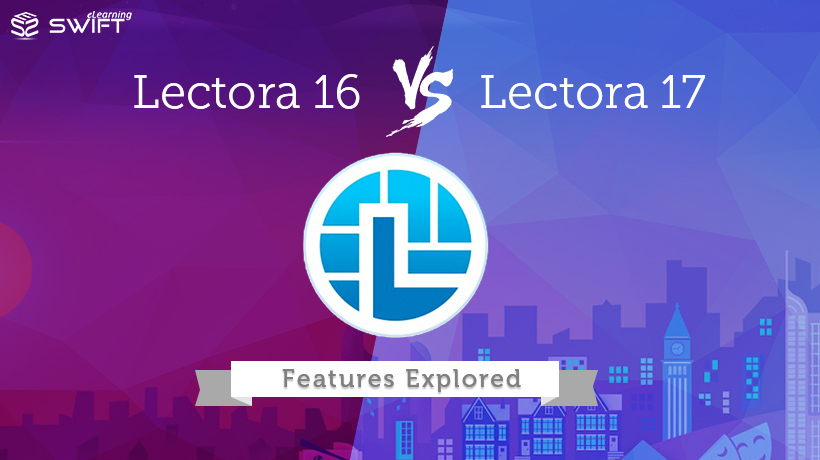 Lectora Inspire – one of the powerful rapid eLearning authoring tools is now out with more exciting features. Trivantis has recently released Lectora 17, an upgraded version of Lectora. Lectora 17 – is now at its best to deliver better HTML5 support to create responsive mobile learning that an eLearning developer can ever dream of. The new features of Lectora 17 are here to support all the realms of eLearning, be it custom eLearning, rapid eLearning, mobile learning, gamification, microlearning, Flash to HTML5 conversion and so on.
Let's quickly dig deep into the new features to see what makes Lectora 17 one of the best authoring tools.
New Features in Lectora 17
Seamless Play Publish Options
Lectora is well known for its ability to provide HTML5 output. However, there were some problems in the previous versions with the HTML5 pages – when an HTML5 page loads, it essentially wipes out the previous page and then loads the next page. You might have noticed such behavior on many websites.
But when you publish with "Seamless Play" option, Lectora 17 eliminates that sort of wiping effect which is generally referred to as "white flash" effect.
When the publish for "Seamless Play" option is selected, your title will smoothly flow from page to page, eliminating the screen wipe commonly associated with loading HTML pages.
Lectora not only provides Seamless Play option, but also gives freedom whether to choose this new option or not. For example: If your course has heavy custom scripting that is conflicting with the Seamless play option, you can always choose to turn down that option.
How Seamless Play Works in the Background?
By activating "Seamless Play" option in your publish settings, Lectora 17 will no more load each page while changing the slides / pages. Instead, Lectora will only load your title once the course starts and then pushes each page in your title without letting the total page to reload.
Using this strategy, Lectora enables you to add some additional benefits such as:
Auto-play media on mobile devices
Persisting background audio
Auto-Play Media on Mobile Devices
By taking the advantage of Seamless Play, Lectora 17 now allows Auto-Start selection of media files on mobile devices simplifying the use of page narration and videos.
Persisting Background Audio
Background sounds now play continuously across pages, and will be triggered by Play, Pause and Stop actions.
BranchTrack Scenario-Based Simulations
Creating branching scenarios has never been so easy. This feature is specifically for Lectora Inspire users. Lectora's collaboration with BranchTrack enables the user to easily create as well as import scenario-based eLearning interactions within Lectora Inspire 17. These interactions can also be built in previous versions of Lectora as well, but you need to build all the multiple choice questions, navigation and everything else by yourself which is very tiring and time-taking process.
But in Lectora 17 these branching scenarios are pre-built for you, allowing you to focus on your creation rather than building everything from scratch.
Steps to build scenario-based interactions in Lectora 17:
Open Inspire tools Slide out
Select or Create New Simulation
Add a Character
Add a Background
Add Scenes and Choices
Add points, if you need them
Save and Preview
Download and insert
Anchor the Position of Your Objects
Using Anchor Position property on an object you can lock down the object in a fixed position even when learners scroll no matter what the screen size is. For example, you might have seen websites like YouTube, where we can scroll the whole page whereas the Header or navigation bar remains fixed. This same behavior can now be achieved in our eLearning courses using Anchor Position option by locking down the positions of any object.
System-Generated Alert Message
If you open any file built with older version of Lectora in Lectora 17, a note will be automatically generated with the description of what has been changed in your project during the process of upgrading it to the newer version. This addition can be very useful while eLearning development.
Conclusion
These new features in Lectora 17 are certainly going to speed up the eLearning development. In my view, this upgrade is worth trying for an eLearning developer as it enables them to create seamless eLearning solutions. If you want to give it a try, you can download a free 30-day trial of Lectora Inspire from Trivantis.
Watch out this space to know more about the key enhancements in Lectora 17. Hope you find this blog helpful. Please do share it on LinkedIn, Twitter and Facebook using the links below.
Our Services: eLearning Solutions Company, Rapid Development Solutions, Custom eLearning Services
https://www.swiftelearningservices.com/wp-content/uploads/2022/09/Swift-eLearning-Services-logo_220.png
0
0
Godwin
https://www.swiftelearningservices.com/wp-content/uploads/2022/09/Swift-eLearning-Services-logo_220.png
Godwin
2016-12-16 19:01:45
2022-01-06 18:45:06
New Features in Lectora 17 to Enhance Custom Rapid Elearning Development