Swift Elearning Team Wishes You A Happy New Year! 6 Inspirational Quotes to Start Off 2017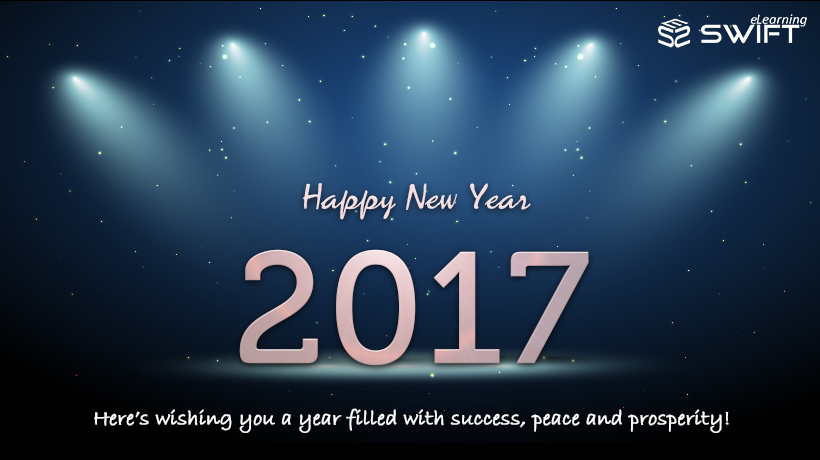 As you get ready to celebrate this New Year with friends & family, the entire team at Swift would like to wish you:
"A Fabulous, Healthy and Prosperous New Year!"
Here are the 6 inspirational quotes to kick off the New Year!
1) "Don't let yesterday take up too much of today." – Will Rogers
2) "Tomorrow is the first blank page of a 365-page book. Write a good one." – Brad Paisley
3) "The way to get started is to quit talking and begin doing." – Walt Disney
4) "It doesn't matter where you are coming from. All that matters is where you are going."- Brian Tracey
5) "We know how to go to the moon, but the tragedy is that we still do not know how to live on planet earth." – Jaggi Vasudev
6) "At the end of life, our questions are very simple: Did I love fully? Did I love well?" – Jack Kornfield
Hope you find these quotes inspirational, please do share it on LinkedIn, Twitter and Facebook using the links below. Also feel free to share your favorite quotes in the comments section below.
Sincerely yours,
Swift Elearning Team
https://www.swiftelearningservices.com/wp-content/uploads/2022/09/Swift-eLearning-Services-logo_220.png
0
0
Swift Elearning Services
https://www.swiftelearningservices.com/wp-content/uploads/2022/09/Swift-eLearning-Services-logo_220.png
Swift Elearning Services
2016-12-30 18:24:09
2016-12-30 18:24:09
Swift Elearning Team Wishes You A Happy New Year! 6 Inspirational Quotes to Start Off 2017