Online Training VS In-Person Training – The Key Differences
Want to assist your learners to enhance their skills and help your company reach its full potential? Which training strategy do you think is the most beneficial? To determine that, you need to understand: Online Training VS In-Person Training – The Key Differences.
If you want a better fit with increased learner engagement, retention, and future outcomes, you'll need to make a well-informed training decision.
Training is not an option; rather, it is a must-have strategy. It takes into account all aspects of the company and learners to take business to the next level. As a result, selecting the appropriate training strategy while utilising technological advancements is worthwhile.
In fact, both training methods are beneficial in their own way. One excels at flexibility, while the other takes pride in hands-on experience. Read the blog and find out the best training strategy, useful for your learners and company.
Transform your classroom training material into eLearning? Know the subtle differences to proceed!. Get in touch with us to know more.
What is Online Training?
Online training refers to all learning/training activities that take place virtually over the internet. It consists of a variety of multimedia elements, such as graphics, audio, video, and web links, all of which can be accessed via a web browser.
Basically any type of training that employees can access from a laptop, tablet, or smartphone from anywhere, at any time. Online training is also known as web-based training, eLearning, distance learning, or computer-based training.
What is In Person Training?
In Person training is a face-to-face training that allows learners to interact with the instructor or colleagues, whether one-on-one or in a group setting. This type of training occurs at a specific time and location and is not available on demand.
Learners must set aside time from their hectic daily lives in order to attend in-person training sessions.
Differences between Online Training and In Person Training
Although online training is more convenient and flexible than in person training, deciding on one strategic training plan can be difficult. Here are the key differences that can assist you in choosing the best training method.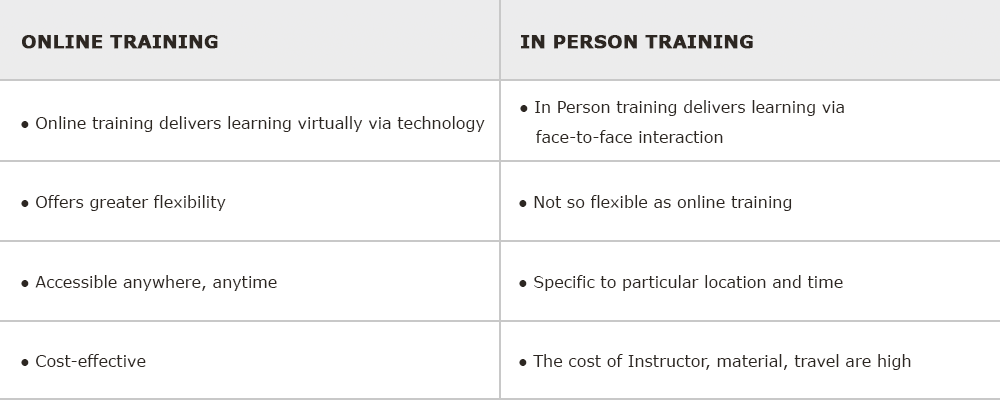 Which is better: Online Training or In Person Training?
When deciding whether to learn online or in person, consider factors such as scheduling flexibility, course structure, learning environment, technology's role, the need for self-motivation, higher engagement, and better retention.
There was a time when L&D professionals preferred in person training because it provided true hands-on experience and allowed for face-to-face interaction. However, as the world becomes more technologically advanced, learners prefer the digital way.
With the rise of digital workplaces and mobile technology, learners are positioning themselves towards better learning that fits their lifestyle in a flexible and convenient manner – online training.
Online training, with its quality of learning, innovation, high flexibility, and interactivity, has become more accessible and acceptable across the world.
Role of Online Training in COVID Pandemic
The year 2020 was extremely challenging and terrifying due to the COVID-19 pandemic. Every business, from large corporations to small businesses felt the jolt, with the problem of increasing productivity and profitability.
In such a stressful COVID outbreak, online learning was the frontrunner in coping with learning tactics and business necessities by delivering required training at the moment of need with increased efficiency.
By providing remote and secure learning, online training plays a critical role in reducing the spread of COVID-19. As a result, all businesses are increasingly turning to digital learning for training and development more broadly than before.
Benefits of Online Training for Learners and Company
The future of corporate learning is online training! Online training proves to be the best and top learning trend due to its following benefits:
Learners from all over the world have access to information at any time
Adapts to your learners' busy schedules
Consistency and standardisation of training are ensured
Adapts to a wide range of learning styles
Verifies that learners comprehended the course's key concepts
Increases the rate of engagement in your corporate training
Gets a clear picture of your learners' development
Makes your learning strategy more adaptable
Knowledge retention is higher, allowing for more flexibility
Gives prompt feedback
Cost-effective
Meets everyone's learning needs
Easily scalable and reliable
Reduces your company's environmental impact
Improves business productivity and revenue
Make Online Training more digestible with Blended Online learning
There is no other way to stay future-ready than going online! To de-risk your organization's future, one best solution is adding a blended learning solution to your online training to make it more engaging, immersive, adaptable and productive.
What is Blended Learning?
Blended learning is a teaching method that combines in person and online training to create a personalised learning experience.
It entails a teacher's participation as well as the use of custom eLearning technology to improve learning quality and provide you with the best of both learning worlds.
Hence, blended learning in corporate training is ideal for today's learners because it combines the convenience of learning anytime, anywhere with face-to-face interaction with peers and instructors.
Blended learning benefits both learners and organizations

How to implement Blended Learning in the Workplace?
For corporate training, blended learning has numerous and far-reaching advantages. It helps save time and money while encouraging collaboration, engagement, and knowledge retention.
Here are some best practises for implementing effective blended learning.
Understand your learners and organizational goals
Make learners understand the course objectives
Analyze your content
Create blend of both online & offline curricula
Ensure the course engages learners
Conduct assessments to gauge learning
Provide timely feedback for better results
Conclusion
With the recent outbreak, now is the time to prepare your organisation for future success with advanced skills and digital learning. Thanks to the technological advancements, even during the pandemic, learning efficiencies are ahead of the curve.
Both online and in person training are beneficial in their own ways, but online training has an edge over 'in person' training, primary in the rapidly changing technological scenario, where it can enhance learner engagement, productivity, and revenue.
However, blended learning solutions can also help you make your online training a successful learning experience. The blending of digital and traditional learning provides valuable training resources to meet the needs of individual learners, making training more engaging, interesting, and worthwhile.
If you are looking for effective online training with blended learning approaches, then Swift eLearning Services is the best choice to go with.
Swift eLearning Services, with more than two decades of experience in eLearning, are passionate and committed to assist you in providing quality learning experiences as per your goals. Our services are best-in-class at affordable prices.
For further queries, please contact us.
FAQ
What makes online training superior to in person training?
Online training provides learners with a variety of learning options to meet their individual needs. Rather than learning in a single location, online training allows learners to learn from anywhere, at any time.
Online training incorporates a wide range of training features and solutions, while adhering to in person training and online technologies. Both-learners and organizations benefit from online training in terms of engagement, knowledge retention, comfort, greater productivity, and expected outcomes.
Our Services: Custom eLearning Development, Blended Learning Solutions, eLearning Translation Services
https://www.swiftelearningservices.com/wp-content/uploads/2022/01/Online-Training-VS-In-Person-Training.jpg
395
705
Swift Elearning Services
https://www.swiftelearningservices.com/wp-content/uploads/2022/09/Swift-eLearning-Services-logo_220.png
Swift Elearning Services
2022-01-28 15:12:51
2023-09-21 10:25:44
Online Training VS In-Person Training – The Key Differences