Latest Features of HTML5 Authoring Tools – Storyline3, Captivate 2017, Lectora 17 and Elucidat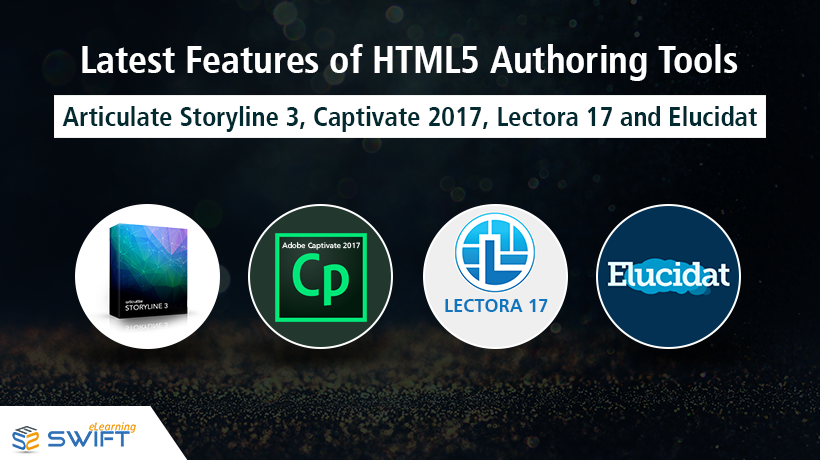 The eLearning authoring tools are playing a huge role in success of eLearning courseware. These tools provide great features to develop effective online modules suited for modern-day learning requirements. Amongst many features that have been developed over the years, responsive learning is the stand out feature that has been highly prioritized by almost every HTML5 elearning development authoring tool.
In this blog, we will go through the latest updates of some of the well-known authoring tools and know its progress towards providing truly responsive outputs and also take a glance at their key features.
Articulate Storyline 3:

Storyline 3 has come up with a built in responsive Player that adjusts the course content to various devices such as smartphone and tablet without any additional programming. Articulate has put a lot of efforts to fine tune the HTML5 output so that your eLearning courses work smoothly on any device.
Some of the other key features are:

Responsive Playback Restrictions –Using responsive playback restrictions, we can restrict our content to a specific orientation in which our content works best.
Duplicate Multiple Layers Simultaneously – Storyline 3 enables you to copy multiple layers
New Design Elements for Result Slide – Storyline 3 comes with new result slide templates for better customization.

Adobe Captivate 17:

Captivate was initially known as the tool to use for software simulation training. With changing time the tool has amazingly transformed into a responsive authoring tool. Showing that the Adobe support team listens to us. With its latest update, adobe captivate 2017 introduces the new feature called Fluid Boxes focusing on responsive learning.
Some of the key features are:

Adobe Typekit integration– Captivate 17 comes with in-built professional font types integrated. This avoids the need for licensing.
Advanced Actions dialog box– With Advanced Actions dialog box we can combine standard actions with conditional actions and the ability to convert standard to conditional action, and vice versa.
Responsive Motion Effects without Programming – Create motion effects using fluid object transitions even for responsive eLearning projects without any code

Lectora 17:

Trivantis has never failed to surprise us and this was no different with its last update Lectora 17. Lectora 17 Inspire is incorporated with Responsive Course Design approach – this enables eLearning developers to create mobile-friendly eLearning or mLearning courses.
Some key features of Lectora 17.

Simple approach for effective eLearning content design
BranchTrack scenario-based simulations– Lectora partnered with BranchTrack to include Scenario based interactions with BranchTrack Simulation builder. This fully integrated feature provides one-click, roundtrip editing capability.
Seamless Play publish option – When the publish for "Seamless Play" option is selected, the titles will smoothly flow from page to page, eliminating the difficulty of screen wipe which was commonly associated with loading HTML pages.

Elucidat:

Elucidat, the cloud-based eLearning authoring tool, simplifies rapid eLearning development while delivering HTML5 multi-device / responsive eLearning courses.
Some of the key features are:

Advanced analytics– Whether you're using an LMS or not, The in-built Analytics feature in Elucidat provides data visualization to show the required details of learners
Simple to use– This tool is as easy as PowerPoint. Removing the need of coding or special training.
User-Friendly Interface– The easy-to-use WYSIWYG (What You See What You Get) authoring interface along with pre-built themes and eLearning interactions make rapid eLearning easier. Additionally, built-in HTML and CSS editor provide more scope for customization and branding.
Conclusion:
Choosing the right eLearning authoring tool for responsive learning is a bit overwhelming task. If you are confused in choosing one, we at swift are here to help you out.
Our Services: eLearning Translation and Localization Services, Custom e-learning Services, eLearning Solutions Company
https://www.swiftelearningservices.com/wp-content/uploads/2022/09/Swift-eLearning-Services-logo_220.png
0
0
Sairam Chawhan
https://www.swiftelearningservices.com/wp-content/uploads/2022/09/Swift-eLearning-Services-logo_220.png
Sairam Chawhan
2017-08-24 19:01:17
2021-07-12 19:23:49
Latest Features of HTML5 Authoring Tools – Storyline3, Captivate 2017, Lectora 17 and Elucidat