Adobe Captivate 2017 – New "Shared Advanced Actions" turned out to be a huge time saver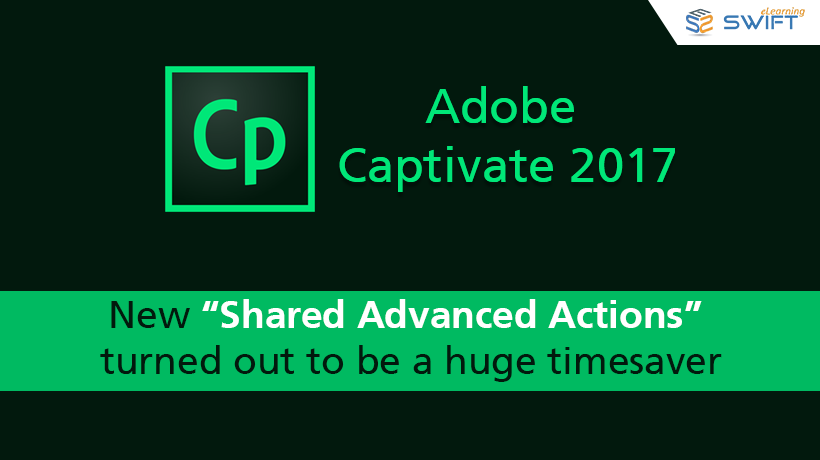 Adobe Captivate 10 now revived as Adobe Captivate 2017 brought many exciting features and enhancements for eLearning designers by making it more advanced compared to its prior version i.e. Adobe Captivate 9. The major improvement is the enhancements into the world of responsive eLearning with its new fluid box concept. With fluid boxes, Adobe Captive 2017 has opened the doors for smart and advanced eLearning with "mobile first approach" and responsive eLearning design. Yet, there are also few minor tweaks done to this eLearning authoring tool which turned out to make a huge difference in eLearning course development. One of those hidden gems in Adobe Captivate 2017 is Shared Advanced Actions.
In this blog, I want to share my experience with this amazing enhancement, which played an important role in saving my time and efforts while developing an eLearning project for one of our clients.
What was I asked to do?
I developed an ELearning course using Adobe Captivate 9 earlier which had about 50 slides. After a couple of months, client wanted a "course progress" functionality to be added in the course. This progress must increase whenever learner visits a slide for the first time. This is certainly possible with Adobe Captivate 9 but it will require lot of efforts whereas it will be simple in Adobe Captivate 2017.
Why did I go for Captivate 2017?
I was drawn towards Captivate 2017 because of its new ability to convert "Standard actions" into "Conditional actions" seamlessly.
Here's how I did it:
As I was asked to add "Course Progress" functionality, now I need to change this "Standard action" to a "Conditional Action" in order to increase the progress only when the learner visits a slide for the first time.
This is the "standard action", which I used earlier for slide navigation in captivate 9.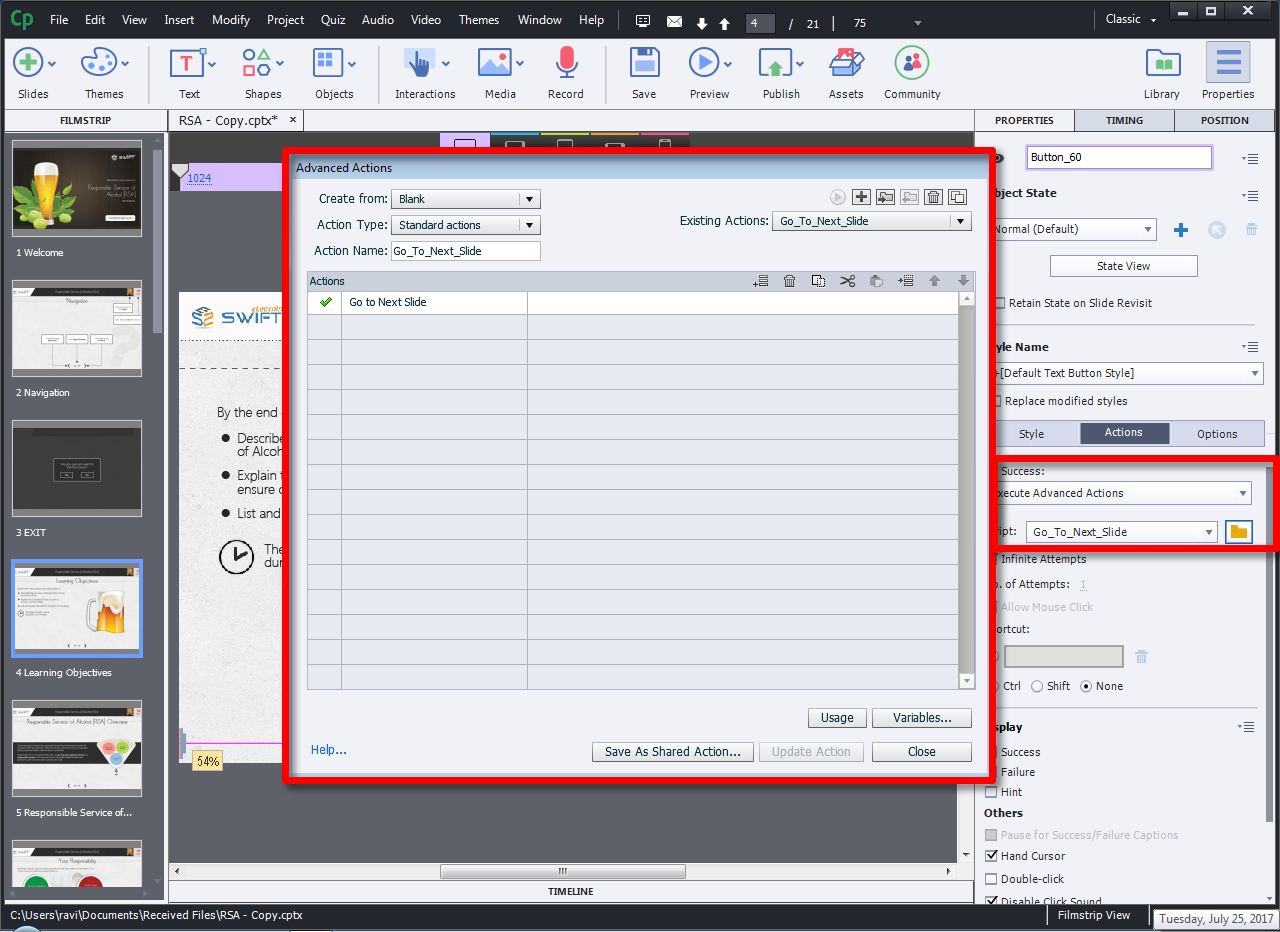 Lets check the new enhancement in Adobe Captivate 2017:
With a single click on the check box, I was able to convert my standard action into conditional action without losing any of my previous work.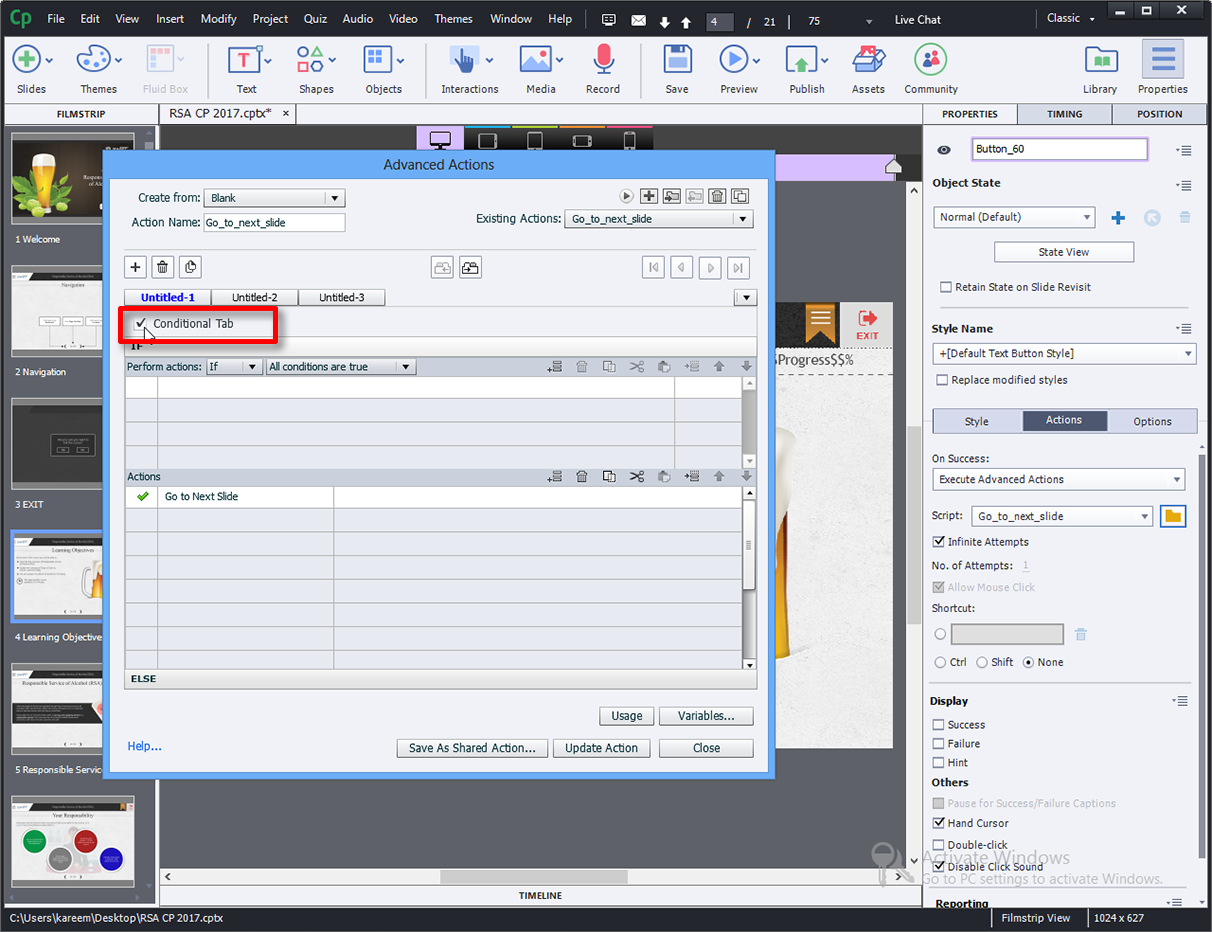 Next, I added a condition that checks whether the learner has visited slide for the first time and increased the progress percentage accordingly.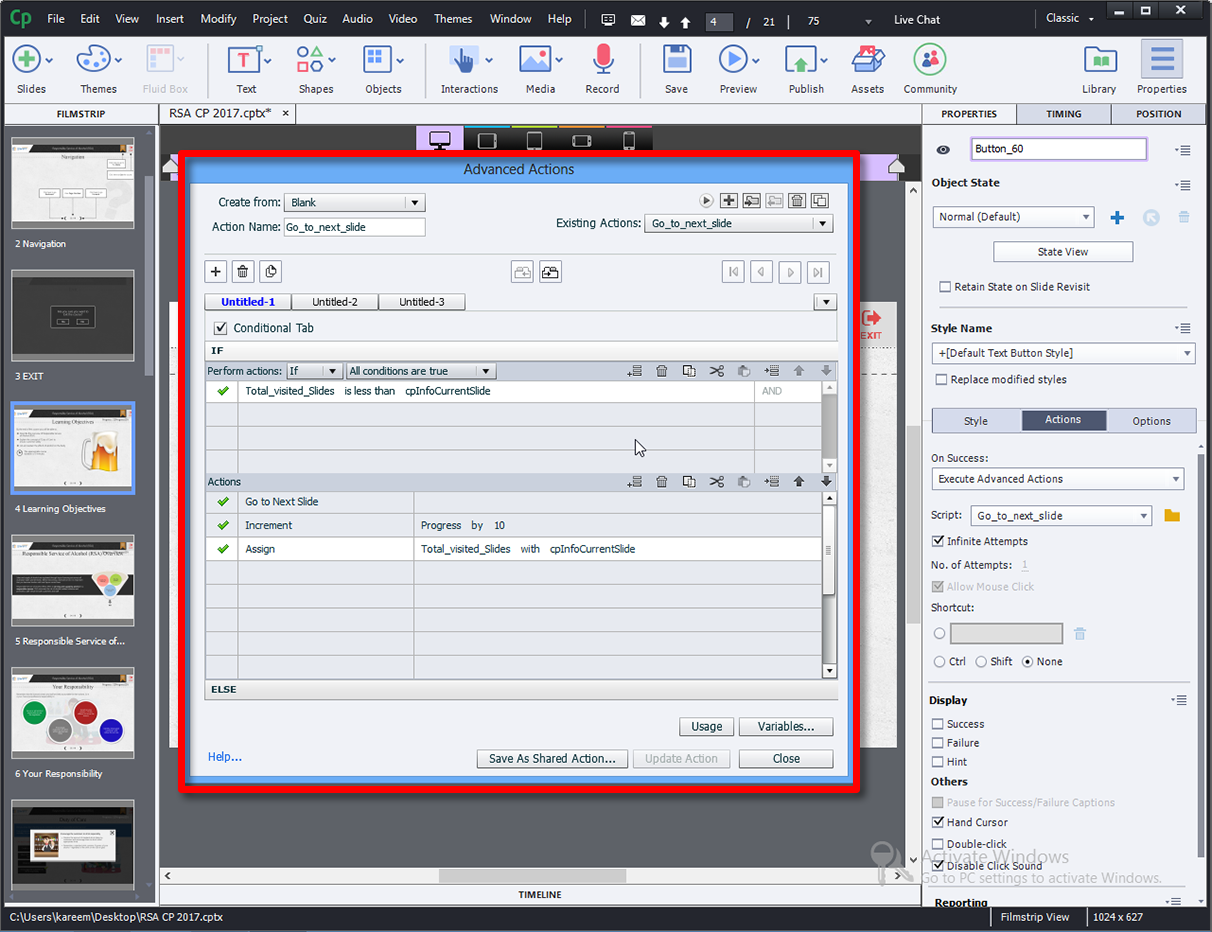 Once this is done, I have updated the action and this change is done automatically throughout the course in less than a second.
Now let's see how much efforts required to implement the same functionality in Adobe Captivate 9
As I cannot convert the existing "Standard action" into a "Conditional Action", I must create a new conditional action and start from scratch.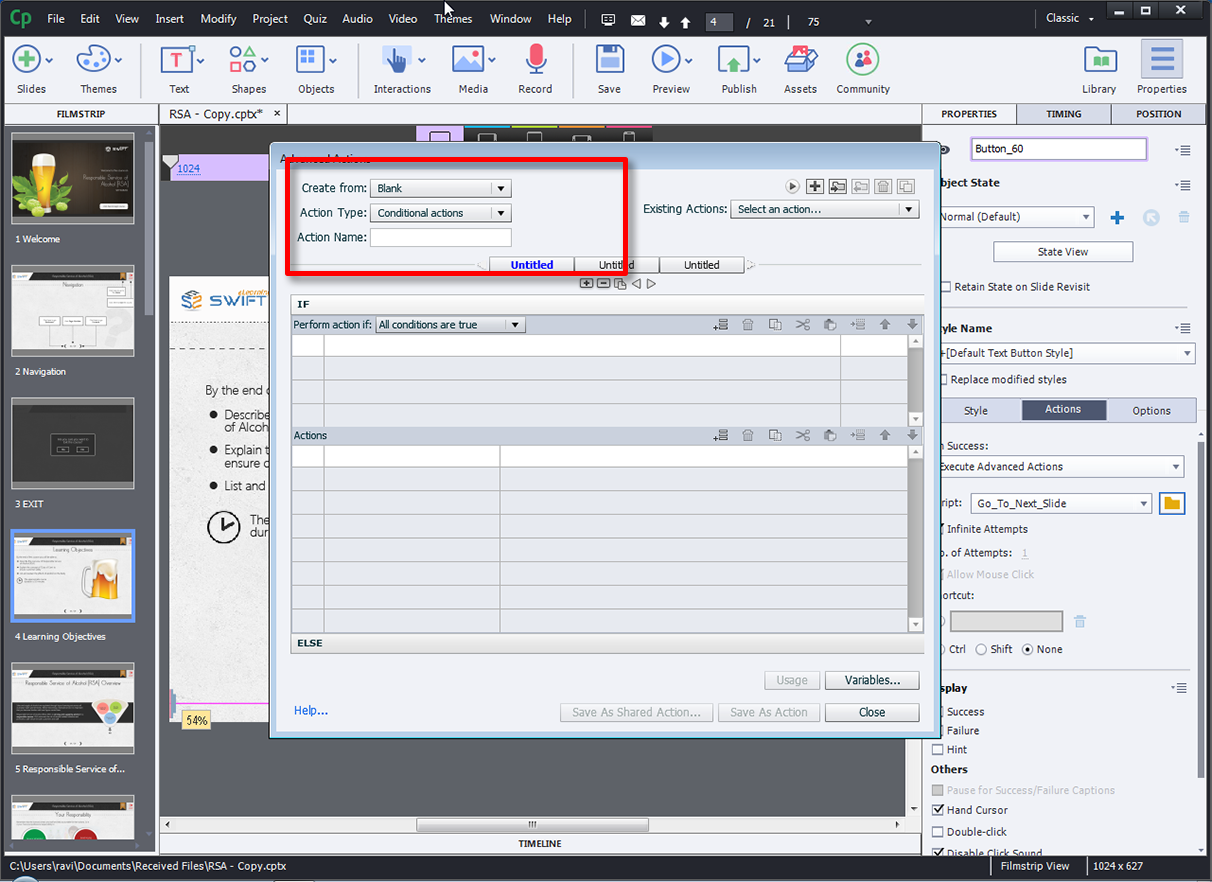 Next, I need to add a condition necessary for "Course Progress" functionality.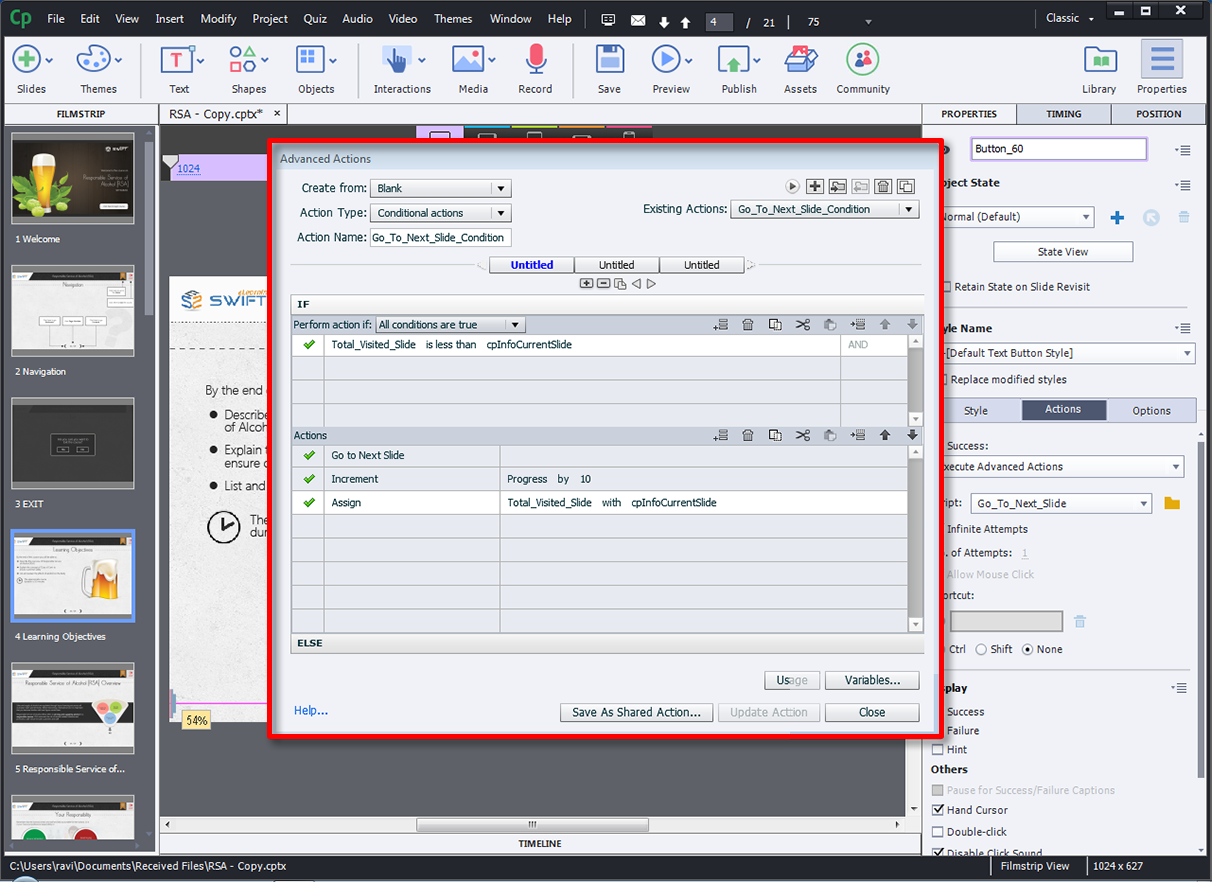 Once this is done, I'm left with 2 actions – the "standard action" I used earlier and the "conditional action" that I just created.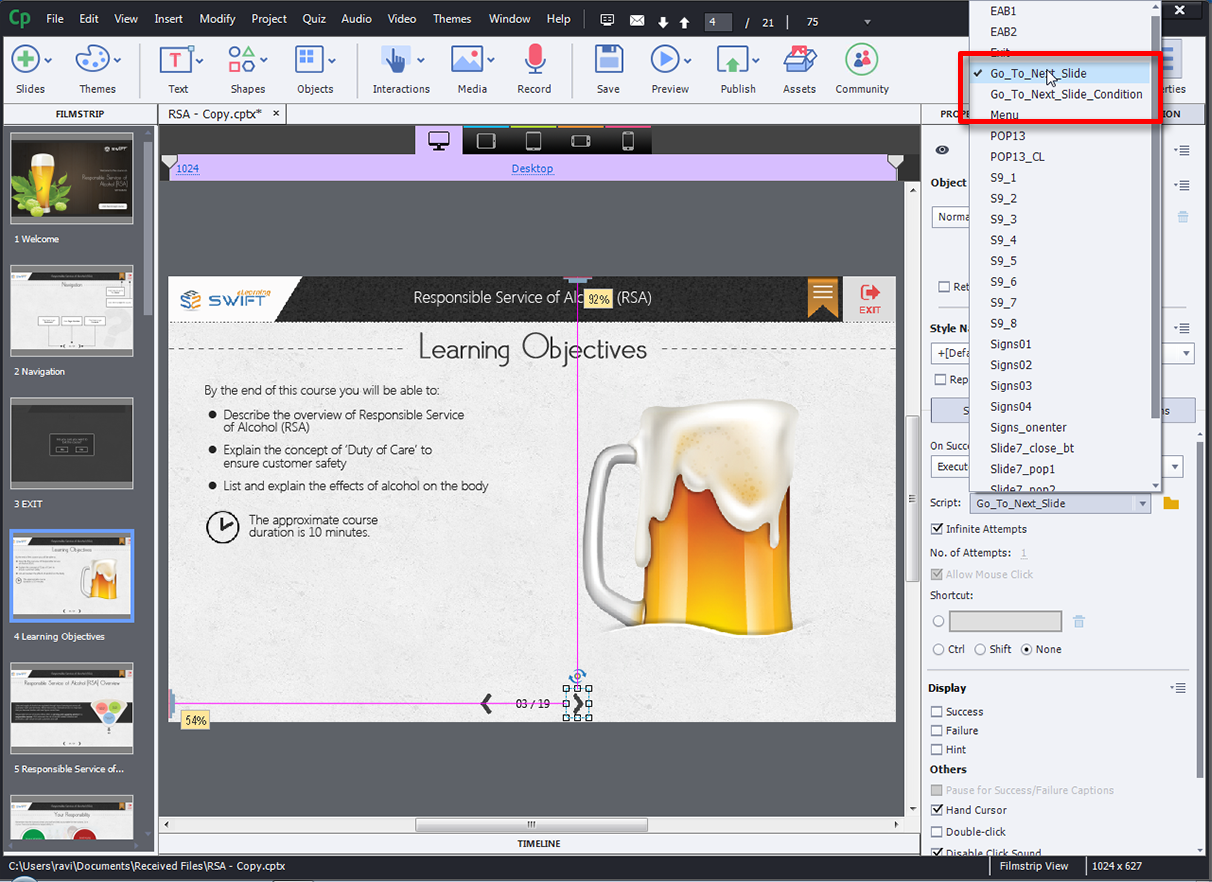 As a result, I need to go to every slide and replace the old action with the new one. Since I need to add the feature in 50 screens, I should have done this for 50 times which would consume a lot of time.
Conclusion:
As seen in the blog, even a minor enhancement has many advantages hidden in it. There are more value added features in Adobe captivate 2017. Stay tuned for more blogs on Adobe Captivate 2017.
Our Services: Powerpoint to eLearning, Flash to HTML5 Migration, eLearning Service Provider
https://www.swiftelearningservices.com/wp-content/uploads/2022/09/Swift-eLearning-Services-logo_220.png
0
0
Sairam Chawhan
https://www.swiftelearningservices.com/wp-content/uploads/2022/09/Swift-eLearning-Services-logo_220.png
Sairam Chawhan
2017-08-29 16:27:42
2022-01-06 15:09:25
Adobe Captivate 2017 – New "Shared Advanced Actions" turned out to be a huge time saver