Award winning Learning Management System | SwiftHCM

Like every year, there was a huge buzz around Asia's largest startup fest, The August Fest. As an active participant of the fest and more important as a startup enthusiast, we were excited to be part of it for two reasons. A – Networking with fellow founders, B – Yes, we were SHORTLISTED to pitch our product at the SCALEUPFESTIVAL @ The August Fest.
This was the right time for us to pitch our Learning Management System product (Swift Human Capital Management) launched last November. We were excited to pitch it in front of 500+ audience including business leaders, subject matter experts, fellow founders, and investors.
We had just about 3 minutes to pitch our product and to prove our point. Our focus areas of the pitch were clearly defined as mentioned below.
Problem Statement
Training Process Hiccups and the key business challenges faced by corporates in training process.
Since the landscape of the training business is changing like never before, it is important for a school/corporate that they identify the grey areas in their training arena. Based on our customer feedback, major hiccups include
Increased Training Costs
Ineffective analytics
Lack of Business Visibility
Inconsistent Training
Solution Proposed/Workflow Model
Our solution to these hiccups is pretty straightforward and swift. Bottom line being – What gets measured, gets managed and deliver training in the best way possible.
At SwiftHCM, the process is just few clicks and hassle free.
Register (Choose an appropriate plan – Freemium being the beginner plan to start with)
Upload (Your Training material in any format; doc, video, zip, SCORM)
Enroll (Allow your users to enroll for free by sharing a personalized URL)
Track (Sit back and relax. Evaluate users Progress at each step. Check to see how users perform and monitor their overall journey with the course)
Analyze (Customize Reports which present the administrators with a snapshot of each course and analytics around it)
Features Included
As the startup member of the LMS community, we often feel like we are learning right alongside our customers. There are myriad functionalities within our LMS which are highly customizable because every organization operates different.
An Intuitive Dashboard (Customize it per your needs – Both from Admin and User Perspective)
Hassle Free Library (Categorize your courses to ensure users get a vivid glance of the courses available)
Manage Users (Browse your users and feel free to add/edit/delete them based on your requirements)
Mass Enrollments (Enroll all/part of your users using our Mass Enrollments feature)
Create Assignments/Assessments/Feedback (Link these modules to a course and set your preferences)
Report Engine (Access tracking and analytics reports to get an overview of your LMS)
Value Proposition Benefits for our customer
Our LMS is a one stop-shop for all your training needs. Key aspects include
Dedicated Account For Every User
Manage Training from One Platform
Ease of Administration
Break-free from Conventional Classroom Training
Sell Your Courses Online with a trusted payment gateway
Reduce Training Costs
Track and Analyze Learner Progress
Reach and Engage More People
Traction So far
Since November 2016, we have had around 1283 engagements on our portal with 63 active customers, 90+ courses Online, 9 learners registering on an average per week. Our major accomplishments included the awareness campaigns for Hyderabad City Police wherein we designed and hosted online learning course on Drunken Drive Awareness & SHE Teams.
Here are few screenshots from our LMS.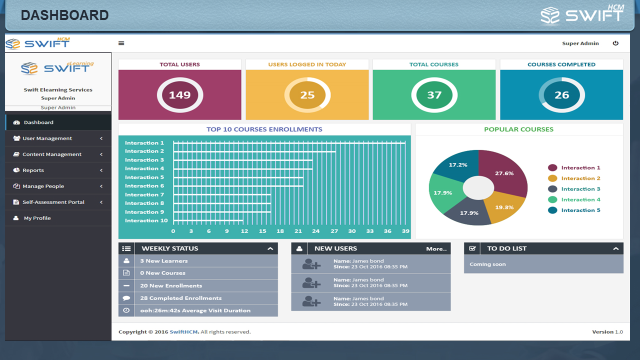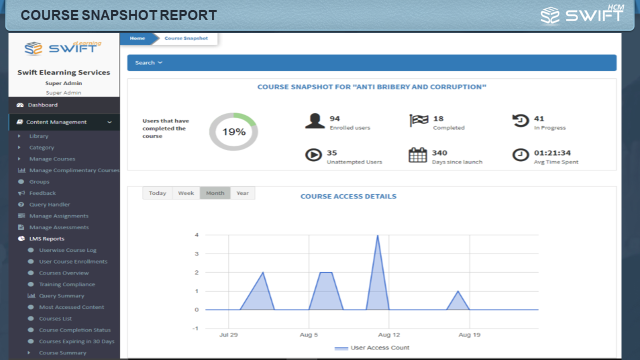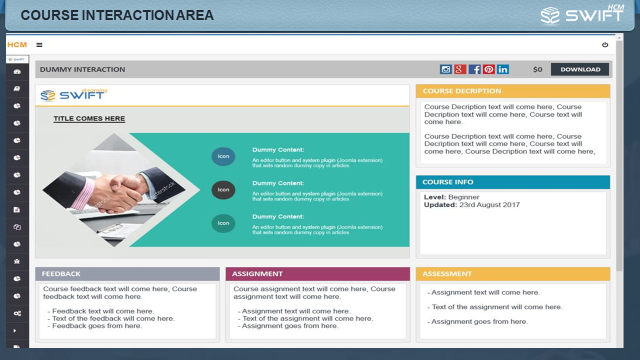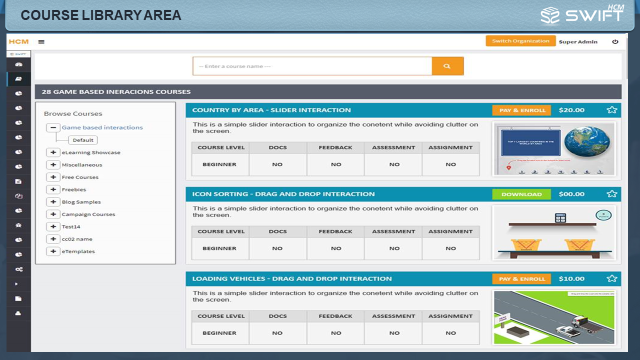 We were adjudged by a 5 member esteemed panel as the second best startup in this category and our joy knew no bounds. The efforts of our team paid off and this was a major success for our startup. This also makes us realize that we have a very long way to go and hope we continue to contribute to the Learning Industry with one of our core values being "Always be learning".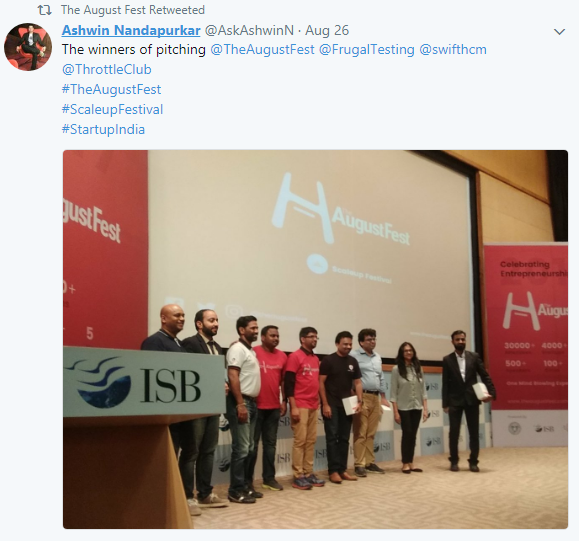 We would like to thank the organizers of the SCALEUPFESTIVAL @ The August Fest for having us and recognizing our product.
(For more details, you can visit our product feature page here or email us at [email protected] for any business inquiry.)
Our Services: eLearning Solutions Company, Rapid Development Solutions, Custom eLearning Services
https://www.swiftelearningservices.com/wp-content/uploads/2022/09/Swift-eLearning-Services-logo_220.png
0
0
Swift Elearning Services
https://www.swiftelearningservices.com/wp-content/uploads/2022/09/Swift-eLearning-Services-logo_220.png
Swift Elearning Services
2017-09-11 16:33:39
2022-05-19 10:16:47
Award winning Learning Management System | SwiftHCM