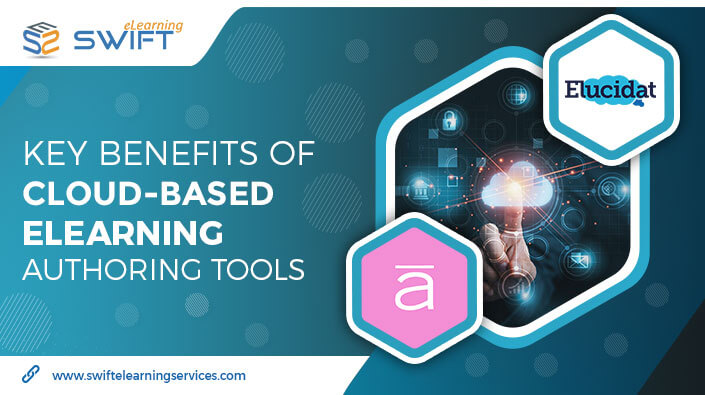 Key benefits of cloud-based eLearning authoring tools
Learning is now increasingly available online, thanks to cloud-based eLearning authoring tools.
Gone are the days when desktop tools were the only option for developing eLearning content on a single platform. Though desktop authoring tools are the most powerful content creators in the eLearning market, cloud-based authoring tools are effective, flexible and convenient.
Desktop-based eLearning authoring tools are installed and accessed only on desktops, whereas cloud-based eLearning authoring tools go beyond the limitations of desktop-based authoring tools by allowing eLearning creators to collaborate in an online environment.
Cloud-based authoring tools enable the delivery of content and media resources anywhere, anytime, on a variety of devices including smartphones, tablets, desktops, and laptops.
This is why cloud-based eLearning tools have become an essential option for meeting the diverse needs of multiple employees and delivering timely and cost-effective training to a large workforce remotely.
In this blog, let's take a look at the key benefits that cloud-based eLearning authoring tools provide to learners and organisations.
Benefits of cloud-based eLearning authoring tools
1. Effective Collaboration
To streamline an effective eLearning development process, smooth and organised team collaboration is essential.
Switching to a cloud-based solution gives you more flexibility in bringing multiple developers to collaborate, because all of the content is stored in the cloud, and it can be accessed on a variety of devices from anywhere in the world.
2. Secured Online Storage
Security is one of the most important reasons for using cloud-based authoring tools. Data stored in the cloud is extremely safe and secure, with little risk of losing critical documents. It also protects against hardware failure and malicious system viruses, as well as storage-related issues.
Using cloud-based authoring tools to store content eliminates the risk of data loss and the need to save and backup work. It allows you to avoid spending money on extra hard drive by freeing up storage space on your computer.
3. Cost-Effective & Time-Saving
A cloud-based authoring tool is the ideal eLearning development tool as it provides a variety of features that enable you to create and deliver a training course in hours and deliver it through a Learning Management System.
A company with a large workforce scattered across the world will benefit from a cloud-based authoring tool. After all, these tools assist organizations to quickly create eLearning training content for their employees, even if they have a limited amount of time.
4. Ease of Use
Creating eLearning content with desktop authoring tools necessitates the hiring of software experts or extensive training, which can be a time-consuming and costly process. Cloud-based tools, on the other hand, are designed to be used by a large number of people in a company. Because cloud-based tools are so simple to use, employees can start creating and sharing their own content, taking training to the next level.
5. Easy Tracking and Analysis
Employers who want to keep track of their employees' learning progress can use tracking technology like xAPI, available in cloud-based authoring tools. Because, tracking and analysing your training program will help you understand course effectiveness, learner performance, and pain points which will help you improve future courses.
6. Flexibility
Cloud-based authoring tools are more flexible than desktop authoring tools.
For any amendments or changes in the course, in desktop authoring tools, you'll have to rehire the expert who created your course.
On the other hand, cloud-based authoring tools are jam-packed with useful features that increase their versatility and allow for faster course updates.
7. Controlled Permissions
You don't have to spend time setting up permissions for all of your computers if you use a cloud-based authoring tool. All you have to do is create an admin password that can be accessed from any device, but only by the administrator. Others (either the authoring team or the learners) can be granted permission by the admin to limit specific features of the cloud-based authoring tool.
8. Content Library in One Place
Because all of your content will be stored in one large online storage space, cloud-based authoring tools will save your time by searching through multiple storage locations and will aid in the creation of a centralized content library for all of your important content and data.
Conclusion
To summarise, eLearning authoring tools that are cloud-based are faster, safer, and easier to use than the traditional desktop tools. Due to its flexibility, cost-effectiveness, and improved collaboration, it is a productive way to deliver improved eLearning solutions on a global scale.
Related FAQ
Q. What are the unique qualities of cloud-based authoring tools?
Everything happens online in cloud-based authoring tools, from production to publishing, user management, and storage. It has the following distinguishing characteristics:
There is no need to install the software: For starters, there's no need to install anything; you won't have to wait for any software to download, or provide authorizations. Access to a cloud-based tool is immediate.
There are no new developments: You won't have to keep checking for and downloading software updates all of the time. Automatic updates ensure that your tool is always up to date with new features and bug fixes.
There are no storage issues: Finally, no local data storage is available; everything is saved to the cloud. This means your content won't take up space on company servers and will be safe from local hardware failures – a big goodbye to the risk of losing hours of work.
Our Services: Converting Powerpoint into elearning course, elearning Translation and Localisation Services, Mobile Learning or M-Learning Solutions
https://www.swiftelearningservices.com/wp-content/uploads/2022/02/Key-benefits-of-cloud-based-eLearning-authoring-tools.jpg
395
705
Rapid eLearning Solutions Provider
https://www.swiftelearningservices.com/wp-content/uploads/2022/09/Swift-eLearning-Services-logo_220.png
Rapid eLearning Solutions Provider
2022-08-03 15:26:07
2023-11-01 18:28:01
Key benefits of cloud-based eLearning authoring tools