HTML5 is an Effective Authoring Tool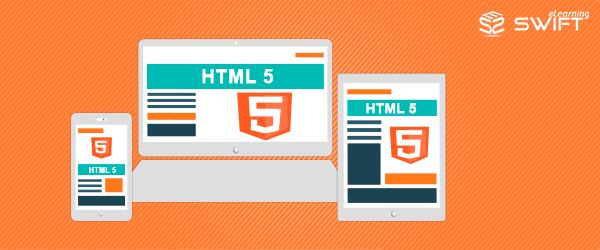 HTML5 Has Boosted E-Learning Industry
The advent of HTML5 which is one of the most recent E-Learning authoring tools is indeed a boost to the eLearning industry and has created an overall easiness to the process of designing eLearning courses. The most enticing feature of HTML5 is that you don't have to be an expert to create mobile-friendly and interactive eLearning content! But you can design effective eLearning courses like an expert! HTML5 is similar to 'Flash' in structure, because it is a single file item. However, it is different in application; there is no plug-in for the end-users, nor there is any specific need for local elearning tools. It will not be hyperbole to say that HTML5 has opened new doors for the creation of extremely expressive eLearning courses, and this is good as far as eLearning industry is concerned.
Plus Points of HTML5
The first and foremost advantage is that HTML5 is a free and open technological too and this gives you the freedom to use it in accordance with your own specific requirement.
You can make your web pages more representative and powerful. Attributes such as the 'easiness of creation', the 'sharing' feature, and the 'reusable' characteristic will empower you to build powerful elearning courses.
HTML5 will facilitate the process of mobile-friendly content creation, and this is simply great, because, in our time, mobile devices like smartphones, tabs, etc. have become par for the course.
HTML5 allows you to set up informative presentations and videos, and to edit them accordingly. This is applicable to both CMS and LMS platforms, which makes it all the more convenient.
There is no need for local software and end-use plug-ins, and this means client satisfaction.
HTML5 users will be able to share valuable data such as codes and contents.
The availability of various content types is another benefit of HTML5.
Updation process is easy, and this will make all users happy.
HTML5 Has Made Instructional Designing Easy
Though Flash, which was incorporated with numerous authoring tools, was the top mobile development support tool during the initial days, these days the scenario has changed a lot. Overdependence on Flash will not give you an upper hand in today's competitive online field. A good section of the instructional designers and elearning content providers have started to hunt for different ways, other than Flash. It is resourceful converting flash elearning to html5.
These days, as elearning schemes are very much popular, governments, as well as private organizations are pumping huge amounts of fiscal resources to create numerous categories of elearning games, apps, and courses. Now, with the arrival of HTML5 the process of creating elearning courses and elearning games has become very easy and at the same time, highly effective also.
Available Content Types
Instructional designers who use different platforms such as Drupal, WordPress, and Joomla will be benefited by HTML5. Moreover, the availability of different content types will make their tasks easy. The available content types include Boardgame, Dialog cards, Drag and drop, Fill in the blanks, Flashcards, Iframe Embedder, Image hotspots, Interactive video, Memory game, Multichoice, Picture Slider, Presentation, Question set, Summary, and Timeline.
Tags: Flash to HTML5 Conversion Services, Translation and Localization Services, Custom eLearning Solutions, eLearning Services, eLearning Vendors, Rapid e-learning Development, eLearning Content Localization, Convert Flash to HTML5
https://www.swiftelearningservices.com/wp-content/uploads/2022/09/Swift-eLearning-Services-logo_220.png
0
0
Swift Elearning Services
https://www.swiftelearningservices.com/wp-content/uploads/2022/09/Swift-eLearning-Services-logo_220.png
Swift Elearning Services
2015-04-08 12:53:49
2021-07-01 16:28:52
HTML5 is an Effective Authoring Tool