E-Learning Course Design in Storytelling Method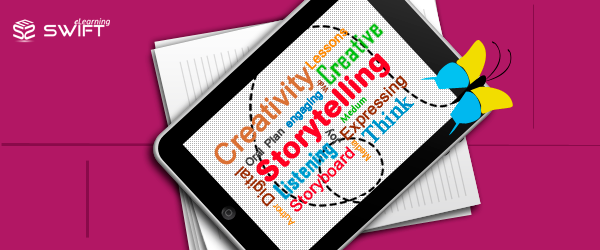 E-Learning Has Gained Momentum
E-Learning is a reality in our time rather than a fleeting fad, because, human life has become pushy and fast. Virtually everybody is facing lack of time to attend the various chores of life and consequently, a good section has started to rely on online resources for solving their various requirements. This is all the more true in the educational and training domains; these days, many people go for online training courses, even for gaining technical knowledge.
Apply Handy Authoring Tools to Make Online Training Courses Effectual
E-Learning courses have already become par for the course in industrial training programs. Modern-day organizational managements show pleasant interest in making use of the effectiveness of e-Learning methods for managing the workforce efficiently. They try to implement various online training programs for bringing in employee engagement and employee retention. In brief, e-Learning system has gained high relevance in the present-day world. But unfortunately, some of the present-day e-Learning courses are designed in a mediocre manner, and this injects insipidness to the e-learning topics concerned. How to design effectual e-Learning courses is a relevant topic. Everyone who knows this sphere of action agrees that applying operative authoring tools is a practical way to counter the dormant and sluggish nature of online training courses. Expert eLearning courses designers have the opinion that storytelling is a best way to pull out the droning nature out of online training courses.
Advantages of Applying Storytelling Technique in Online Training Courses
Storytelling is a powerful method of online training and this will induce the readers to go deep into the subject concerned with great interest. Practically there are 4 key points to assert this assumption.
ELearning courses that are designed in a storytelling model will serve as a good media to have worthwhile interaction with the participants. This is because, creating and maintaining connections is one of the key human penchants, and storytelling is a sure shot to bring this mental involvement. When the participants of eLearning courses feel mentally attached to the course contents, then, it will be easier to impart the required information in proper and pragmatic manner.
People generally follow models, and if the eLearning course is designed in a storytelling manner, by applying effective authoring tools such as Articulate Elearning software, Captivate Elearning templates, and Templates Lectora and with some key character models, then for sure, the subject online training course will capture the attention of the participants. They will attend the course keenly, and will grab the gist effectively.
Human brain is structured in such a way that it has got the capacity to follow stories in a direct way and to act spontaneously in accordance with the thread of the story that is narrated. Hence, if eLearning courses are created in a practical way using sophisticated authoring tools such as Articulate Elearning software, Captivate Elearning templates, and Templates Lectora, the contents can be made in an appealing manner, which will be mentally pleasing to the eLearning course participants. Thus the course can be made effective to the core!
Storytelling method will add the entertainment aspect of the eLearning course concerned. This will certainly motivate the partakers to learn the topic discussed quickly.
Tags: Custom eLearning Solutions, Translation and Localization Services, Flash to HTML5 Conversion Services, eLearning Vendors, eLearning Services, eLearning Content Localization, Rapid e-learning Development, Convert Flash to HTML5
https://www.swiftelearningservices.com/wp-content/uploads/2022/09/Swift-eLearning-Services-logo_220.png
0
0
Swift Elearning Services
https://www.swiftelearningservices.com/wp-content/uploads/2022/09/Swift-eLearning-Services-logo_220.png
Swift Elearning Services
2015-04-08 12:59:29
2021-07-01 16:28:46
E-Learning Course Design in Storytelling Method