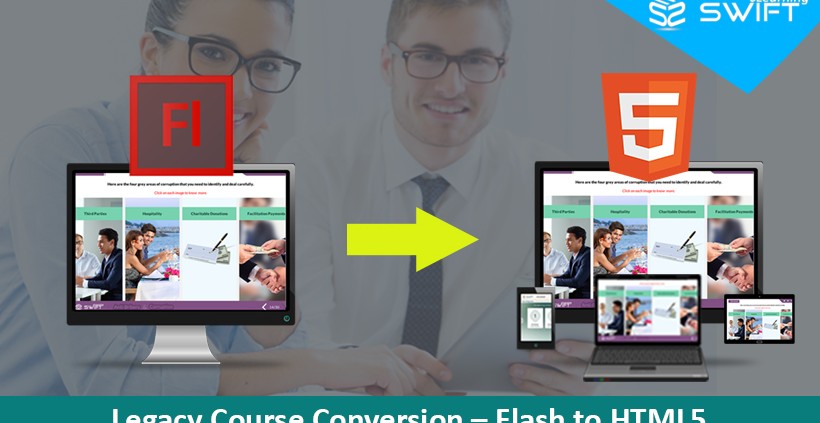 How to Convert Flash to HTML5?
In this blog, we have covered How to Convert Flash to Html5 courses and also discuss some simple solutions which help the clients meet their expectations.
Who knows, new smartphones may emerge numerously year by year and may last till the world ends. This incremental development in the technology affects the eLearning industry and give way to discover new technologies to deliver the digital learning solutions such that to meet the learner requirement.
Elearning developers are now switching from flash technology to HTML5 because most of the mobile devices don't prefer Flash plugin. Hence the organizations are making their move towards the conversion of flash to html5 elearning. There are many elearning authoring tools such as Articulate Storyline, Lectora Inspire, Adobe Captivate, Camtasia, iSpring, etc., that are used in the process to convert Flash to HTML5.

You need to be mindful and follow these steps before converting the Flash courses to HTML5.
Step 1: Identify the courses that need to be converted and make available all the supporting files at one place before convert Flash to HTML5.
Step 2: Recognize the assets such as audio, images and abstract it from your legacy courses.
Step 3: Search-in the existing tool whether there is an option of the conversion process to HTML5, else select the eLearning authoring tool for a hassle-free conversion. Check out our case study on the conversion of flash-based courses to HTML5
Step 4: Design the categorical templates that suit your learning needs such as introduction templates, interactivity templates, content templates, video templates, conclusion templates, etc., and use them repetitively throughout your courses to lower the cost of development
Step 5: Incorporate the extracted media from the legacy courses into the e-templates that you are designed using your favorite authoring tool Check out why Articulate Storyline is one of the cost-effective authoring tools
Step 6: The sample course needs to be developed to know how the original project is going to be accessed in multiple devices, such that any modifications can be incorporated in the initial phase if required.
Step 7: The last step of the process is to build the complete course and publish it to the HTML5 format.
The cost to convert flash to html5 courses depends on the nature of the content that is embedded in the Adobe Flash files. For instance, consider that Adobe Flash courses consist of minimal on-screen text with images and basic interactivity, then the cost of conversion is likely to be significantly low when compared to a fully animated course.
We hope this blog provided you the easiest process in migrating your flash eLearning content to HTML5. A thoroughly planned process will always bring results near to your expectations.
If you have any queries on the conversion of your Flash to HTML5 content, We are happy to assist you for a smooth and timely conversion process.
https://www.swiftelearningservices.com/wp-content/uploads/2019/02/Flash-to-html5.jpg
460
820
Swift Elearning Services
https://www.swiftelearningservices.com/wp-content/uploads/2022/09/Swift-eLearning-Services-logo_220.png
Swift Elearning Services
2019-02-21 18:37:27
2022-01-05 17:44:52
How to Convert Flash to HTML5?