Free eLearning Course on Cardiopulmonary Resuscitation (CPR) Training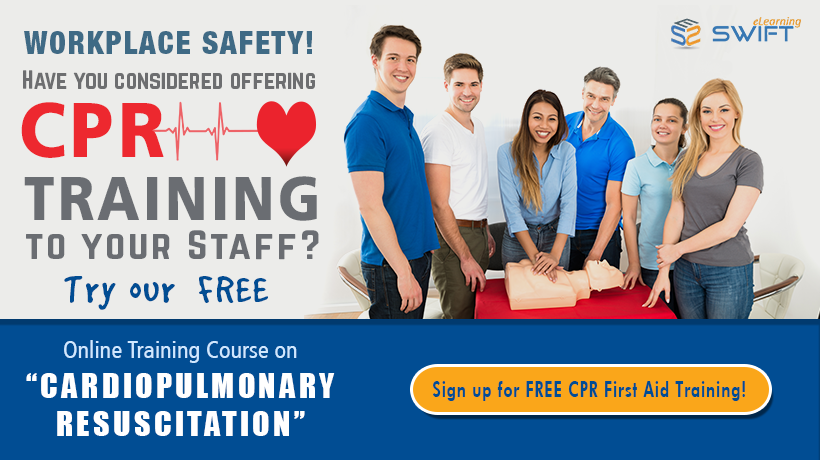 Have you ever performed a cardiopulmonary resuscitation (CPR) emergency procedure?
A cardiopulmonary resuscitation (CPR) is a first aid technique operated on a person having a sudden cardiac arrest. We developed an eLearning course on cardiopulmonary resuscitation (CPR) to bring awareness in individuals as to save the lives of the co-pedestrians who is suspected to be in cardiac arrest. Australian Resuscitation council suggested an approach called DRS ABCD to perform cardiopulmonary resuscitation on a cardiac arrested person.
This free eLearning course on CPR will assist you in early detection of cardiac arrest and gives awareness in providing the effective measures.
In this eLearning course you will:
Get trained on CPR emergency procedure
Assess the casualty and recognise the need for CPR
Learn when and how to administer CPR
Perform CPR in accordance with Australian Resuscitation Council (ARC) guidelines
With this course you can become a trained bystander and can save a life during a cardiac or breathing emergency.
Request for eLearning sample or source file.
Our Solutions: Flash to HTML5 Conversion Services, Convert PowerPoint to eLearning, elearning Translation and Localization Services, Mobile Learning, Blended Learning Solutions, Gamification Solution Provider, Rapid eLearning Solutions
https://www.swiftelearningservices.com/wp-content/uploads/2022/09/Swift-eLearning-Services-logo_220.png
0
0
Swift Elearning Services
https://www.swiftelearningservices.com/wp-content/uploads/2022/09/Swift-eLearning-Services-logo_220.png
Swift Elearning Services
2019-02-21 15:22:49
2022-02-01 15:33:38
Free eLearning Course on Cardiopulmonary Resuscitation (CPR) Training