Mobile Learning Solutions with Flash to HTML5 Conversion – Case Study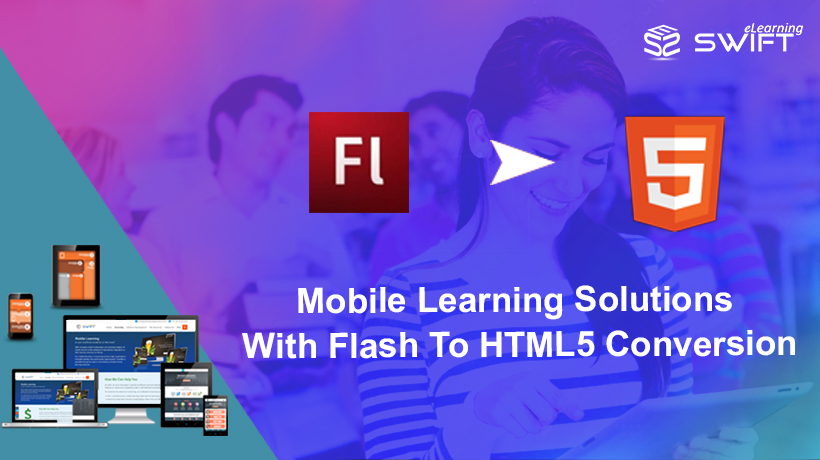 Let's see a case study where we have successfully exhibited the legacy content conversion services.
Company's Outline:
A prominent e-commerce company having a diversified experience of providing fast-moving goods to its customers approached us for Flash to HTML5 conversion of learning courses. Three sets of courses each consisting of 70 flash slides need to be converted into HTML5 and also need to transform into multi-lingual eLearning programs to reach global audience in their native languages.
Proposed Solution:
As there are no source files with the client, they gave us all the supporting files which include .swf, .xml, JavaScript, reference publish output file and media files such as audio & video in a structured format. Based on the content and the source files, we have proposed our stakeholders to develop the project in Articulate Storyline.
Process We Followed:
On getting all the necessary files from the clients we have started our development process in this way.
Source files -> Media Extraction -> Template Design -> Instructional Design -> Prototype Course -> Develop Complete Course
In each of the stages, involvement and support from our stakeholders were brilliant and with that backing, we did our best to finish the course within the stipulated time.
Challenges We Overcome:
Converting alone is not our job when we were working on these courses. We were also deployed to translate the courses into 13 multiple languages so that to widen their brand use. In this conversion process, there were left to right languages where the conversion process was not easy when compared to the other languages. Even the images needed to be converted as per their writing scripts. In addition to that, the flash slides were large in size because of lots of frames included with heavy content. Therefore, we chunked the data and split the slides and brought appealing to the course.
End Result:
With the developed courses by applying right flash to html5 conversion strategies. Our client was able to reach their global audience and on all the mobile devices.
https://www.swiftelearningservices.com/wp-content/uploads/2019/02/Mobile-Learning-Solutions-With-Flash-To-HTML5-Conversio.jpg
460
820
Swift Elearning Services
https://www.swiftelearningservices.com/wp-content/uploads/2022/09/Swift-eLearning-Services-logo_220.png
Swift Elearning Services
2019-02-15 11:56:01
2021-07-01 15:38:32
Mobile Learning Solutions with Flash to HTML5 Conversion – Case Study