Cyber Security – Online Training Course and Certification Program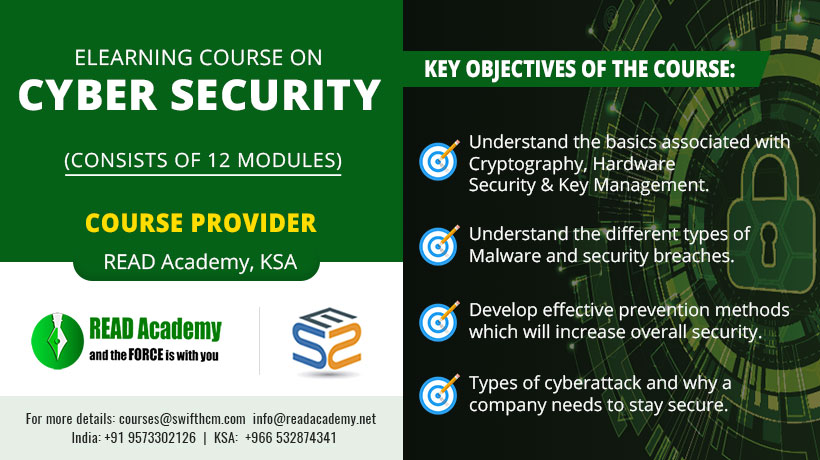 Welcome to the world of virtual reality wherein every organization is responsible for ensuring Cyber Security. The ability to protect an organizations information system from impairment or theft is essential. Implementing effective security measures will not only offer liability protection, but, it also increase efficiency and productivity.
Course Intro:
This eLearning course has 12 units on Cyber Security which help participants to understand the different types of Malware and Security breaches.
Units:
Introduction: Getting Started with Cyber Security Course
Cyber Security Fundamentals
Types of Malware
Cyber Security Breaches
Types of Cyber Attacks
Learn about how do you prevent Cyber Attacks
Mobile Protection – Tools and Techniques
Do's and Dont's of Social Network Security
Know about the types of Prevention Software
Learn to deal with critical Cyber Threats
Defense against Hackers
Wrapping up of the Cyber Security Course
Key Learning Objectives of Cyber Security courses:
Understanding the basic associated with Cryptography, Hardware Security & Key Management
Understanding the different types of malware and security breaches
Develop effective prevention methods which will increase overall security
Types of Cyber Attacks and why a company needs to stay secure.
Certification:
At the end of the course, a certificate will be generated endorsed by Read Academy, KSA (www.readacademy.net).
Course Duration:
The course duration is 6 hours approximately.
Entry Requirements:
Any Organization or Individuals concerned about Cyber Security
If you have any questions or queries, please contact us at [email protected]
Our Services: eLearning Service Provider, Flash to HTML5 Conversion, eLearning Content Development
https://www.swiftelearningservices.com/wp-content/uploads/2022/09/Swift-eLearning-Services-logo_220.png
0
0
Swift Elearning Services
https://www.swiftelearningservices.com/wp-content/uploads/2022/09/Swift-eLearning-Services-logo_220.png
Swift Elearning Services
2018-07-11 19:26:51
2022-08-18 19:15:38
Cyber Security – Online Training Course and Certification Program