Camtasia: Delete and Ripple Delete Feature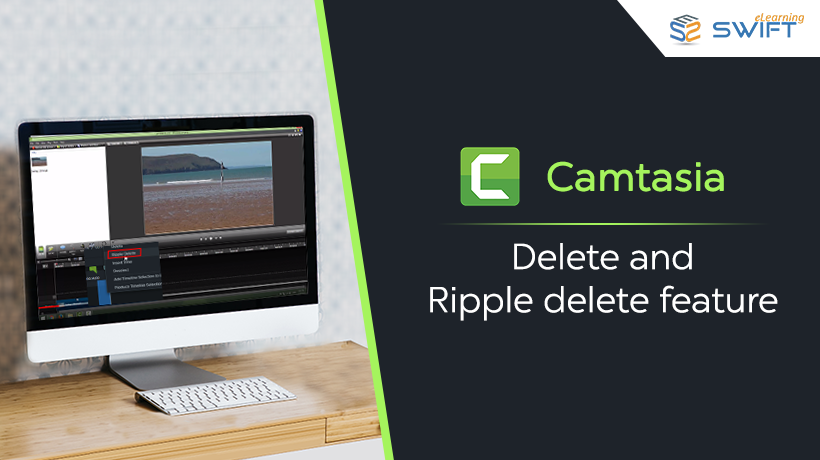 In Camtasia video editor, you can remove the space between the clips just by dragging all the objects in the timeline. But, there is an option which can save your time with a single click.
Let's see how to do.
Next, you can see a slider where you need to select the starting and ending point of the portion to be deleted by using red and green color sliders on either side.
Now, drag them at the either ends and choose delete by pressing delete button on the keyboard or you can do it by right clicking on the selected timeline.
Here, you can observe a gap after deleting a portion from the timeline which results in a black screen after publishing the video.

So to delete this gap, you need to hit right click at the gap and select ripple delete option which automatically moves the rest of the video part and fills the gap on the timeline.
Therefore, with this option you can delete the space in between the clips without any gaps in the timeline and can produce bug free video-based eLearning course with Camtasia.
We are just a step away to fulfill your eLearning needs. For any requirements on course-ware development please contact us at [email protected].
Our Services: eLearning Vendor, eLearning Solutions Company, Powerpoint to eLearning
https://www.swiftelearningservices.com/wp-content/uploads/2022/09/Swift-eLearning-Services-logo_220.png
0
0
Swift Elearning Services
https://www.swiftelearningservices.com/wp-content/uploads/2022/09/Swift-eLearning-Services-logo_220.png
Swift Elearning Services
2018-07-12 19:09:35
2021-07-13 18:23:27
Camtasia: Delete and Ripple Delete Feature