How to Create an Effective Online Training Using Adult Learning Principles?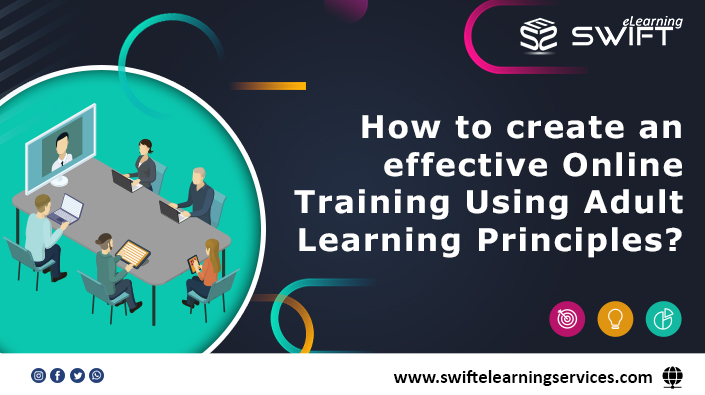 Getting productive online training during #covid-19 lockdown is a great opportunity to boost career, learning skills and, to understand the value of e-learning. As learning and development (L&D) professionals, you want to create courses that inspire learners, change their mind-sets and drive performance. In short, you want to create courses that are effective and hit the mark every time.
Now here's the challenge. Your learners are adults with previous knowledge and fixed ideas and, they want learning experiences that help them to meet their needs and achieve their goals. In order to deliver such learning, either through a dedicated e-learning course or a more general organizational training programs, adult learning principles (Andragogy) should be utilized to enhance their learning needs.
Basically, learning is a process which has its own distinct philosophies. But, when we talk about e-learning, the words "Andragogy" and "Pedagogy" are often used to create engaging and motivational learning as per their needs. Both of Greek origin, Andragogy literally translates to "andras" (man) and "ago" (guide). On the other hand, "Pedagogy" means "Paidi" (child) and "ago" (guide). In simple terms, Andragogy is adult-focussed learning, while pedagogy is child-focussed learning.
Designing e-learning courses for adults requires a sound understanding of why and how adults learn. By understanding and applying Adult Learning Principles, Instructional Designers can create the right engagement quotient in e-learning courses.
So in this blog, let's take a fresh look at the following to create effective online training for adults using Adult learning principles:
What is Adult learning Theory (Andragogy)?
What are the principles of Adult learning theory and how are they incorporated into e-learning?
What is Adult learning Theory (Andragogy)?
Adult learning or Andragogy was developed by Malcolm Knowles in 1968. It is the concept or study of how adults learn and how it differs from children. Andragogy refers to the methods and approaches used in adult education and, is directed towards self-actualization, gaining experience, and problem-solving. In contrast, pedagogy is an education method in which the learner is dependent on the teacher/trainer for guidance, evaluation, and acquisition of knowledge.
Adults are free of pre-conceived ideas and prejudices which make them more open to learning. Also, they are more curious to constantly learn new things. Adults  are selective about what they want to learn; their learning not driven by curiosity instead by utility. And most importantly, adults already have years of experience and knowledge that shapes their perspectives and hence are not as open to learning as children. Therefore, teaching children is very different from teaching adults.
Principles of Adult Learning Theory and how they are incorporated into e-learning
There are many different techniques or theories of adult learning that help to create effective and convenient learning experiences for the adult corporate learners.
1. Adults are autonomous and Self-directed
As we grow older, we shift from being dependent to being a self-directed human being. Adult learning is most successful when it is self-directed rather than forced.
Today's learners prefer autonomous training/learning that can be driven either by interest or utility, not by trainer guidance/lectures.
This is where e-learning comes to play. With e-learning strategies like mobile learning, learners can take the control of accessing courses anytime, anywhere based on their convenience. Another way to facilitate self-directed learning, is through a learner-friendly GUI and free navigation. This will free learners from the restrictions of taking the course/module.
2. Adults use their past experiences to facilitate learning
Adult learners rely heavily on their experiences that form the foundation of their learning. They analyse, rationalize, synthesize, and develop new ideas or tweak old ones through the filter of their experiences. These help them to make connections, perceive relevance, and derive inspiration.
This can be done with the inclusion of pre-assessments, ice-breakers, introduction to a training, etc. Therefore, training needs to be contextualised by using language, case scenarios, real-world examples etc., that they are familiar with or that they relate to their past life, work and, social experiences to bring more meaningful understanding of the subject/concept.
3. Adults need to know the 'Why' of Learning
To properly engage learners, the relevancy of the information with the training program should be highlighted. Meaning, adults need to know the purpose of training to better learn, inspire and to hone their skills and behaviour. One best way is to deliver SMART Performance-based learning objectives that explain learners about:
Why the learning is important? And,
What they will be able to do after the course completion?
As discussed, learning objectives need to be SMART – Specific, Measurable, Achievable, Relevant, and Time-bound/ targeted. This helps them to better understand their aim of learning and they learn best when they know that the course/module has immediate value for them.
4. The Need for Problem-solving Approach
What drives adult learning more than anything else, is a need to solve job-related problems and this can be achieved when they connect with information gained through training.
Online training is successful only when learners can translate knowledge to job-skills. There is growing discussion within L&D on how learning can be made more experiential where learners don't just gain information but, actively experience learning.
Instead of general learning about a subject, adult learners want to learn practical skills that help them to solve problems, work better and, that actually to be applicable in their daily lives. So, as Instructional designers you need to emphasize on how the subject matter is going to help them solve problems immediately by offering real world examples, case studies and, branching scenarios in the training courses.
5. Need Motivation and Rewards for learning
Though children learn because of external factors like parents and teachers, adults learn for their own reasons like progress in work or to boost self-esteem. Also, Friendly competition among peers and the gratification of winning is often the best motivators for learners to finish training successfully.
So, game elements in online training like reward points, leader-boards, scores and levels, bonuses etc., motivate learners and enhance their learning efficiency.
To Summarize, the implementation of Adult learning theory is one of the best strategies to create learning courses to develop job-essential skills and knowledge. Instructional designers can use the principles of adult learning theory as a basis for their overall learning architecture.
If you would like to know more about incorporating these adult learning principles into your course to offer full-fledged learning as per their needs, do contact us.
Tags: Learning Management System, Custom eLearning Development, Rapid eLearning Development, Flash to HTML5 Conversion Services, Translation and Localization, Convert PowerPoint to eLearning
https://www.swiftelearningservices.com/wp-content/uploads/2021/06/How-to-create-an-effective-Online-Training-Using-Adult-Learning-Principles.jpg
395
705
Swift Elearning Services
https://www.swiftelearningservices.com/wp-content/uploads/2022/09/Swift-eLearning-Services-logo_220.png
Swift Elearning Services
2021-06-25 18:55:56
2022-01-05 14:51:44
How to Create an Effective Online Training Using Adult Learning Principles?