Quality Assurance and Checklist for e-Learning Courses with Accessibility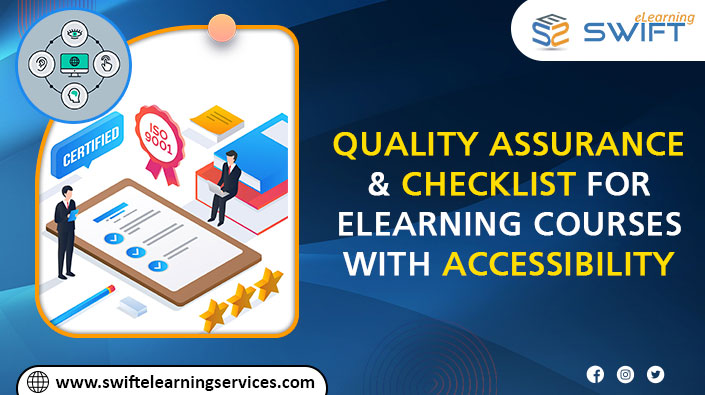 More than ever in these two decades – since e-Learning has been introduced, there is a growing demand for it as an effective learning mode. More and more Internet users are resorting to online learning who find it as an easy and practical way of learning about any topic or any course.
It is no surprise that in the coming years, online learning will certainly surpass any other mode of learning and will amass more learners throughout the world.
In this context of e-Learning spreading at such a rapid pace, e-Learning accessibility standards has its significance. The concept of e-Learning accessibility indicates that e-Learning content should be accessible to all types of learners – regardless of their ability to access the content.
E-Learning accessibility is, in fact, a responsibility of the content developers and is also a challenge for them as it has to address various kinds of disabilities such as visual impairment, hearing impairment, mobility and cognition.
Numerous countries across the world have already made it clear and mandatory that all e-Learning content (as it is part of web content) should be accessible to all users – whatever be the disability or challenge.
For example, the 508 compliant of United States requires the federal government websites to be accessible for the people with disabilities. According to WCAG (Web Content Accessibility Guidelines) the instructions pertinent to e-Learning should be followed. WCAG is a set of guidelines to make the web content (which also includes e-learning courses) more accessible.
Perceivable: Learners should be able to access the information provided in the course. Ex: Adding alt text to images, buttons and other objects.
Operable: Learners should be able to perform all the actions designed for them in the course. Ex: Providing keyboard only navigation option.
Understandable: Learners should be able to navigate the course and understand the course content. Ex: Enabling the screen readers to determine the language used in the course.
Robust: The content of the course must be sensible to the assistive technologies such as screen readers. Ex: Providing names, roles and values to various elements of the course.
So, as a result, content developers are now keen on developing e-Learning content which is accessible to all kinds of learners. In this process, the quality assurance (QA) team plays a major role in the e-Learning content development life cycle.
In this article, we will look at some QA tips to improve the accessibility in e-Learning content.
1. Have a separate accessibility checklist, if possible
Once the e-Learning content development is completed and the course is passed on for QA testing, the QA team should ideally treat 'QA for accessibility' separately by having a separate QA accessibility checklist. Because, the regular 'content development' checklist itself would be exhaustive.
Hence, it would be shrewd to have a separate checklist for this purpose. This checklist should comprise of all the challenges that people with different disabilities face. Some of these learners are:
People with Dyslexia
People with hearing impairment
People with partial blindness
People with complete blindness
People with color blindness
People who cannot hold mouse
People with cerebral palsy
2. Make the accessibility checklist as comprehensive as possible
Testing an e-Learning course for accessibility is not a trivial task. It needs to consider various disability aspects before testing and ensuring that the course is meeting all the accessibility requirements. For this purpose, the accessibility checklist should be as comprehensive as possible.
Have a glimpse at this 'sample accessibility checklist' which is comprehensive in nature.
Note: This is just a sample checklist. It can be made according to your specific requirements as well. The point to note here is the holistic approach taken, to involve different aspects of accessibility of an e-Learning course.
i. 'Accessibility support options' display to appear on the initial slide of the course
(This single screen display, showing the information about all the accessibility options available in the course, should appear on the initial slide so that the disabled learners will be aware of the accessibility features).
ii. Keep the headings in bold and use large fonts
(For visually impaired, the font should be ideally bigger)
iii. Control to the learner over the slide elements
(Each learner has his own pace. Learners with certain disability may find it difficult if the content elements are moving fast on the screen. The learner should be able to control the elements so that they can move them at their own pace. In this way, they can go back and revisit the slide if necessary).
iv. Audio support for all the onscreen text displayed
(Visually impaired learners need audio support for everything displayed onscreen).
v. Option to zoom the screen
(Learners with low vision may need to zoom the screen)
vi. Keyboard navigation facility instead of mouse activity
(Learners with visual impairment can handle a keyboard rather than a mouse)
vii. Video controls should be operated using tab, rather than using Play/Pause buttons on the screen.
viii. Color contrast to be high
(For visually impaired learners, high color contrast would help)
ix. Not to use contrasting hues
(Visually impaired learners only identify closely-related hues. Hence, it is advisable to use such hues)
x. 'Alt text' description for images and buttons
(This is to give description for the elements displayed on the screen)
xi. Audio description text for the reference links provided
(The audio explains about the link)
xii. Transcript for all the audio and video narration on the screen
(Audio and video captions at the bottom of the screen would help the hearing impaired learners)
Tags: Translation and Localization, Flash to HTML5 Conversion Services, Rapid eLearning Development, Custom eLearning Development, Convert PowerPoint to eLearning, Learning Management System
https://www.swiftelearningservices.com/wp-content/uploads/2021/06/Quality-Assurance-and-Checklist-for-eLearning-Courses-with-Accessibility.jpg
395
705
Swift Elearning Services
https://www.swiftelearningservices.com/wp-content/uploads/2022/09/Swift-eLearning-Services-logo_220.png
Swift Elearning Services
2021-06-24 12:27:23
2022-01-05 14:37:52
Quality Assurance and Checklist for e-Learning Courses with Accessibility