Caught into a Debate on Articulate Rise – Features and Shortcomings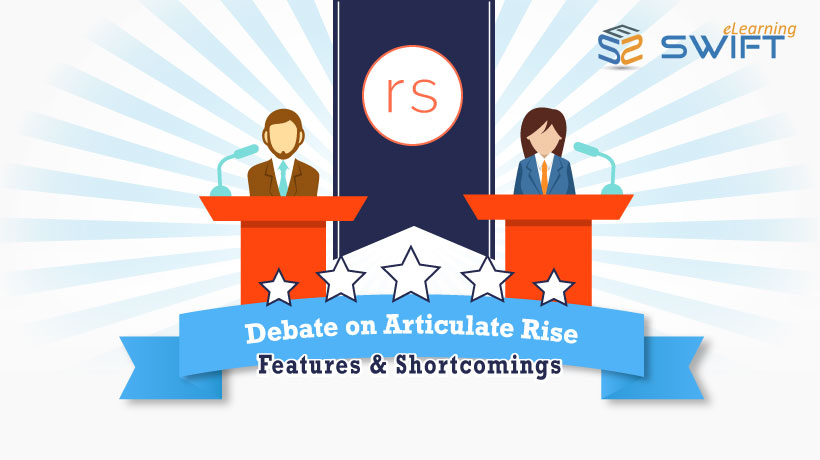 It won't take long for a discussion to turn into a debate, particularly when a group of eLearning professionals gather under one roof. Fortunately, I was one of 'em, we had a great time discussing each other's observations on Rise – a new responsive eLearning authoring tool from Articulate for rapid eLearning development. Luckily, I had a few microlearning sample / example courses created using Articulate Rise. In this blog, I will share the insights I gathered from our debate along with my examples on Articulate Rise.
Broadly, we discussed on various features and shortcomings of Articulate Rise.
Look and Feel: I was the one who strongly rated it 5 out of 5 compared to other responsive eLearning authoring tools currently available. However, I didn't find any one being skeptical about my opinion. I further defended my opinion with the help of below sample, please have a look at it and would love to hear your comments below.

Responsiveness: Again, everyone agreed unanimously on its efficiency in making eLearning courses responsive that supports multi-device learning. Smooth transformation for every device and minimalistic design are outstanding. Articulate Rise automatically organizes the eLearning content suitable for any screen.
Custom Branding: This feature has caused some noise over the table. Some of us had binary view on this. Few of us including me had no issue with this limitation. Yet, many were on the other side.
Unlike the other authoring tools, Articulate Rise allows only few areas to apply branding guidelines such as Text Box background color. I think this is the only area where you can add a color of your choice. However, it has a few options for Font style and Font color.
No Support for Tin Can API Till Date: Then, someone mooted a discussion saying 'Why Articulate Rise doesn't support Tin Can API?'
I had little knowledge on this, but thanks to our debate, now I've learned that it will be definitely coming in near future because it has been mentioned in the tool itself.
eLearning Interactions: This is one of the most sought after eLearning course features by the clients. I have created a course using a trial version; it has enough interactions to create an effective eLearning course. Custom interactions, of course there is no possibility. I don't blame Articulate for making Rise impossible to customize, as Rise does the hard work for us ensuring our eLearning content fits all the devices.
I have blogged on Articulate Rise and other key features, please feel free to take a look. Instructional Designer's View on Articulate 360 Rise
Microlearning: Including me, other Instructional Designers of the group had contributed on this topic. The consensus were positive on Articulate Rise -A true Responsive eLearning authoring tool that offers most of the required elements to create an effective mobile learning course. On this subject, one of my colleagues provided his inputs through his blog.
Interface: eLearning courseware developers had no disagreement among them about its simplicity and ease for an eLearning developer with mid-level proficiency.
There were quite a few other topics which were shared by every one of us. The other important feature I was discussing, was Free Canvas. Articulate Rise offers free canvas i.e. the infinite slide size that makes it possible for us to put everything related to a topic in one title.
The debate went well except an embarrassing moment faced by one of the colleagues as she got confused between Articulate 360 and Articulate Rise. Rest was a healthy debate.
Thanks for reading, have a nice day.
Before you leave, I would like you to take a look at our sample course on Workplace Bullying converted using Articulate Rise from Storyline 2. Click the below button to access the sample course.

Our Services: eLearning Solutions, eLearning Content Development, eLearning Vendor
https://www.swiftelearningservices.com/wp-content/uploads/2022/09/Swift-eLearning-Services-logo_220.png
0
0
Abdul Wahab
https://www.swiftelearningservices.com/wp-content/uploads/2022/09/Swift-eLearning-Services-logo_220.png
Abdul Wahab
2017-02-24 18:36:54
2023-11-06 16:37:08
Caught into a Debate on Articulate Rise – Features and Shortcomings