How to Accelerate Design and Delivery of eLearning Solutions Through Partnerships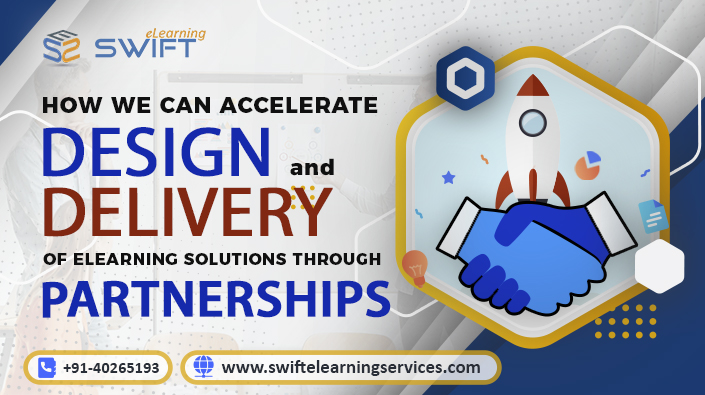 On keenly observing the lifecycle of eLearning content development, one would be surprised to the extent of end-to-end work involved from conceptualizing the course objectives to launching the course is hugely massive. In exhaustion, if you say, it is almost like making a movie 'indoors', you are, in fact, not exaggerating the point.
The gigantic end-to-end process involved is driven by the complexity of strategy coupled with deployment of diverse competencies and amount of communication exchanged, both internal and external, and numerous other tasks involved to deliver a qualitative solution on a timely and cost-effective manner.
In this ever-evolving global uncertainties' rapidly changing technology landscape, It is imperative for organizations to deliver one-stop shop solutions, both efficiently and in a manner that enhances the net promoter score with the clients.
One wiser idea around is to forge eLearning partnership alliances to deliver eLearning solutions more rapidly, thus enabling win-win situation for all stakeholders.
In this article, we will look at how we can accelerate eLearning design and delivery through partnerships.
1. Identify your weak areas which are hindering the delivery pace
eLearning content development is a collective activity which involves different kinds of tasks. Practically speaking, some of the areas of your content development can be weaker compared to other areas, which can cause delay in delivery, attributed to different reasons, such as not having adequate number of resources in the area, lack of competency of the resources, not getting skilled resources in that area etc.
When you identify an area of activity that is taking longer than required time, it is shrewd to outsource those tasks to a suitable vendor, who can complete and deliver the tasks in the stipulated timeline. In majority of cases, such vendors are proficient in the specialized areas and they could come up with quality content.
Knowing our strengths and weaknesses well and being flexible with our decisions helps take right decisions at the right time, which can hasten the pace of delivery. Expecting the weaker areas to improve and giving them the required support is good, but certainly not at the cost of project delivery.
2. Tasks and Resources Vs. Outsourcing
To put it precisely – You must juggle with! It is a common phenomenon in eLearning business to get multiple projects simultaneously, among which some are small, some are big, some are one timers, some are recurring in scope, and so on. So, it is pivotal to determine at the top level, which projects and tasks you can take up in-house and which ones you can hand over to the vendor partners.
For example, assume that your team has enough expertise in developing a training course in the source language, such as English. Now imagine, you have a new client requirement to localize the content into Spanish, which your team is not familiar with, right now. Considering the delivery timelines and the other task allotments of the resources, it is a good decision to outsource the localization part of the content to the vendor, enabling in-house resources build core competencies.
This intelligent decision making and astute segregation among tasks helps tremendously in improving the pace of eLearning delivery, because these decisions are based on your strengths and weaknesses, and feasibilities in project management.
3. Ensure to get the best results from the vendor partnership
Just don't jump the gun too soon while selecting a vendor for your eLearning partnership. Scan the profiles of multiple vendors, shortlist them, get the samples from the shortlisted vendors according to your requirements, and choose the best vendor among many. Identify their stronger areas of work and their proficiency.
Even after finalizing a reputed and trustworthy vendor for the specific tasks you outsource, what matters is how you manage to get most out of the partnership. Consider the following instructions in your vendor partnership:
Clarity on your requirements: Apart from agreeing on requirements formally through Contracts, forge service level agreements with the vendor to ensure that both of you are on the same page. This initial, significant, and elaborate discussion can avoid surprises at the later stage regarding the content outcome. Provide insights about the learning objectives as well as the end users.
Ensure continuous progress: It need not always be like – you outsourced the tasks, and you would get the accurate desired results. You must be in touch with the vendor team frequently to get the updates and to check the ongoing work. Viewing the initial prototypes is crucial as they will ensure if things are going according to your plan.
Make them feel free with you as a team: Though it is a vendor-customer relationship on paper, ensure that they feel more like a team with you, with your amicable treatment and your friendly collaboration will certainly make distinguishable difference, paving way for efficient content outcome.
Have tighter timelines from the beginning: The hallmark of project management is initiating projects with complacency and imposing pressing timelines towards the end of the project, which would eventually cause havoc at the end and deteriorate the product quality to a great extent. Having reasonable timelines from the beginning would get good turnaround time in response, which would provide good work experience at both ends.

Looking for an eLearning Content Development Company? We can help you with Custom eLearning Development, Flash to HTML5 Conversion Services, Rapid eLearning Development, Translation and Localization, Learning Management System, Convert PowerPoint to eLearning
https://www.swiftelearningservices.com/wp-content/uploads/2021/06/How-to-Accelerate-Design-and-Delivery-of-eLearning-Solutions-Through-Partnerships.jpg
395
705
Swift Elearning Services
https://www.swiftelearningservices.com/wp-content/uploads/2022/09/Swift-eLearning-Services-logo_220.png
Swift Elearning Services
2021-06-22 21:23:09
2022-01-05 15:15:41
How to Accelerate Design and Delivery of eLearning Solutions Through Partnerships