3 Tips on How to Select a Vendor for content Translation Services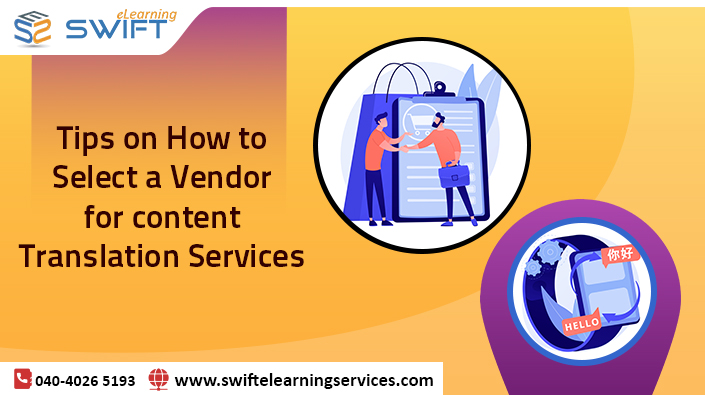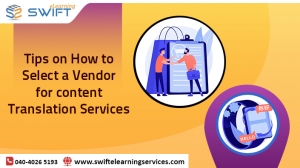 As the reach of online training is going global day by day, eLearning localization has taken a prominent role as the target learners are emerging from various languages across the world. Though localization is not just translation altogether, it plays a major role in successful localization.
There are many instances where the translated versions of the course fall short, in terms of quality and learner experience. In fact, the real challenge in content translation is getting the original course well translated into the target language so that it doesn't diminish the essence, quality, and impact.
So, it is pivotal to take utmost care in getting a course well translated. Let us see some important aspects while selecting the content translation vendor:
Test the quality of translation service through your samples: Experience does matter! But, don't go just by the number of years the vendor has been offering the eLearning translation services. Check yourself by sending your random samples – across the course – and get them translated. Assign somebody from your end to check if the essence and quality are retained from the source content. Through the sample work or proof-of-concept, you can anticipate the quality and expertise of the translation vendor.
Vendors may also send their previous sample work which is similar to your course. You can also have a thorough review of the translation work done.
Check the testimonials if available or ask for them: All vendors posts their client testimonials on their website, which shows the authenticity of their services. Client testimonials serve as the review of vendor services and are useful for you to make up your mind.
Renowned clients just won't pass on their testimonials without experiencing the quality of the service. Some people argue that testimonials can also be paid endorsements, but more often than not, they are given by satisfied clients, voluntarily or upon the vendor's request, which helps you gain an understanding of the quality of the services.
Translation Tools and Native Speaker's efficiency: Unlike the previous years, today, there are numerous translation tools available for this purpose. Despite the reputation of any translation tool for its speed and consistency, it may not give 100% feel and essence for the translation.
Here, we need the native speaker's effort who bridges the gaps, reduces the artificiality in the expression, manages cultural sensitivities, and provides better quality, easy flow, and language expertise. For this reason, check the model of the offering by the vendor before you confirm – a professional translation vendor should efficiently blend the usage of a elearning translation tool and the native speaker's efficiency, which results in good output.