5 benefits of using micro-learning approach to develop eLearning courses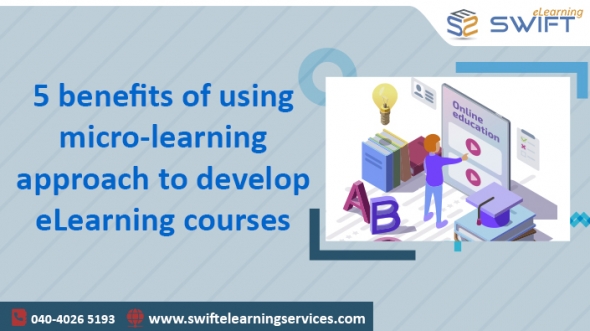 For various practical reasons, the mode of eLearning has been proved to be effective to train and teach global audiences, for decades. When the world is changing rapidly, service providers in every field update their products, as well as their approach in offering the products. The e-Learning content provider in eLearning are no exception!
e-Learning companies are constantly in pursuit of the best means to deliver their courses. They focus on the latest learning trends, the changing attitude of the learners, and the effective ways to fill the gaps between the targeted learners and the content.
eLearning Localization service is what exactly stands here. Going beyond the concept of merely translating the course, it addresses the regional nuances of the targeted learners, who ultimately benefit from effective learning and greater retention.
Another well-known approach in eLearning content creation is micro-learning, which is also an effective outcome of the changing times. The goal of micro-learning is to offer content in small and focused chunks, which ensures quick learning.
When these two effective learning approaches go hand-in-hand, the benefits are umpteen. Let us look at some benefits of the micro-learning approach:
Makes learning interesting: Compared to a 5-day test match in Cricket, a 20-20 match is now popular. With small chunks of micro-learning, the learner feels engaged, which ensures effective learning. Psychologically, the approach gives the learner a joyous and burden-free experience.
Gunshot learning approach: In fact, one of the primary goals of micro-learning is to find quick answers to specific questions. Imagine a 120 minutes duration eLearning course is effectively converted into micro-learning with around 30 nuggets of around 4 minutes each. Each chunk of learning provides a quick answer for a specific question, ensuring ease of learning, from the learner's perspective.
Learn-as-you-need-it: The real joy of learning is when you enjoy it. The shorter eLearning clips discard the formal and cumbersome way of learning and allow the learners to access the content when they need it. They can pull certain nuggets as and when they have time and learn accordingly.
Now, learning is handy: In microlearning, the primary format is video – which is a widely popular format now. As we are aware, the format allows the learner to access the content on multiple devices such as tablets, smartphones, laptops, and desktops, leaving little room for technical hitches.
Quick and easy to develop and update: Even from the content developers' perspective, it is quick and comparatively easy to develop micro-learning capsules. In fact, micro-learning demands a shorter development cycle, which involves rapid development, quick QC, and sharp deployment. Considering the length and formats used, it is relatively easy to update the content and deploy it.