Top 5 reasons to choose Articulate Rise for your Rapid ELearning Development!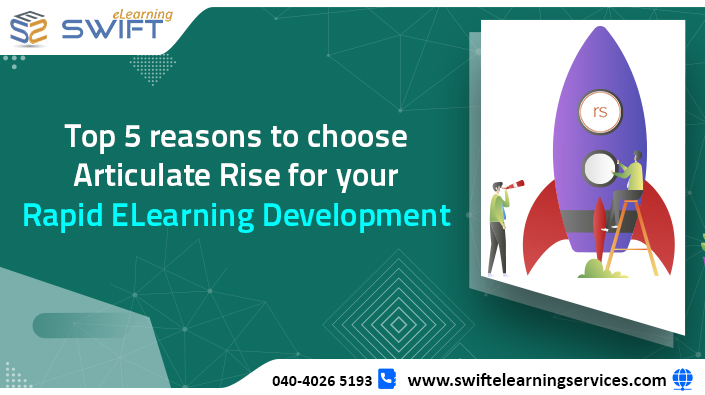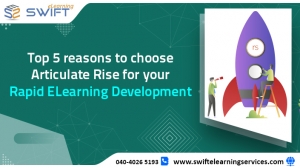 Articulate Rise 360 is one of the rapid eLearning tools of Articulate 360 applications. Articulate Rise 360 is the easiest/rapid eLearning development authoring tool among the Articulate 360. You can develop series of courses by using available course templates within Rising 360 in few clicks. The inbuilt template designs are ready-to-use for eLearning development.
Nowadays Flash is wiped out from almost every browser and all the eLearning courses need to be converted into HTML5. Everybody is looking for an eLearning solution that will work in almost every smart device.
Below are the top 5 reasons to select Articulate Rise as your rapid eLearning development tool.
Multi-Device Compatible
Web-based tool – Easy to Develop Courses
Step-up eLearning Development
Export/Publish/Download
Translation/Localization
Let's discuss these features in detail:
Multi-Device Compatible
When we talk about multi-devices like PC, Laptop, iPad, Tablet, and Smart Phones, Articulate Rise 360 is one of the best tools to develop responsive eLearning courses for multi devices.
Web-based tool – Easy to Develop Courses
Articulate Rise 360 is a completely web-based application and no need to download/install any application on your computer/laptop. You can easily create courses in a web browser. You can add interactions like clickable, drag & drop, video, etc., in few clicks and you can also add Articulate Storyline 360 slides.
Step-up eLearning Development
– You can speed up courseware development by using these features in Articulate Rise 360 —
– Use in-build templates,
– Image library,
– Review 360,
– Teams plan,
– Maintain folder structure,
– Save customize slides/screen as a template (Blocks).
Export/Publish/Download
Articulate Rise 360 supports all of the top LMS standards where you can track learner progress.
You can choose your LMS standard in Articulate Rise 360 and export courses to the LMS package in these standards – SCORM 1.2, SCORM 2004, AICC, xAPI (Tin Can API), or cmi5.

Translation/Localization
Translation is very easy in this tool. You can translate your courses into 4 simple steps.
– Duplicate the course you want to translate
– Export XLIFF File
– Import translated XLIFF File
– Translate inbuild course buttons and labels through setting.