What is VR, AR and 360° Video? What Makes Differ From One Another?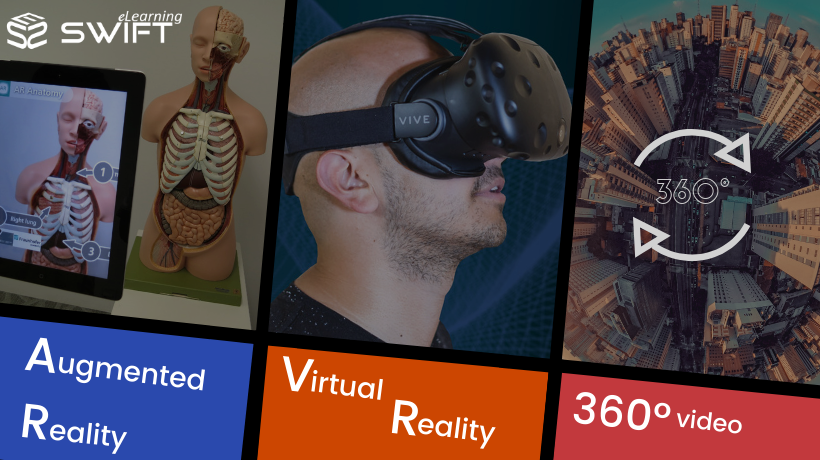 Gone were the days, where learner used to sit in a closed room with a book in his/ her hand and an instructor with the teaching aids. Over the last two decades, the change in the technology is unpredictable. A radical behavior in the minds of the learners paved a way to discover the new teaching methodologies and new teaching aids. In the midst of the whole scenario, eLearning has been a ray of hope and become a ground factor to modernize the learning in terms of Virtual Reality, Augmented Reality and 360° video.
You may not be wondering about these terms if you belong to the fields of eLearning and mass media communications. But, all the three technologies in one place gives you a lucid figure and might help you in leveraging your online training.
Virtual Reality:
Virtual Reality, in short VR, is an emerging technology which gives immersive learning experience. A three dimensional environment, created using computer generated simulations allow the learners to interact with the virtual world. A specially made headset, VR headset acts as a learning interface and gives learner a 360 degree view of any location. Head movements of the learner will be tracked and give access to the virtual objects, look and move around the virtual environment as they would do in the real life.
Virtual Reality Applications makes a remarkable move in training the employees of various industries. Let's see some of its applications.
Virtual Reality in healthcare industry enables the doctors, nurses and other staff to interact with the virtual medical environment training instead directly being operated on patients to improve health outcomes.
Virtual Reality in eLearning is a boon for the learners since it will be a training need of an hour where learners are indulged in the immersive learning. These training courses are cost-effective and most of the L&D professionals would suggest virtual reality for technical skills development, leadership skill development, etc.
Virtual Reality in Construction business offers many benefits since it is widely being used to create vibrant and realistic structures and taking the 3D modeling to the new heights.
Augmented Reality:
While virtual reality creates a computer generated environments, Augmented reality superimpose the content and other digital information on computer generated images or a user's view of the real world, therefore to enhance the learner's perception of reality. There is no need of any special headset to view augmented reality solutions and this can be viewed through Android or iOS devices. Though virtual reality technology has gained word of mouth, most of the times it will be associated with the augmented reality technology.
Have a look on some of the Augmented Reality applications.
The trend creator in furniture world, IKEA has launched its first and best ever app, "IKEA Place" where it makes use of Apples ARKit augmented reality, that allows you to place a 3d furniture using the lens of your camera. This is compatible with Apple iPhone 6s.
Augmented Reality for sales training organizational workforce imparts a huge possibility for opportunities. Pairing up with your Android device, a sales representative can recommend you the latest apparels arrived in the store or the new arrivals in your favorite brand based on your previous purchases.
Augmented reality in construction and architecture projects plays a significant role since it portrays the visual aspect of a house or building in augmented reality. Clients can showcase to architectural firms about how a building will fare over time, building information modeling, so that any alterations can be made on the current plan before construction starts.
360 Degree Video Technology:
This is the same way as VR, but this shows a film of a real scene instead of a computer-generated simulated image. This creates immersive videos or spherical videos where every direction is recorded at the same time, which is shot using a collection of cameras or an omnidirectional camera. It places the learner in the center of the scene and creates a fully immersive environment. Viewers can watch 360 degree videos on any computer or can be viewed in any VR headset.
Let's sneak peek on the 360 degree video applications:
360 degree video in Automobile Industry: World class luxurious car, Mercedes Benz, made a 360 degree video to experience the real driving of E-class without driving it physically.
360 degree video in Travel and Tourism: Some websites offer free 360 degree video tour of prominent cities for those who are unwilling to travel the world.
360 degree video in corporate learning: A passive online eLearning training might leave some information for trainees, but a 360 degree video fades away the passive training and instead it provides learner engagement to enhance the online eLearning training activity.
Verdict:
It is always appreciable when we follow a saying "Think Before You Act". More importantly in eLearning industry, we need to be more cautious before start digging a project or course. Need to be aware of the technology, approach, client's requirement and required tools etc. VR, AR and 360 degree video will take the eLearning courses to the next level since there are myriad applications of these tools in various industries.
I hope this blog gives you good pointers on how Virtual Reality, Augmented Reality and 360 degree video differ from each other.
We are just a step away to fulfill your eLearning requirements. For any learning solutions on course-ware / Digital content development please contact us at [email protected].
Our Services: eLearning Development, Flash to HTML5 Migration Service, Rapid e-learning Development
https://www.swiftelearningservices.com/wp-content/uploads/2022/09/Swift-eLearning-Services-logo_220.png
0
0
Swift Elearning Services
https://www.swiftelearningservices.com/wp-content/uploads/2022/09/Swift-eLearning-Services-logo_220.png
Swift Elearning Services
2018-10-12 19:15:27
2021-07-19 18:34:07
What is VR, AR and 360° Video? What Makes Differ From One Another?