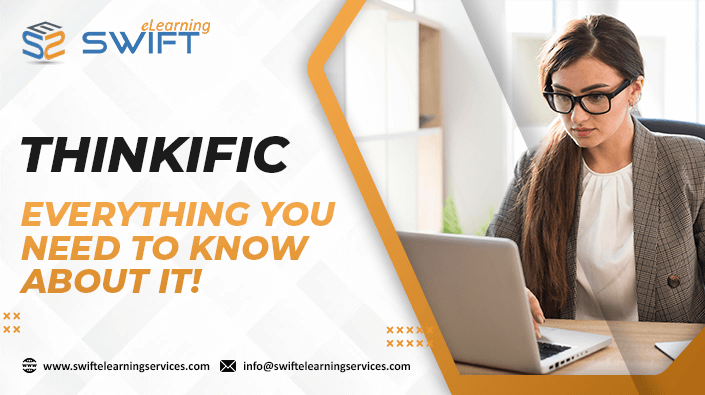 Thinkific – Everything You Need To Know About It
Knowledge is power! Every learner is in a race to stay ahead of the learning curve by using the most advanced learning technologies available.
With the rise of robust learning strategies and increased learner demand, instructors are finding it strenuous to maintain a 1:1 learning-to-teaching ratio.
Now, with Thinkific, it is no more difficult!
Whether you're teaching 10 learners or 10 billion learners, you'll now benefit from this most user-friendly technology and the best customer service in the industry.
Thinkific makes it simple to share your knowledge, expand your learners, and scale your existing business.
In this blog, let's talk about Thinkific, along with its features, benefits, and pricing.
What is Thinkific?
Thinkific is an all-in-one, highly rated online custom eLearning courseware development platform that allows anyone to quickly create and deliver stunning online courses on their own branded websites.
Thinkific makes it simple to educate your learners, sell courses to generate revenue, or grow your brand and engage your audience.
Today, people from small businesses, experts, authors, consultants, coaches, speakers, professional associations, trainers, enterprises, universities, and larger companies are using Thinkific.
Thinkific helps you make better business decisions by taking you and your target audience's preferences into consideration.
An Overview of Thinkific Features
Thinkific provides the ultimate support to motivate you and celebrate your achievements through its amazing features.
Take a look at Thinkific's outstanding features to get an idea of how it works.
Accounts

Browse List of Users
Upload Users

Authentication

Custom User Login Page
Manual Accounts
Self-Registration

Compliance Management

Certification Expiration Management

Enrolment

Manual Enrolment (based on User data)
Self-Enrolment
Survey Enrolment (based on response)

Customization
Learning Types

Asynchronous Learning
Blended Learning
Synchronous Virtual Classroom

Certification Management

Manage Certification Templates
Unique Certification by Course and Curriculum
Predefined Certification Templates

Interface Options

Language Settings
Location Settings
Multi-Language Support
Ready-Made Themes

Security
Creation

Built-In Authoring Tool
Course Backup Options
Drag and Drop Interactions
Assessments Engine
Additional features
eLearning Companies
Ecommerce Management
Mobile Learning
Performance Management
Quizzes
Progress Tracking
Reporting/Analytics
Social Learning
Storyboarding
Video Conferencing
Training Management
Self-Paced Courses
Gamification
Thinkific Benefits
Get started with Thinkific to address learning and business challenges for the future.
Here are some benefits of Thinkific:
It is simple to use, but it is also capable of supporting businesses of any size.
It allows you to take charge and create a one-of-a-kind learning experience that will help you excel and amaze your customers.
It can help you get up and run quickly while maximising your future potential.
It simplifies marketing by providing better customer service.
Thinkific Pricing: Thinkific is an excellent platform for delivering visually stunning courses at a decent price.
Starter: Thinkific is free to get started. It gives you the tools you'll need to begin with marketing, creating, and selling your courses.
Essentials: A little more interesting! Coupons, monthly subscriptions, course bundles, a higher degree of integration, affiliate reporting, a custom domain, and additional course prices are all available for $49 per month. This might be a good option for smaller classes.
Business: Accessing the business plan with all the features of the prior plans starts at $99 per month. This package serves you with completion certificates, no transaction fees, priority support, instructor pay-out reporting, advanced HTML, white labelling, and direct Infusionsoft integration.
Advanced: If you want to go big, advanced is the best option. You'll get everything for $279 a month, with advanced integrations, an onboarding specialist, advanced Zapier, and 10-course admin accounts.
Conclusion: Thinkific will assist you in reaching your goals!
Whether you're a novice or an expert, you can reap significant benefits with no risk at reasonable prices. It enables you to grow more quickly by ensuring that your courses are best-in-class tools with unique and sophisticated functionality, all without any technical expertise.
Thinkific is easy-to-use, and user-friendly for both learners and businesses.
Frequently Asked Question (FAQs)
Q1. What distinguishes Thinkific from other platforms?
Thinkific is distinct in several ways:
It is simple to set up and customize without any prior coding knowledge.
It gives your learners an amazing experience from the moment they visit your website to the moment they finish your course and achieve their objectives.
You'll have the support of an entire team throughout your journey, as well as access to a vast knowledge base and partner network.
Q2. Can I use Thinkific to create my entire website?
Absolutely! That's the magic of Thinkific: you can create your entire online education business, including courses and your overall brand, all from one place. The best part is that you don't need any prior web design experience to get started, because Thinkific is built to make creating, marketing, and selling online courses easier.
https://www.swiftelearningservices.com/wp-content/uploads/2022/02/Thinkific-–-Everything-You-Need-To-Know-About-It_SS.png
395
705
Swift Elearning Services
https://www.swiftelearningservices.com/wp-content/uploads/2022/09/Swift-eLearning-Services-logo_220.png
Swift Elearning Services
2022-02-08 14:51:22
2022-02-08 15:59:44
Thinkific – Everything You Need To Know About It