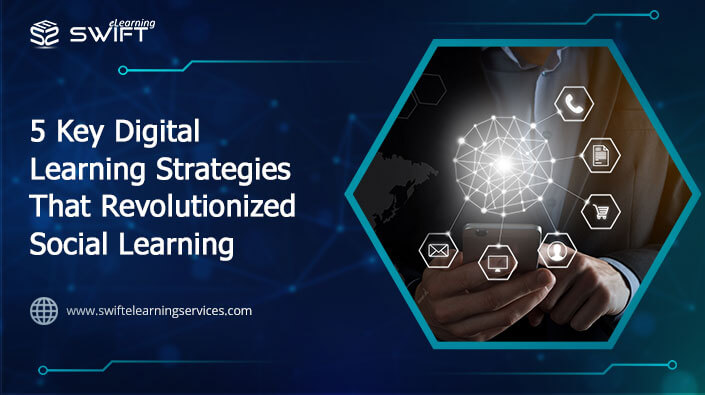 5 Key Digital Learning Strategies That Revolutionized Social Learning
With the growing necessity of corporate learning solutions and the demand for soft skills, the L&D professionals are looking for precise approaches to improve corporate L&D training strategy. One such intriguing solution is Social Learning.
Social Learning has become the norm in the context of Learning & Development throughout the world as a best way to harness information, interact with friends, and keep updated about world events.
Since the advent of digital learning, social learning has become a hot topic all over the world. Before moving further, let us understand social learning and the strategies of digital learning that boost social learning.
What is social learning?
Social Learning is the informal learning that we learn with and from others. It is a teaching and learning strategy that happens either through interaction, observation or intimate behaviour, directly through face-to-face interaction, coaching, or indirectly through social media.
Social Learning methodology came into picture from Social Learning Theory, proposed by Albert Bandura in the 1950s. According to this theory, learning is a cognitive process that sparks a valuable source of inspiration and experience in learning environments.
The Social Learning Platform is catching the fancy of the L&D industry by leveraging learning technologies for employees to collaborate, share experiences, organise meetings, discover new things, and observe favourable performance behaviours on any electronic gadgets.
Benefits of social learning
Undoubtedly, social learning has become an integral part of our daily lives, which enriches the language learning experience and fosters effective collaboration. Interestingly, it is a natural way to learn and improve, either intentionally or unintentionally.
It is an easy way that helps peers understand better, connect employees, makes learning a continuous process and builds satisfaction levels. Other benefits of social learning include:
Improves Skills and Knowledge
Better Information Retention
Fosters Collaboration
Fills knowledge gaps
Motivates employees
Improves culture
Enhances Observation and Learning
Problem-solving in real time
Better Productivity
Connection with a globally dispersed audience
5 Key strategies of digital learning to boost social learning
It is now widely accepted that learning is much more efficient and convenient in a social environment. In fact, digital learning with built-in social media functionalities spark social interaction and have naturally gained dynamic popularity in corporate training to promote effective learning experiences.
Now-a-days, social learning is not just face-to-face interaction, yet can emulate social learning approaches in online learning via video conferencing tools. Let's see a few of the most interesting strategies to serve the needs of a globally dispersed audience.
1. Facilitates knowledge-sharing platform
The culture in the workplace is changing, and making it better via employee collaboration, Knowledge exchange, and engagement.
This strategy cultivates a communicative learning and training culture that includes online discussions, live events, group collaboration, tutorials, etc., to support lifelong learning in the best possible manner. With this, everyone feels comfortable in sharing ideas, overcoming challenges, bridging gaps, and expanding collective knowledge.
2. Group collaboration projects
Online group collaboration drastically reduces 'Downtime' and allows team members to be engaged and productive.
Social media is a perfect fit for social learning, that allows effective collaboration with anyone, and from anywhere in the world.
3. Increase motivation through gamification
Leveraging game-based elements like badges, points, scoreboards, etc., in the learning framework is the best way to motivate employees, boost encouragement and satisfaction levels. This strategy allows learners to engage in friendly competition to rank up and collect points. But, make sure that incorporation of game mechanics should not create hostilities in the workplace culture.
4. Schedule webinars
Webinars are among the most effective digital marketing tools available for businesses to create highly engaging, live online events. This strategy gives corporate learners the opportunity to interact with instructors to fuel the project and develop a detailed outline in advance.
It is a perfect fit for learners to ask their questions and get clarifications from subject matter experts (SMEs) in an organized manner, and can disseminate these sessions on an online PDF or record it for the one who were unable to attend the webinar.
5. Online discussions via video-sharing platform
This strategy helps to prevent the feeling of isolation and invites Learners to participate in online tutorials, share their thoughts and ideas, discuss with peers to stay on the same learning objective with focussed view-points.
Video-Sharing Platform sparks online discussions, refreshes knowledge or skills, collaboratively tackles tasks by interacting with each other, at the moment of need.
Conclusion
Incorporating digital learning strategies into your online training programs is the best way to:
Create employee engagement
Boost productivity
Builds friendly-work culture
Fill knowledge gaps
Overcome challenges
Anywhere, anytime access
Improves overall work performance
Digital learning strategies are pervasive, instantly searchable, on-demand, self-directed, infinitely customized, out-right enjoyable with unexpected outcomes.
Swift eLearning Services, a cutting-edge eLearning provider with over a decade of experience in the eLearning industry, can assist you in getting the most out of your learning experiences.
If you are looking for an effective and reliable digital learning solutions, then Swift eLearning Services is the best solution.
For further queries, get in touch with us.
Frequently Asked Question (FAQ)
Q1. How does digital learning play a key role in social learning?
We learn with and from others, which is the most common way of learning, which is nothing but social learning. Learning and development professionals are reaping the benefits of social learning because it is the most digestible method for learners of all learning styles.
Digital learning is important in social learning because it impacts social learning to the greatest possible extent by utilising internet technology and social media apps to increase learning efficiency.
Incorporating digital learning approaches in social media to enhance social learning has become the most effective, engaging, and convenient learning method for learners.
https://www.swiftelearningservices.com/wp-content/uploads/2022/02/Digital-Learning-Strategies.jpg
395
705
Swift Elearning Services
https://www.swiftelearningservices.com/wp-content/uploads/2022/09/Swift-eLearning-Services-logo_220.png
Swift Elearning Services
2022-02-08 15:57:17
2022-02-08 15:59:31
5 Key Digital Learning Strategies That Revolutionized Social Learning