Retail Management Certificate Program – E-learning Courses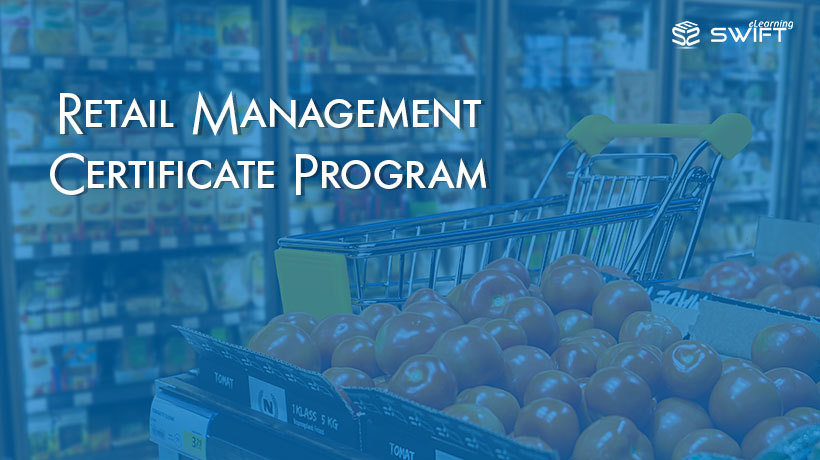 Retail industry is one of the hottest growing careers globally, and the fastest growing in India.
A leading international retail training organization of the Australian Retail College (ARC) is committed to developing industry–ready staff for retail frontline jobs and delivering talent development programs within retail corporates globally.
Course Intro:
The course is offered in an online platform similar to an interactive textbook, featuring pre-recorded videos, quizzes and projects that give you the opportunity to gain new knowledge, learn new skills and demonstrate these through the completion of online assessment and skill evidence.
The four areas that are integral to the skill-set and professional development of a Retail Manager.
– Working Effectively in Business
People who complete this unit will develop the skills and knowledge to maintain positive customer communication at every point of contact as well as establish good communication among team members.
– Working Effectively with Diversity
People who complete this unit will have the knowledge and skills to encourage colleagues to utilize and share their specific qualities, skills or backgrounds with other team members and clients to enhance work outcomes.
– Managing Yourself
People who complete this unit should have the skills and knowledge to ensure that work objectives or Key Performance Indicators (KPIs) are understood, negotiated and agreed on by all staff in accordance with organizational requirements.
– Manage Personal Work Priorities & Professional Development
People who complete this unit will understand the importance of, and how to engage in their own professional development.
Certification:
Those who successfully complete this course will be able to incorporate their learning into their current workplace and be formally recognized with a Certificate of Completion endorsed by the Australian Retail College.
Course Duration:
The Program duration is 2 hours and learn from anywhere and track your course progress any time.
Entry Requirements:
People interested in starting a new career in retail management or those who are already working as supervisors or coordinators and desire to build their management capabilities.
For more info please contact us  – https://www.swiftelearningservices.com/contact-us/
Our Services: Custom eLearning Services, eLearning Solutions Company, Rapid Development Solutions
https://www.swiftelearningservices.com/wp-content/uploads/2022/09/Swift-eLearning-Services-logo_220.png
0
0
Swift Elearning Services
https://www.swiftelearningservices.com/wp-content/uploads/2022/09/Swift-eLearning-Services-logo_220.png
Swift Elearning Services
2018-06-11 19:11:22
2021-07-12 19:59:35
Retail Management Certificate Program – E-learning Courses