Rapid eLearning Development: The Ultimate Process Guide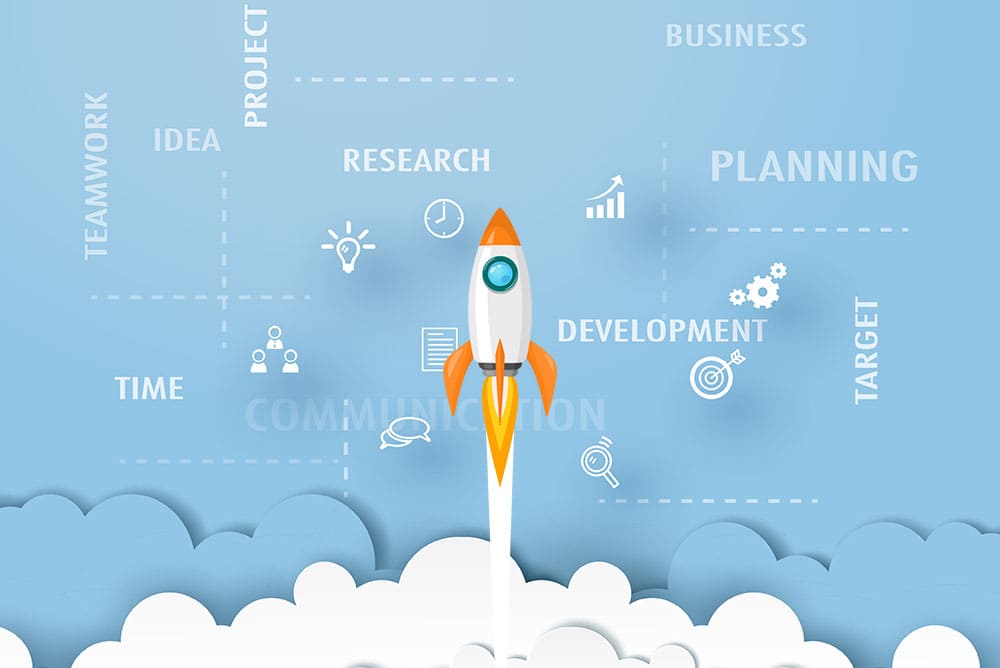 Rapid eLearning development is the current eLearning mode that millions of users have successfully been using. In this blog, let us understand what rapid eLearning development is, its role in eLearning development and the benefits.
Modern learners are shifting to a high-tech rapid eLearning development to reap the benefits of digitalization, leaving behind conventional methods of learning.
In the wake of the COVID-19 pandemic, companies are looking for a quick solution of converting Instructor Led Training (ILT) materials to eLearning that would allow them to go online anywhere, anytime. Thanks to Rapid eLearning development!
Rapid eLearning development assists you to increase your global business productivity and gain a competitive market advantage.
If you're looking for a quick conversion of traditional classroom materials to successful eLearning courses on a budget, Swift eLearning Services is the best choice.
Swift eLearning Services, the front runner in the eLearning industry with more than a decade of experience, enables even the most complicated learning concepts by using instructional design principles rather than a one-size-fits-all approach. We are a full-service learning design and development firm that outperform the competition in terms of cost, quality, and efficiency.
We collaborate with other leading eLearning companies to make sure you get the best and most appropriate product or service for your company at the right time.
In this blog, let us take a look at the following to understand the rapid eLearning development and the need to implement it to be future-ready.
What is Rapid eLearning Development?
Rapid eLearning development is a technique of quickly developing eLearning courses with the greatest impact in the shortest amount of time, using the appropriate eLearning authoring tools.
Rapid learning uses instructional design principles rather than a "one-size-fits-all" approach to create high-quality, interactive, innovative, and engaging eLearning training courses at a low cost.
Rapid eLearning development can handle everything, from converting instructor-led training to online training, ELearning translations, and legacy course conversions.
Rapid eLearning courses are created using performance-learning objectives to reduce the risk of misunderstandings and errors throughout the course production process. It also sets the tone for the rest of the course, which includes content, instructional design, interactivity, and assessments.
The role of Instructional Design in Rapid eLearning
Instructional design is the process of creating e-learning experiences and resources in such a way that knowledge and skills are acquired and applied. Incorporating the ADDIE paradigm into eLearning courses is one of the greatest ways to simplify interactive, creative, and learner-centric fast eLearning courses.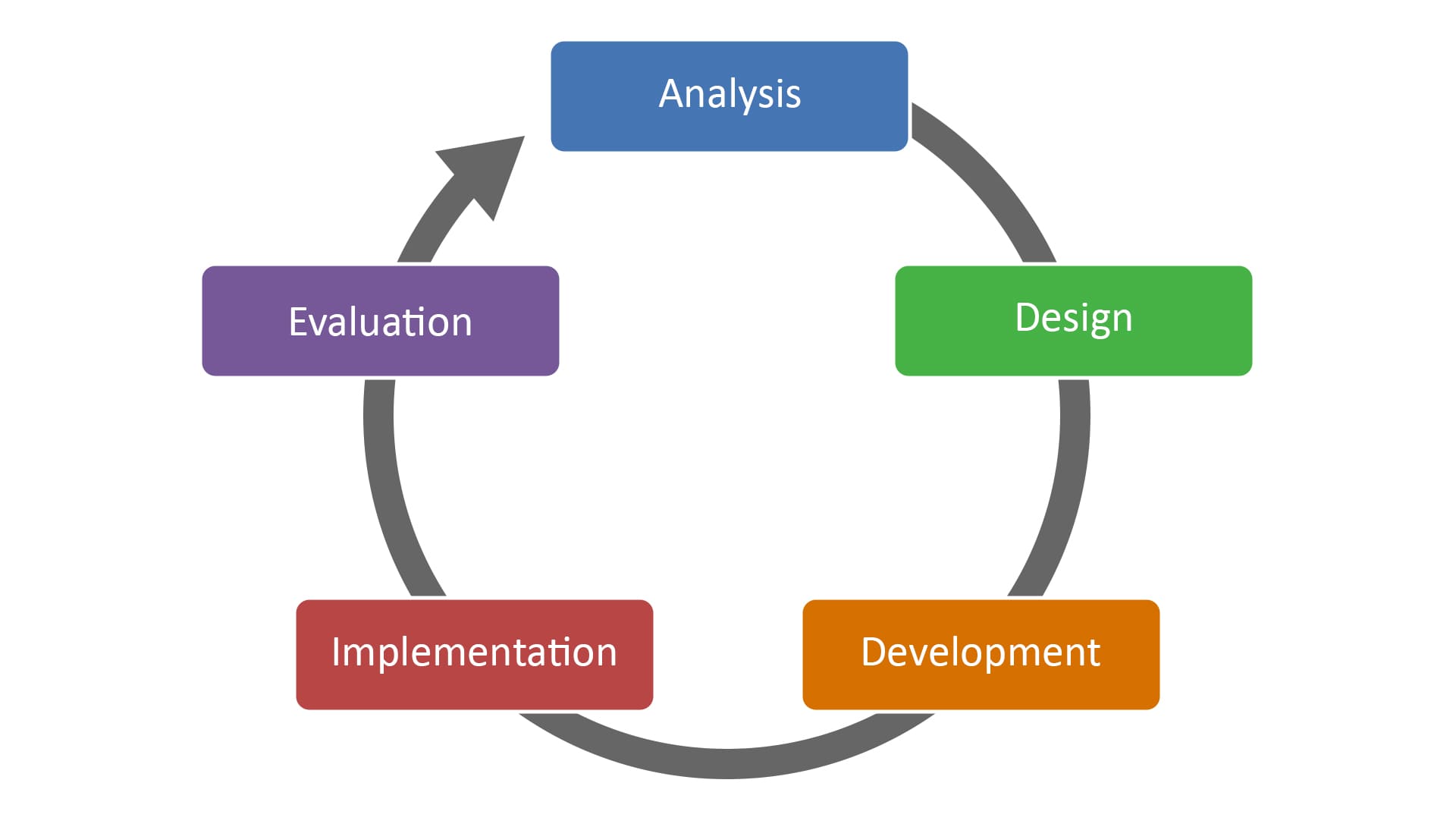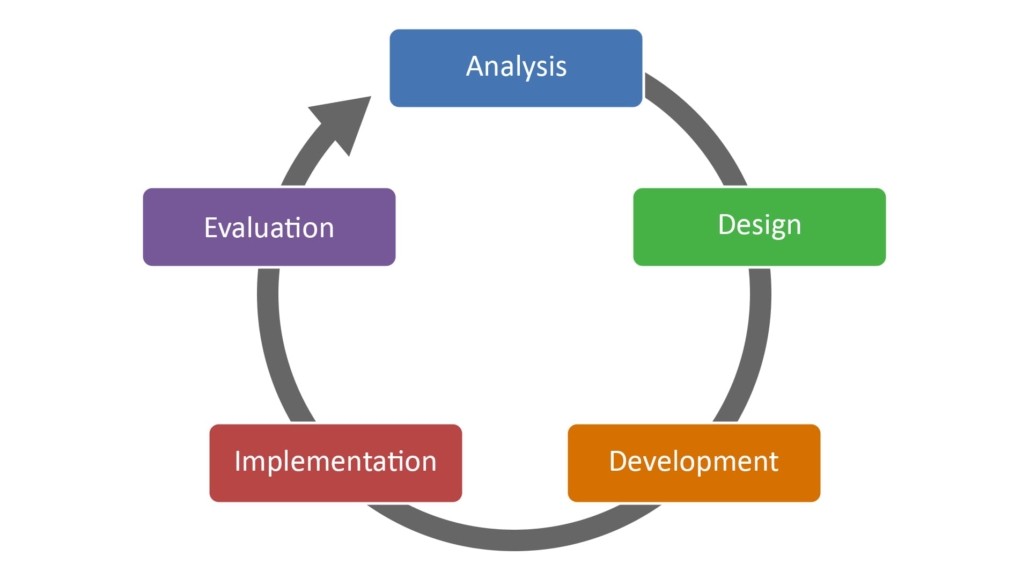 The ADDIE model is an instructional design methodology for organising your online learning course successfully and efficiently. The ADDIE technique was developed by Florida State University in 1970. Although various models and methodologies for generating fast eLearning courses exist in the eLearning industry, ADDIE is by far the most convenient and popular.
As a result, many eLearning professionals choose the ADDIE approach since it is simple to use, understand, and adapt. Another advantage of ADDIE is that it allows you to correct errors from previous iterations, improving the quality of the final output.
The acronym ADDIE refers to the five steps of the development process: Analysis, Design, Development, Implementation, and Evaluation. It's a great way to learn how to create an effective rapid eLearning course with measurable learning goals because each stage has a deliverable that feeds into the next.
Step 1: Analysis – Before creating any resources or training techniques, analyse the current situation in terms of training, knowledge gaps, course objectives, target audience, and so on to ensure maximum learning efficiency.
Unsurprisingly, the more thoroughly you study various aspects before producing the course, the more effective the end product will be. Analysis aids in acquiring a comprehensive understanding of target learners, learning objectives, delivery alternatives, course timeline, and other factors.
Step 2: Design – This step aims to create the course framework in one of two ways: systematize with storyboards and mind maps/bulleted sketches, or particularly with a detailed plan with graphic explanations and schematics. This stage, if effectively designed, gives the entire fast eLearning course an appealing 'Look-and-Feel.'
Step 3: Development – We are now at the third stage of the ADDIE paradigm, where we're focusing on effective
e learning module building.
Actually, development refers to the process of putting your designs/created content into motion using your preferred and most convenient authoring tools, which might be simple or complex.
Based on the authorization of clients or higher-ups, this is the stage in which you refine your content and make modifications to your design to make it effective. Once the higher-ups are satisfied with the path you've chosen, you can move forward with the course creation.
Step 4: Implementation – It's time to implement/upload your courses to an LMS once you've done building them and are satisfied that they're high-quality and error-free (Learning Management System). The LMS is in control of delivery options, tracking, handling, recording, and more.
Step 5: Evaluation – After the eLearning course has been designed, developed, and implemented, you can evaluate all of the qualitative and quantitative course data in this step.
Reasons for using the ADDIE model for rapid eLearning courses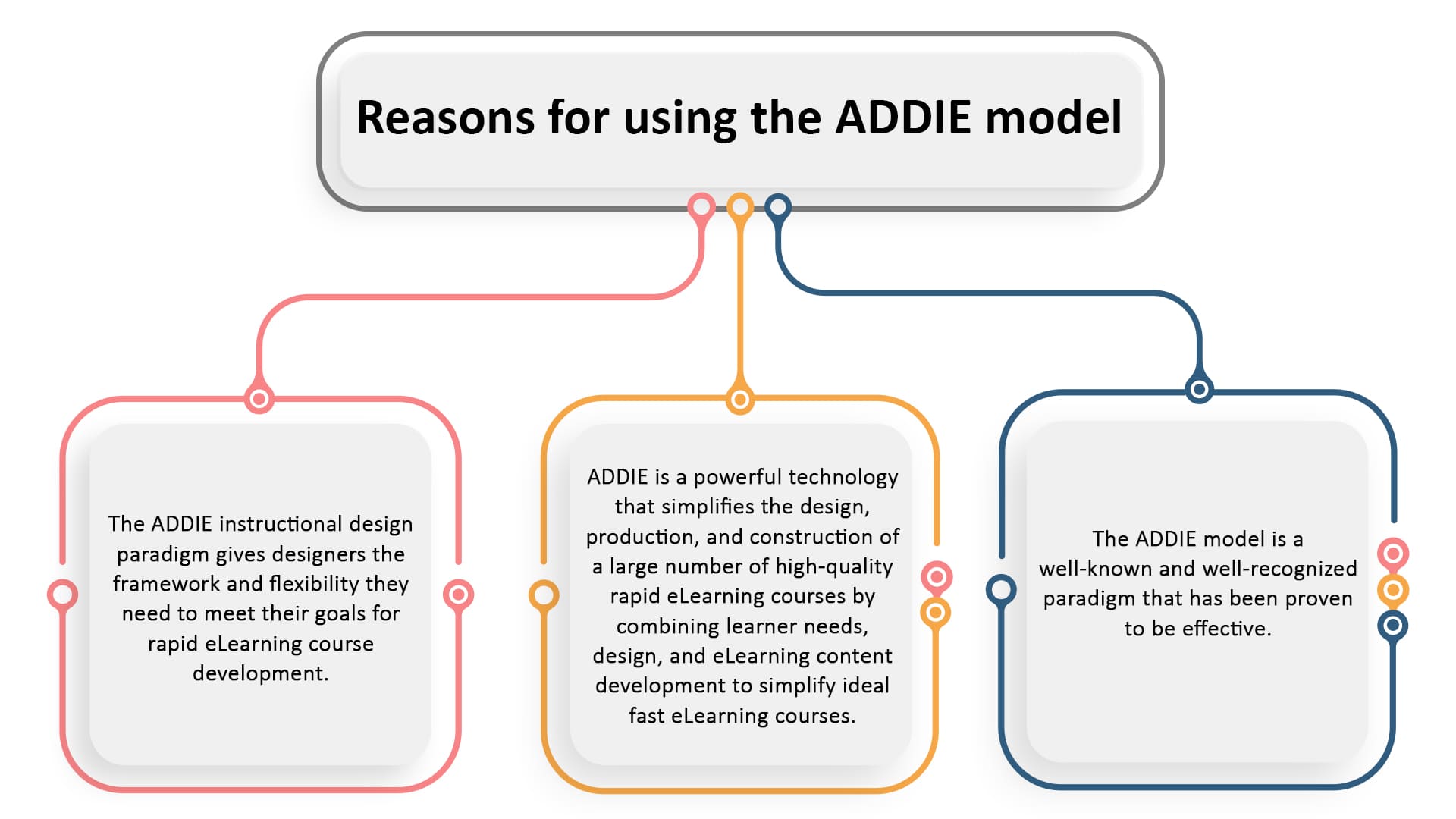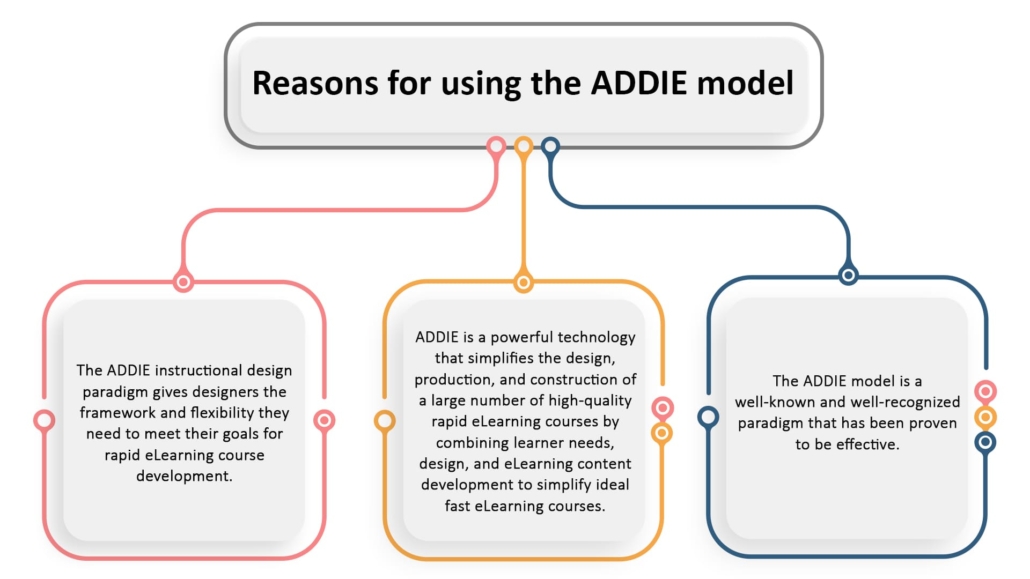 The ADDIE instructional design paradigm gives designers the framework and flexibility they need to meet their goals for rapid eLearning course development.
ADDIE is a powerful technology that simplifies the design, production, and construction of a large number of high-quality rapid eLearning courses by combining learner needs, design, and eLearning content development to simplify ideal fast eLearning courses.
The ADDIE model is a well-known and well-recognized paradigm that has been proven to be effective.
When should you choose rapid eLearning Development?
Rapid eLearning development is the ideal option for creating innovative and interactive eLearning courses in the following situations:
When you have limited deadlines and budgets
When your content has a limited shelf life
When you require just in time training
Benefits of Rapid eLearning Development
Rapid eLearning creates high-quality eLearning courses within a timeline with the right amount of instructional design that benefits both learners and organisations without compromising with quality, interactions, or aesthetics.
Let's look at the benefits of rapid eLearning development for both – learners and organization.
Saves Time and Money
Translation
Maintenance
Consistency
Mobile Learning
Retention
Scalability
Effective Outcomes
Saves time and money: 'Time is Money.' Both – time and money aren't constraints in rapid eLearning courses. These courses are usually developed using existing resources such as eLearning training materials, storyboards, and other eLearning materials. As a result, rapid eLearning courses are cost-effective, easy to create, and deliver within aggressive timelines.
Easily translated into multiple languages: Generally, delivering eLearning courses in variety of languages improves the learning experience and fits the needs of learners. Full-fledged traditional eLearning courses can be time-consuming and difficult to translate.
Rapid eLearning courses, on the other hand, are simple to the point, and can be readily translated into different languages utilising a translator. By going native, you can engage more meaningfully with a geographically dispersed learners and make your e learning online training program more relevant, and easily acceptable.
As the majority of the speakers are not native English speakers, translating eLearning courses in a variety of languages can go a long way toward boosting the effectiveness of online training programs for geographically scattered learners across the world.
Easier to update and maintain: Rapid eLearning deliverables are straightforward to maintain over time and can be updated quickly and easily. Organizations who need to update their learning materials on a regular basis can easily modify the eLearning course and even integrate new technology or multimedia elements.
Consistency: Rapid eLearning allows instructors to achieve a higher level of coverage to transmit the message to their target audience in a consistent manner. With this learning method, all learners will receive the same type of training, regardless of when and where a learner takes the course, they will have the same experience.
Rapid eLearning comes with learning consistency to take up training at the learners' convenience, taking into account their demanding life schedules.
Mobile learning: While mobile phones are becoming more widely used, they are now the most popular method to view the courses. By making eLearning content available on smart phones and tablets, mobile learning expands learning flexibility to new heights. As a result, learners can access content quickly and easily – wherever and whenever they desire.
Aids in the retention of information: Generally, the most important aspect of delivering learning or training is to engage learners and improve their information retention, as this is the key to provide good learning experience.
By combining micro-learning and bite-sized learning, Rapid eLearning can also deliver just-in-time training. All extraneous data is taken away in rapid eLearning courses, leaving only the best-of-best information for learners to consume rapidly and retain effectively.
Scalability: Scalability is an effective feature of rapid eLearning. It is a one-time investment, yet you may roll out to as many individuals as you want. It is a very quick way that you can facilitate the development and dissemination of new training, policies, concepts, and ideas.
Effective Outcomes: In numerous circumstances, online learning has been shown to be more effective and successful. When learners have more flexibility, they are better equipped to grasp the information they are given. The positive character of eLearning methods also helps firms in training their employees to achieve greater results.
How Does Rapid eLearning Work?
Rapid eLearning works on three core principles: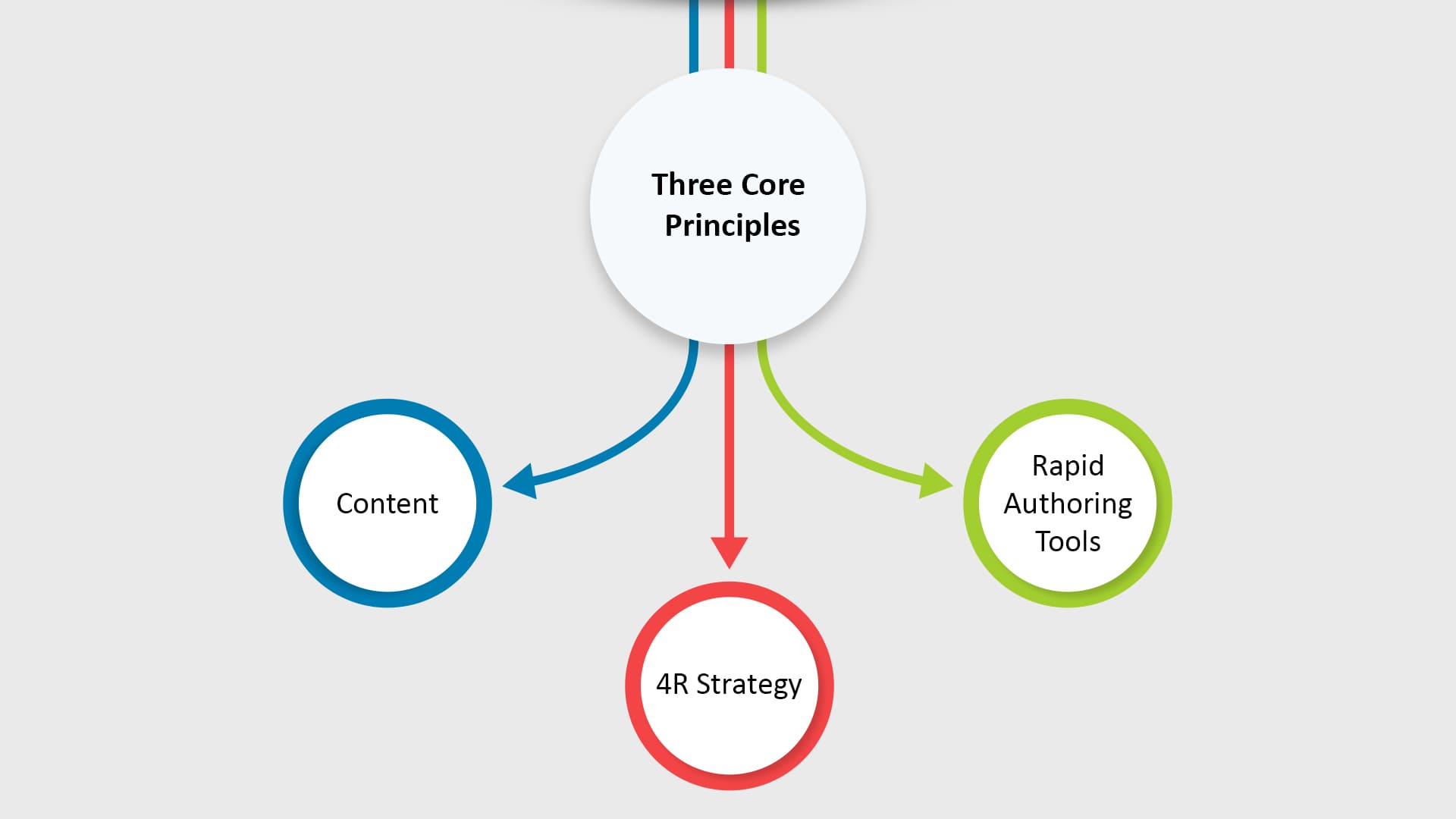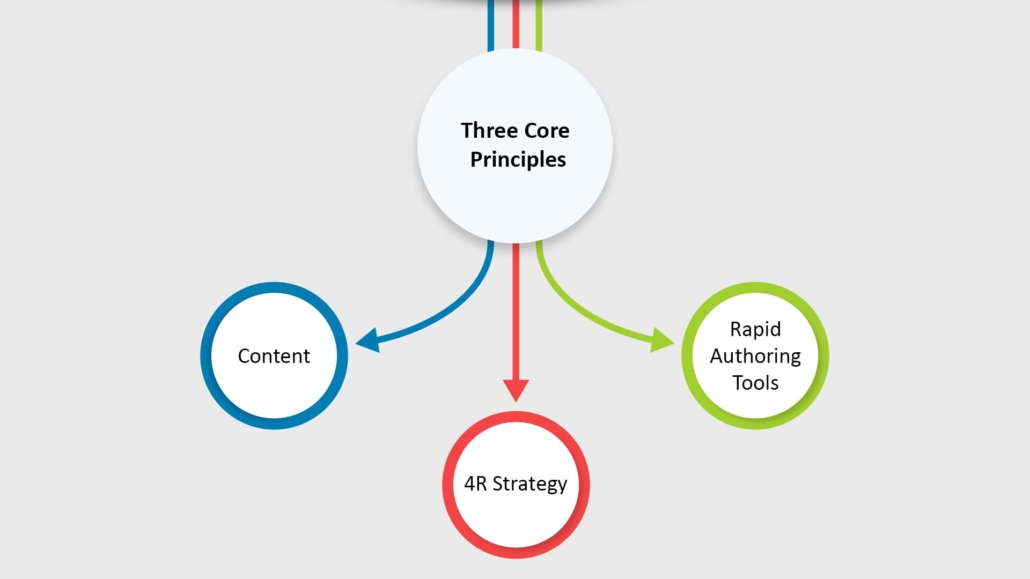 Content: Using the latest authoring tools, rapid eLearning solutions convert existing training material, whether from a classroom training course or a legacy course, into
Online courses
Micro-Learning modules
Legacy courses to HTML5
Performance support solutions
As long as the information is consistent with the learning objectives, it can be converted to eLearning.
4R Strategy: The 4R's of rapid eLearning – Record, Republish, Rebuild, and Redesign.
Roll out courses using record strategy
Republish old courses as new ones using rapid authoring eLearning tools
Convert large curriculums to micro learning, using rebuild strategy
Convert classroom training to online training, using redesign strategy
Rapid Authoring Tools: Rapid eLearning makes use of course authoring software to create unique eLearning design courses and interactivity that best meet the needs of both learners and the organization.
The rapid eLearning process relies heavily on authoring tools for creating successful rapid eLearning course development. You'll need best e Learning authoring software to construct a solid structure before you can deploy a top-notch online e learning program. Because of eLearning software development, various rapid authoring tools are available for use.
Authoring tools for rapid e learning development
The best aspect is that rapid authoring tools are vital for speedily and effectively designing eLearning courses, from simple quizzes to complicated eLearning scenarios.
Here are some of the most impressive, interesting, and feature-rich authoring tools for creating rapid eLearning courses that address current gaps and objectives.
Articulate Storyline 360
Articulate Rise 360
Adobe Captivate
iSpring Suite
Lectora Inspire
DominKnow
Elucidat
Adapt Builder
Easy generator
Gomo
Smart Builder
Articulate Storyline 360: Storyline 360 is a popular eLearning tool for creating visually appealing eLearning courses, such as animated narrative, gamification, branching situations, and simulations.
It's a good choice among eLearning designers because it includes millions of free stock multimedia assets (characters, photos, icons, and so on) as well as a plethora of customised interactive templates and high-quality animations with responsive player that adjusts the screen layout to fit all portable devices.
Articulate Rise 360: Rise 360 is another high-quality creation tool. Though Storyline 360 is known for its high-end desktop version, Rise 360 is a versatile and easy-to-use cloud version with its own set of features and capabilities.
It's a good choice for building fully responsive rapid eLearning courses that exhibit compatibility with any device without any changes or alignments, thanks to its concentration on mobile-friendly content.
Adobe Captivate: From creating mobile-responsive, engaging, interactive courses to converting Flash to HTML5 and simulations, Adobe Captivate is a powerful authoring tool for rapid eLearning development.
To minimise lengthy programming, it provides an immersive learning experience using 360-degree photos and built-in VR templates for virtual reality. It also excels at converting boring passive video into interactive video with its "Slides Overlay" function and allowing seamless content movement across device sizes with its Fluid Box 2.0.
iSpring Suite: iSpring is dedicated to create high-quality solutions for rapid classroom to eLearning conversions that meet the estimated time, effort, and resource requirements for courseware development.
It is one of the most user-friendly and adaptable authoring tools for creating branching situations, mobile-ready quizzes with rich media, and compelling content. It has a simple learning curve and can convert PPT files to SCORM/ cmi5/ xAPI in a matter of seconds. It comes with built-in templates, quizzes, drag-and-drop, hotspots, and other features that help you create effective eLearning assessments.
Lectora Inspire: It is an award-winning authoring tool for perfect learning solutions with 120 million stock photos, 89000 customisable icons, 9000 PowerPoint layouts, and 1500 interactive templates. Also, it offers a user-friendly Virtual Reality course building tool, called CenarioVR, which is ideal for immersive learning.
It is one of the most popular eLearning development tools, with a switchable graphic user interface (GUI) that allows learners to change languages at any time and from any location.
DominKnow features a central library and pre-built templates for reusing content, as well as robust built-in eLearning course software simulation and responsive authoring.
DominKnow continues to push the limits of modern eLearning by enabling designers, developers, and teams to construct practically whatever they desire for any formal course, performance support, or micro-Learning requirement.
Elucidat makes eLearning easy to generate super-fast centred learning that works, whether you're a veteran author or totally new to eLearning. It's a collaborative, cloud-based eLearning authoring tool that provide employees with entertaining and useful information, while lowering the cost of business-critical training.
Adapt Builder: Using scenario-based storytelling, gasification, and interactive components with deep scrolling patterns, this learning pool's pioneering technology – Adapt Builder, makes eLearning relatively simple.
This authoring tool allows brands to entirely change the design of their content based on an existing catalogue. It also aids learners obtain information in their preferred language by providing multi-lingual capability.
Easygenerator: It is one of the simplest eLearning development tools on the market for creating in-house eLearning courses. Because this tool is incredibly easy to use, intuitive, and focuses on ease of usability and responsiveness, anyone can design user-friendly courses without any special expertise or eLearning approach/strategy.
Global enterprises utilise Gomo, a cloud-based eLearning authoring tool, to jointly develop, host, update, and track stunning multi-device learning from anywhere.
There is no other authoring tool that includes two distinguishing features: step-by-step beginner guidance for designing eLearning courses and multilingual support.
SmartBuilder is the first and only HTML5 eLearning authoring tool that gives instructional designers, trainers, and other non-programmers the power of programming in a very clever way.
However, while the program does not include video editing or screen recording, it does make it simple to create complicated eLearning courses from the outset. Also, make versatile wizard-based templates and functional components available so that even novices may efficiently develop eLearning material.
Quizzes, textual content, interactivities, and multimedia features are just a few of the content kinds that can be easily incorporated with SmartBuilder.
So, these are the most generally used rapid authoring tools, which play an important role in the well-designing and structuring of rapid eLearning courses.
Swift eLearning Services is a leader in designing highly engaging eLearning courses using the latest authoring tools and has more than a decade of experience in the industry. We place a premium on eLearning course efficiency, quality, and overall effectiveness, while taking into account all of today's technological breakthroughs, creativity, and needs of both learners and organisations.
Best Tips for Rapid eLearning Development
Rapid E Learning is all about meeting learning objectives with right dose of instructional design strategies to create cohesive learning experiences.
A carefully developed rapid eLearning development strategy is required to present your audience with a powerful and effective Learning experience.
Knowledge of robust instructional design, established communication channels, authoring tool proficiency, quality assurance processes, and resources for easy scaling up, are all required for efficient quick eLearning creation.
There are a few more key pointers for creating rapid e learning courses with low turnaround times and budgets that deliver maximum outcomes for your learners.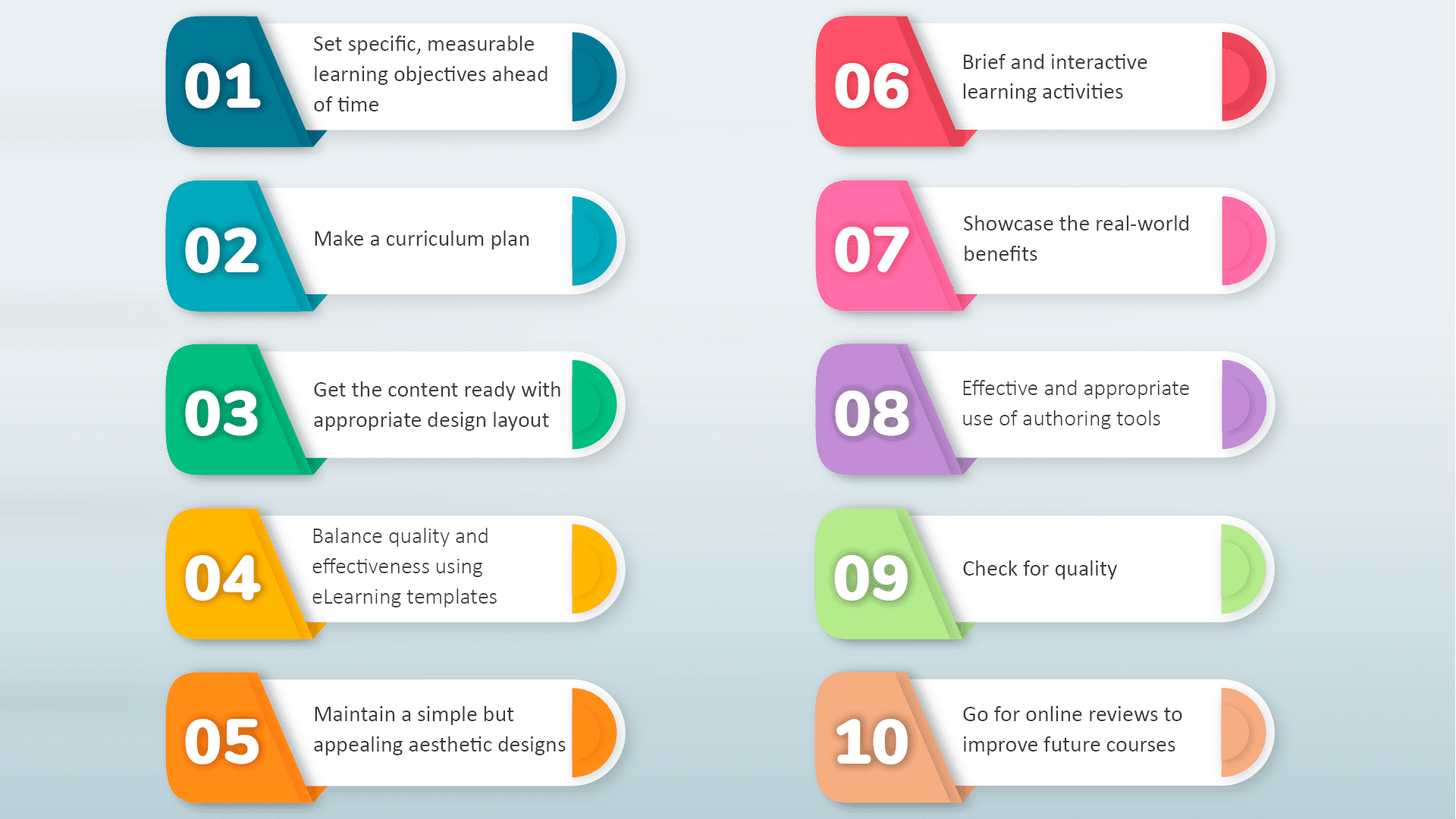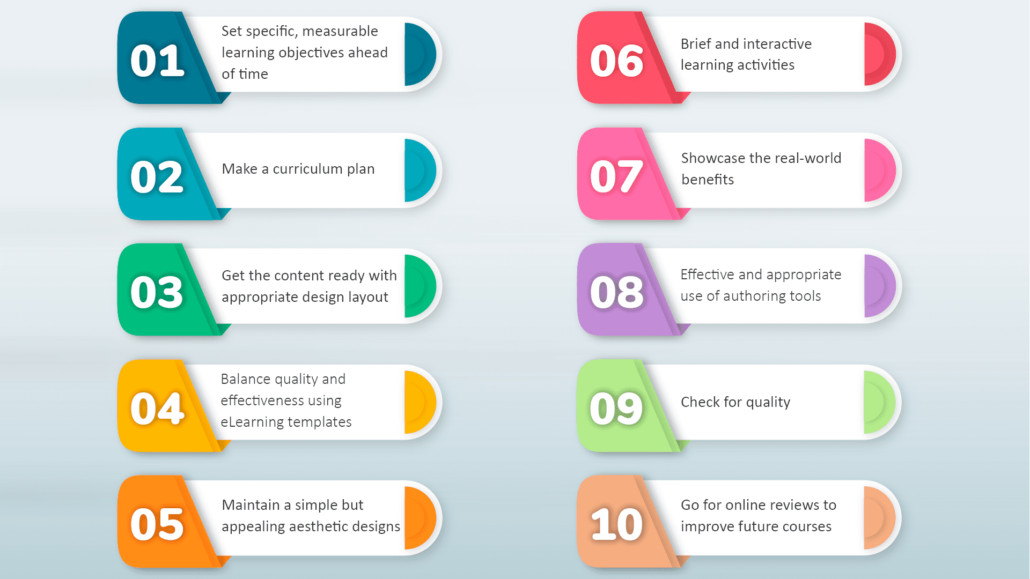 Rapid eLearning development process may appear straightforward; but, to get it to the finish line, it requires a lot of work. You can deliver the greatest value to your learners by using the above criteria, while maintaining the quality, efficiency, and effectiveness of your entire rapid eLearning course.
Conclusion
Rapid eLearning solutions are the most effective and efficient way to quickly create e learning courses at a low cost.
If you are looking for high-quality rapid eLearning services, let's partner with Swift eLearning Services, one of the top-rated corporate rapid eLearning development companies for its dedication and genuine passion for delivering high-quality services, compelling rapid eLearning solutions, client support, and more.
For further details, please contact us.
Rapid eLearning – FAQs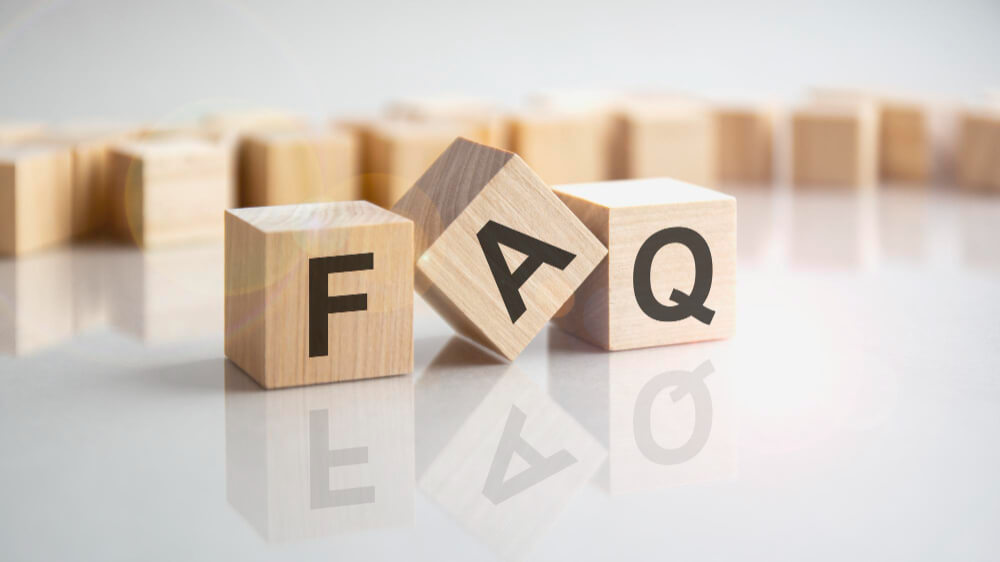 What is Rapid eLearning Development?
Rapid eLearning development is primarily a faster way of designing and developing online learning courses. Instead of spending many weeks or months for developing one course, in rapid eLearning development, we can develop the course in a week or even in a couple of days.
The content format can be animation or videos or text-image content, but the information is imparted quickly, meaningfully and up to the point. With the advent of rapid authoring tools, rapid eLearning development has changed the face of eLearning.
How do you develop rapid eLearning solutions?
Rapid eLearning solutions fully utilises the technically advanced features of a rapid authoring tool. Avoiding all the unnecessary elements of the conventional eLearning method, Rapid eLearning sticks to the content that targets the performance based learning objectives. The functionality of a rapid authoring tool is the biggest advantage for the rapid eLearning process to happen.
Is quality affected in rapid eLearning development?
It' a myth. Throughout the process, Rapid eLearning development never compromises on quality despite its rapid pace of development. Rapid eLearning is just a smart way of sticking to the essential things and avoiding unnecessary eLearning elements.
Our Services: Blended Learning, eLearning Solutions, Gamification solutions
https://www.swiftelearningservices.com/wp-content/uploads/2022/09/Rapid-eLearning-Development-The-Ultimate-Process-Guide.jpg
668
1000
Swift Elearning Services
https://www.swiftelearningservices.com/wp-content/uploads/2022/09/Swift-eLearning-Services-logo_220.png
Swift Elearning Services
2022-09-28 11:24:21
2023-11-06 18:41:41
Rapid eLearning Development: The Ultimate Process Guide