Measure the Effectiveness of Your Elearning Program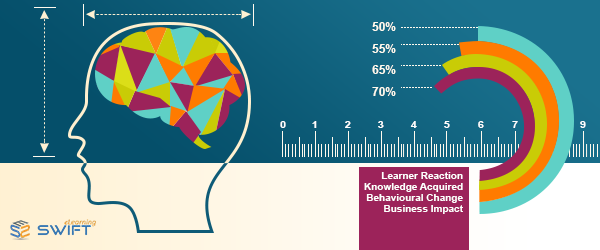 Evaluation is an inevitable part of every training course. Different companies use different approaches for evaluation, but a common first step is to identify the success metrics. These metrics can be applied to both classroom training as well as eLearning courses. The following metrics help you to judge the success of your eLearning program:
The Reaction to the eLearning Program
This measures the level of satisfaction, and the engagement and interest of the students. It assesses the feelings of the students towards the training.
Reaction surveys, questionnaires, and feedback forms are the general methods used to carry out this step. The categories for measuring are mentioned and they can be rated on a scale. You need to make sure to ask the right questions, which are meaningful and relevant.
These results are for the training managers, who get an idea about the overall quality of the eLearning courses.
Knowledge
This measures the confidence, skills, attitudes, knowledge, and the commitment the participants acquired from the course.
This evaluation needs to be done before and after the course to compare the difference. A written test and a performance test are two ways by which it can be evaluated.
The results of this test are for the Line Managers and the Supervisors to understand how far the training was successful.
The Change in Behaviour
This measures if the participants use the newly acquired skills in their job.
Effective observation, interviews, performance benchmarks, and surveys are the ways to conduct this test. It is useful for the managers to know how far they have been successful in the training course.
The Results and Impact of the Training Course
This test explains how well the eLearning program has been able to hit the bottom line. It lets you know the ROI or Return on Investment. It can be derived by interviewing the people who are involved with the intended impacts.
This evaluation is for the executives, CEOs, and the department managers to get enough evidence that the training needs are well nurtured.
These four levels can also be used in the reverse order when you are in the planning stage. This helps you eliminate the two major issues that come out: putting the focus in learning objects instead of strategic goals, and skipping out levels 3 and 4.
Our Services: Elearning Localization, Flash to HTML5 Conversion, PowerPoint to eLearning
https://www.swiftelearningservices.com/wp-content/uploads/2022/09/Swift-eLearning-Services-logo_220.png
0
0
Swift Elearning Services
https://www.swiftelearningservices.com/wp-content/uploads/2022/09/Swift-eLearning-Services-logo_220.png
Swift Elearning Services
2015-07-14 16:58:32
2021-07-09 18:35:48
Measure the Effectiveness of Your Elearning Program