Localization of Workplace Health & Safety Post Pandemic – Covid19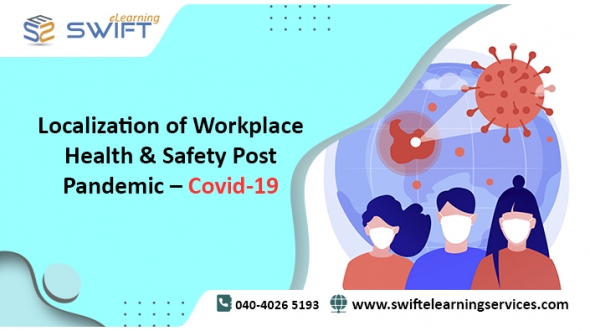 Spreading every nook and corner, today Covid-19 has become a global problem, causing threats to all countries alike. No wonder, all parts of the world are severely affected and are striving hard to recover in the post-pandemic period.
In the wake of the second wave of the pandemic – as we are not completely out of the danger yet – workplace health and safety are on the center stage. When projects demand employees' in-house presence, it is pivotal that they should be completely aware of the health and safety measures to be taken at the workplace. Irrespective of the languages and regions, employees across the world have to safeguard themselves and sustain healthy work culture.
In this blog, let us see how eLearning localization can serve its best in this crisis time:
Reaches employees across the world: In fact, this is the best benefit of the eLearning localization services as it reaches the learners in their own language, imbibing usage of suitable idiomatic language, cultural references, and region-specific nuances. Precisely, the most important information is at their fingertips and in the way they want to learn it.
A best effective way of retention: Compared to dull classroom training sessions, eLearning localization services – when employed effectively – can offer the learners engaging and interactive content with innovative scenarios, examples, and useful facts with beautiful and lucid illustrations. The engaging content presented in an interactive way can help the learners retain the health and safety measures to the best of their advantage.
At employees' convenience: Amidst the tight timelines, employees may not find themselves available for the scheduled health and safety training sessions. But, employees can go through these eLearning training modules at their convenient time and at their own pace, sitting at their desks. As the training modules are optimized for any type of device, the courses can be viewed on desktops, laptops, tablets, and smartphones, at their convenience.
Rapid development for localization: With the availability of rapid authoring tools having special features for effective localization, the eLearning content development team can come up with workplace safety modules in a fast and easy way. In a matter of days, they can either create new content or customize the existing content according to the requirements.
eLearning training can be tracked: As Covid-19 health and safety training is mandatory for every employee, the eLearning mode helps organizations track the viewership in a successful way. Automatic reminders in case of employees yet to view the course and e-mail notifications when employees successfully complete the course, help the L&D team track all the employees to meet the objective of implementing safety measures in the organization.