Launch of awareness eLearning program by SHE Teams Hyderabad City Police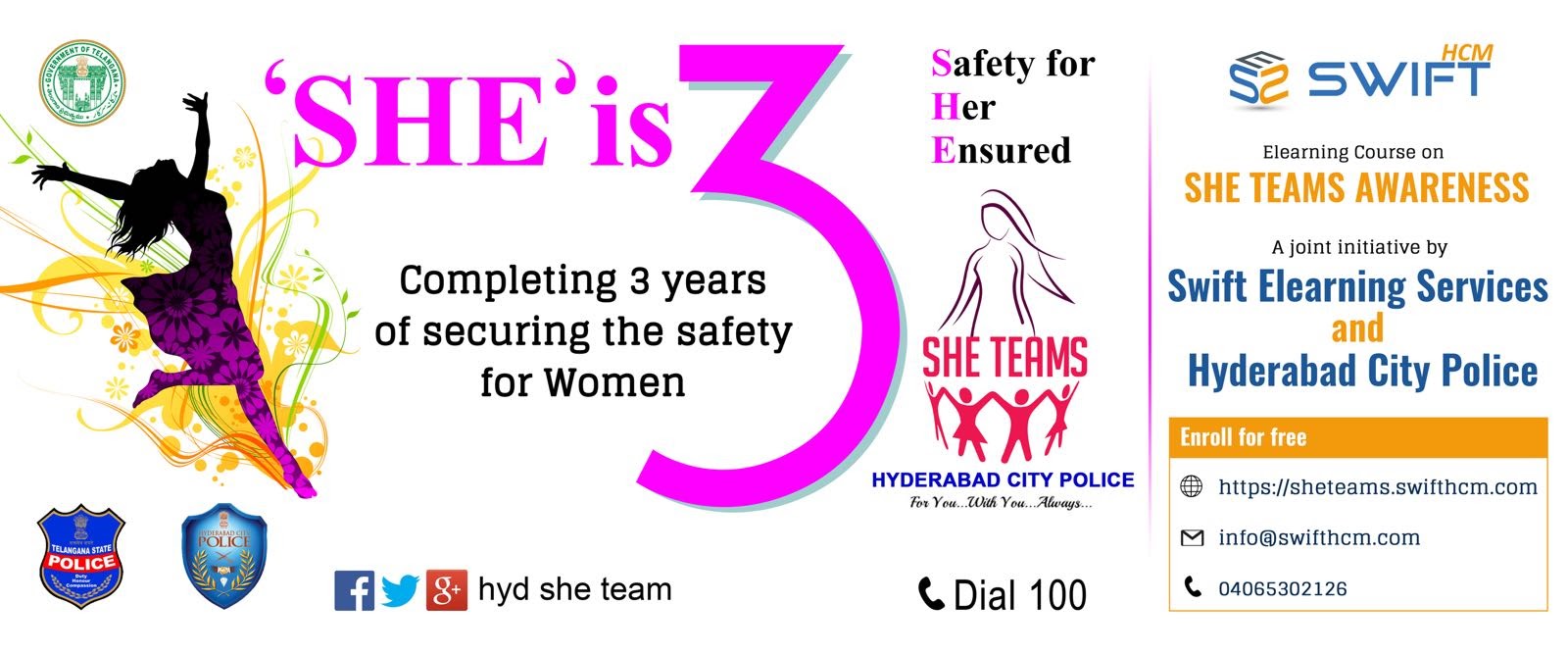 To increase the horizon of training activities carried out by SHE Teams, an e-learning course/ online training has been initiated jointly by Swift elearning Services and Hyderabad City Police – SHE Teams with the sole purpose to raise public awareness on women safety among the citizens especially women.
By adopting the online mode of training methodology, another feather has been added to the cap of awareness programs by the Hyderabad City Police. The target audience of the SHE Teams campaign is mostly college students who are well equipped with technology and prefer to learn online at their convenient time. We have hosted this course on our LMS platform – SwiftHCM. The focus areas of the campaign can be redefined based on the analytical.
This course was launched officially by
Sri Nayani Narasimha Reddy,
Hon'ble Home Minister – Telangana State,
Sri Mahender Reddy (City Police Commissioner),
Ms. Swati Lakra – IPS,
Addl CP Crimes Avinash Mohanty, and
Ms. Lavanya Tripathy (Film Actor) at an event held by SHE Teams in RTC Kala Bhavan, Bagh Lingampally, and Hyderabad. Around 1200 students from various colleges attended this event
We have conducted several campaigns and awareness programs in colleges. The course gives an idea about how an act of harassment and eve teasing has a big impact on women's life.
– By Ms. Swati Lakra, IPS.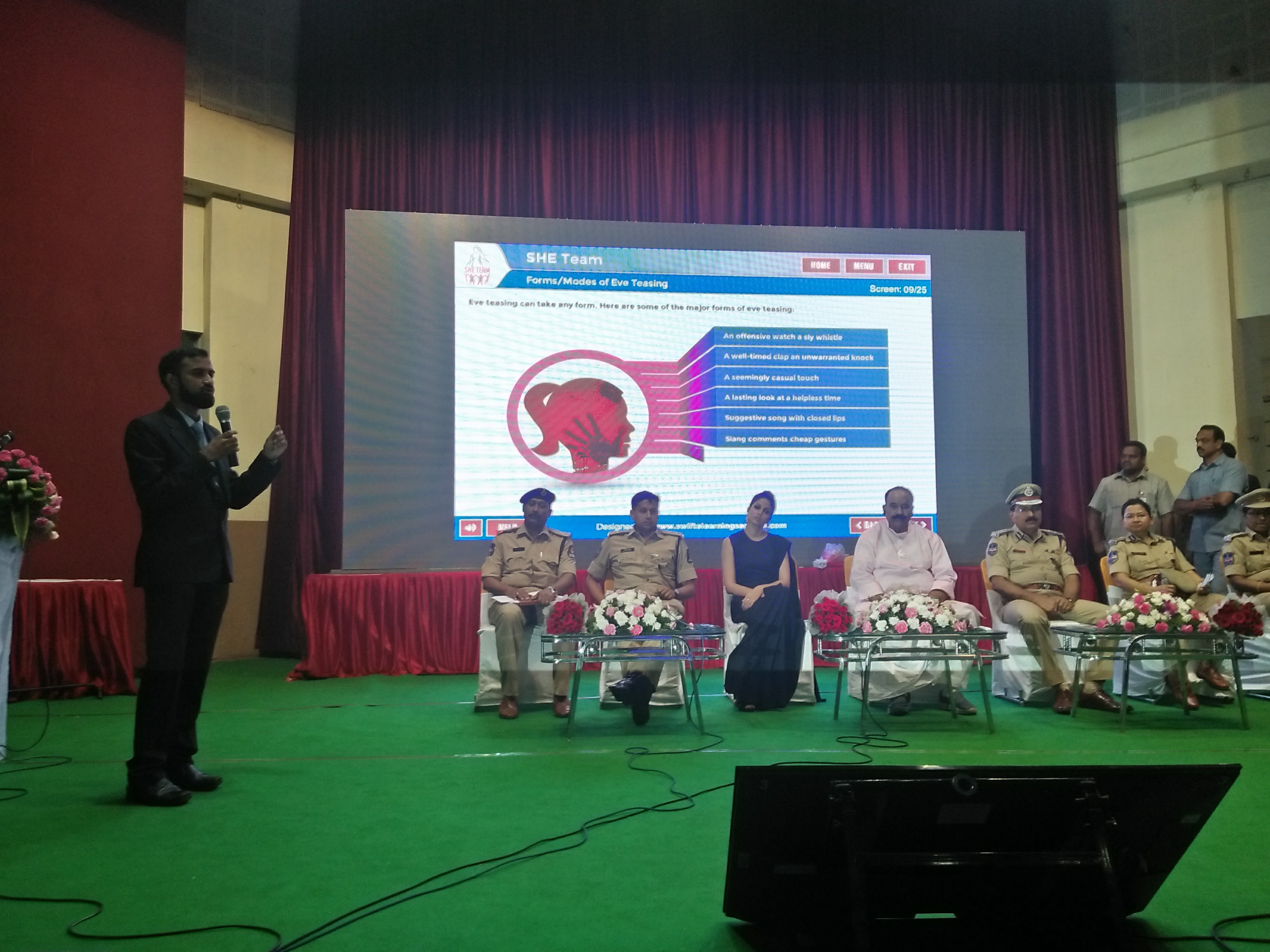 By using this 15 minute training course, the users will be able to
Recognize the SHE teams and appreciate its efforts in making Hyderabad safe and secure for women
Identify the forms and consequences of eve teasing
List the important facts and figures the explains the significance of SHE team in Hyderabad
Identify and explain how SHE Team curbs eve teasing
Outline the ways to approach SHE Team in case of harassment or eve teasing
At the end of this course, an awareness appreciation certificate endorsed by SHE Teams and Swift Elearning Services shall be generated online and issued to the user.
Any School/College/Corporate who wishes to include this free course for their students/Employees can reach out to us at [email protected] or call on 91-40-65302126 for further assistance.
Media Release:
DECCAN CHRONICLE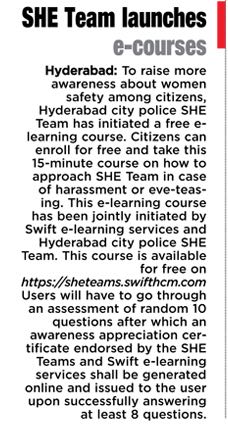 Times News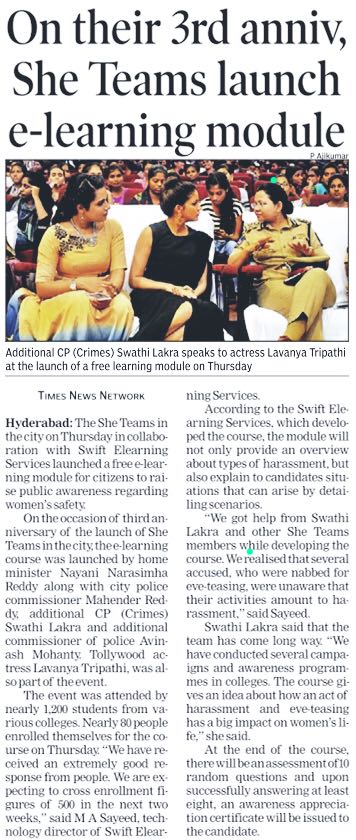 SADA-E-HUSSAINI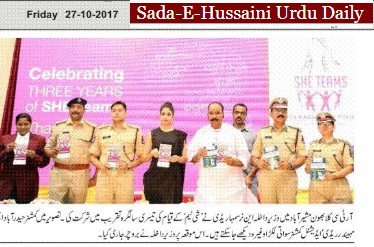 EENADU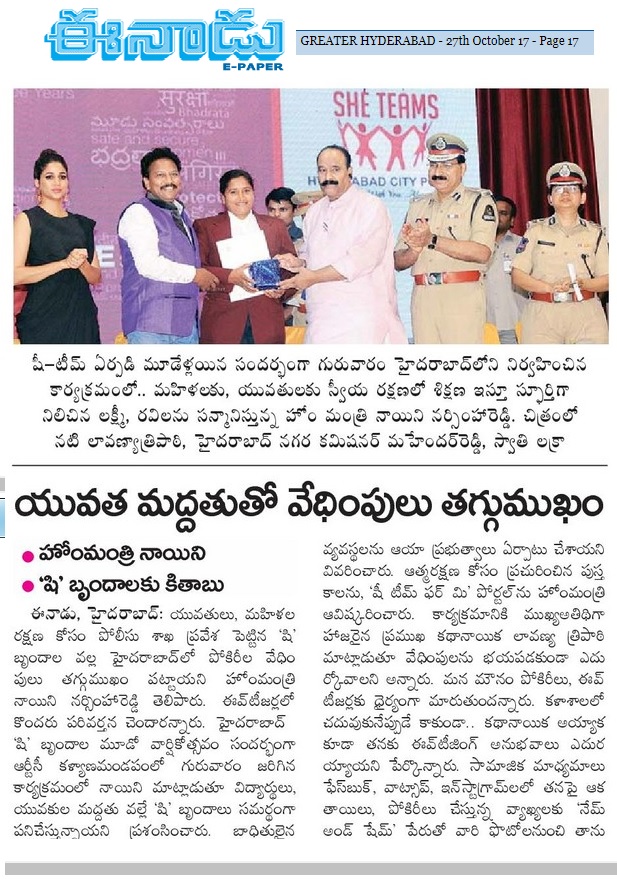 THE NEW INDIAN EXPRESS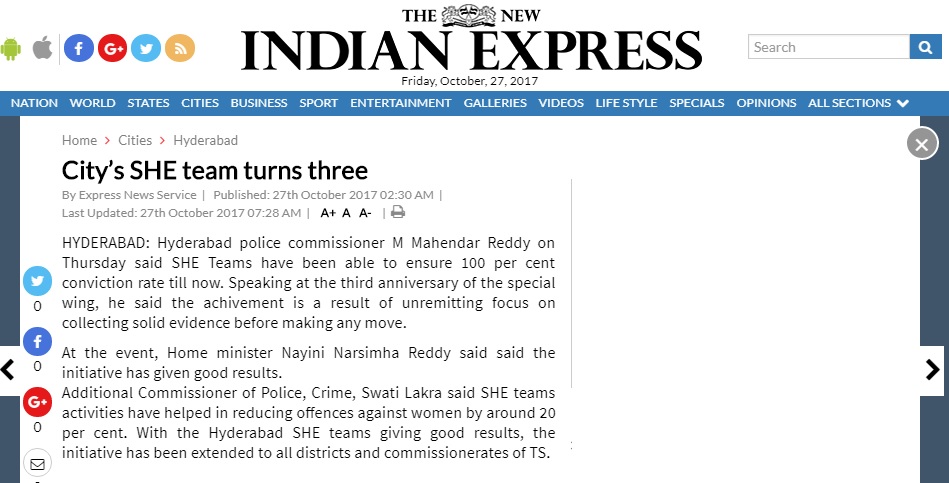 THE MUNSIF DAILY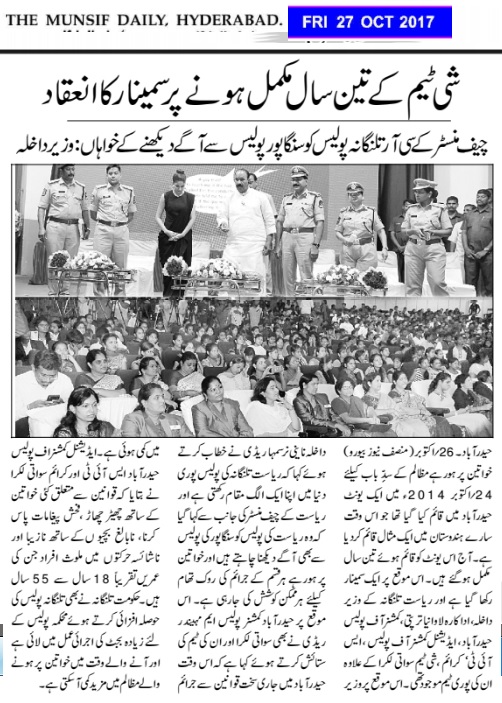 SURYAA

https://www.swiftelearningservices.com/wp-content/uploads/2022/09/Swift-eLearning-Services-logo_220.png
0
0
Swift Elearning Services
https://www.swiftelearningservices.com/wp-content/uploads/2022/09/Swift-eLearning-Services-logo_220.png
Swift Elearning Services
2017-10-27 15:33:16
2022-08-18 19:48:24
Launch of awareness eLearning program by SHE Teams Hyderabad City Police