How Can Neural Voices be generated in Articulate Storyline 360?
Click or tap on the play button below to watch the video for easier understanding.
Generating neural voices in Articulate Storyline can be a game-changer in the realm of eLearning solutions and rapid eLearning development. Neural voices, a product of advanced machine learning algorithms, mimic human speech patterns, tone, and inflections, significantly enhancing the quality and engagement of corporate eLearning solutions.
Integrating neural voices into Articulate Storyline allows you to create dynamic and interactive courses that resonate with learners. This technology is invaluable for custom eLearning content development, offering more natural and lifelike narration for your content and making it accessible and engaging.
Articulate Storyline, a widely used eLearning development tool known for its user-friendly interface and powerful features, becomes even more potent with neural voices. By harnessing the potential of neural voices within Storyline, you can easily create realistic and expressive narrations for your courses, whether for rapid eLearning solutions or more comprehensive corporate eLearning projects. This technology can save time and resources that would otherwise be spent on traditional voiceovers, making eLearning content development more efficient and cost-effective.
By the end of this guide, you'll have the knowledge and skills to leverage neural voices, creating more immersive and compelling eLearning experiences.
Let's follow the below steps to generate neural voices in an articulate storyline.
Step 1: 
Open your Storyline file and click on the 'Insert' tab in the top ribbon.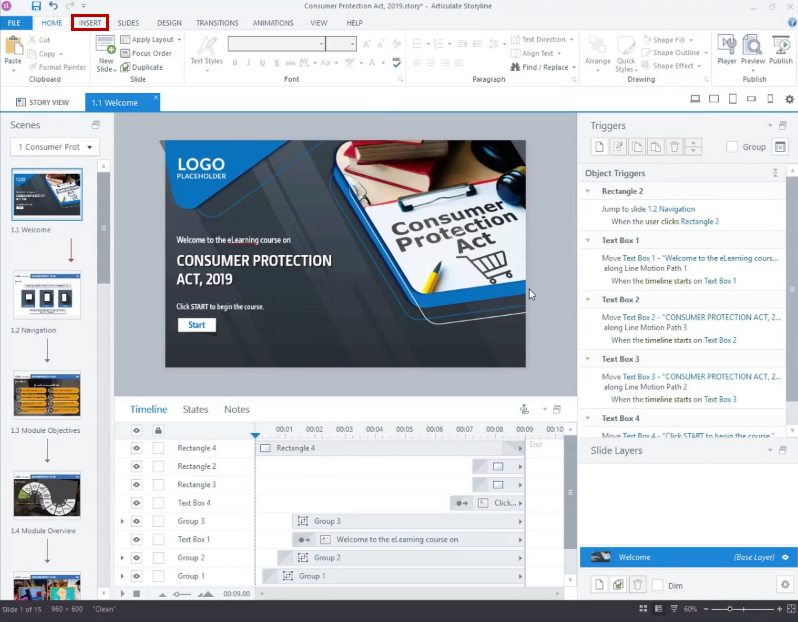 Step 2: 
Within the Insert tab menu, select or click the downward arrow beneath the audio icon.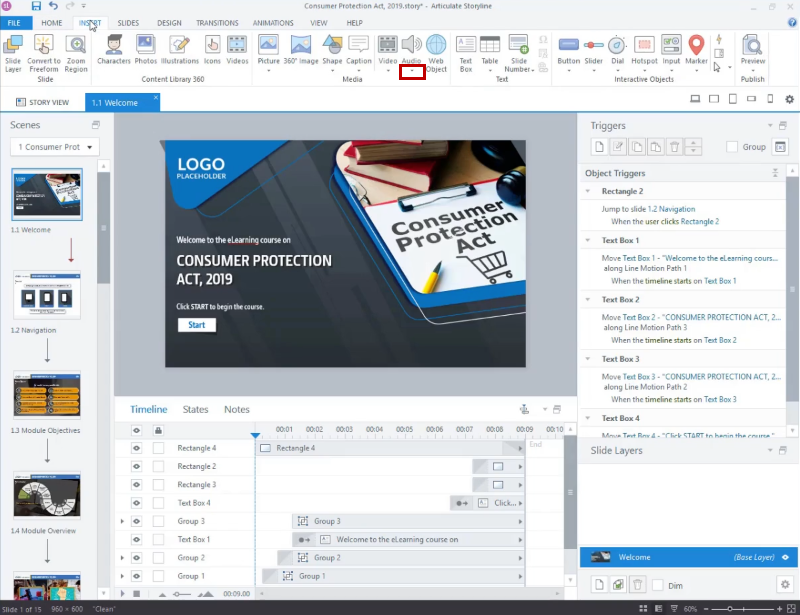 Step 3: 
Choose 'Text to speech' from the options list.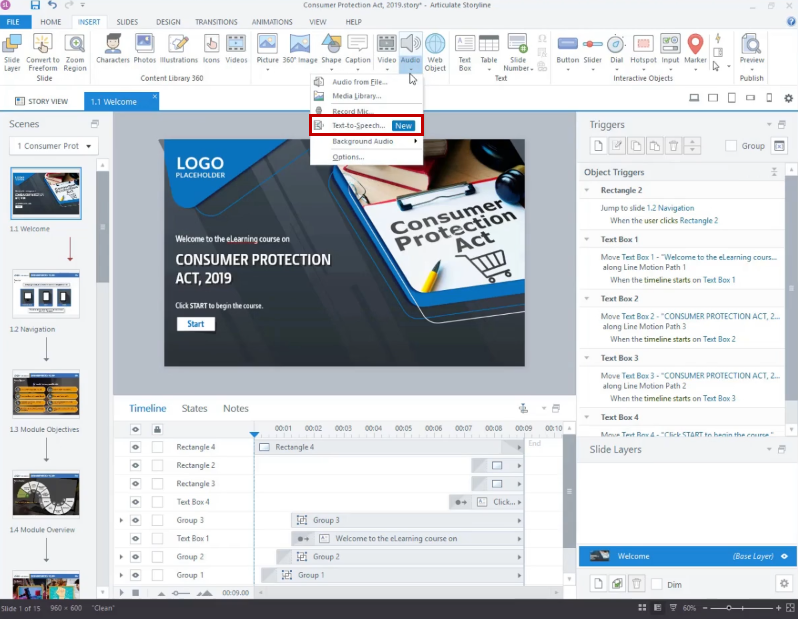 Step 4: 
Enter the desired audio text in the designated text box. Then choose your preferred audio language and select a speaker available in that language. Finally, click 'Insert'.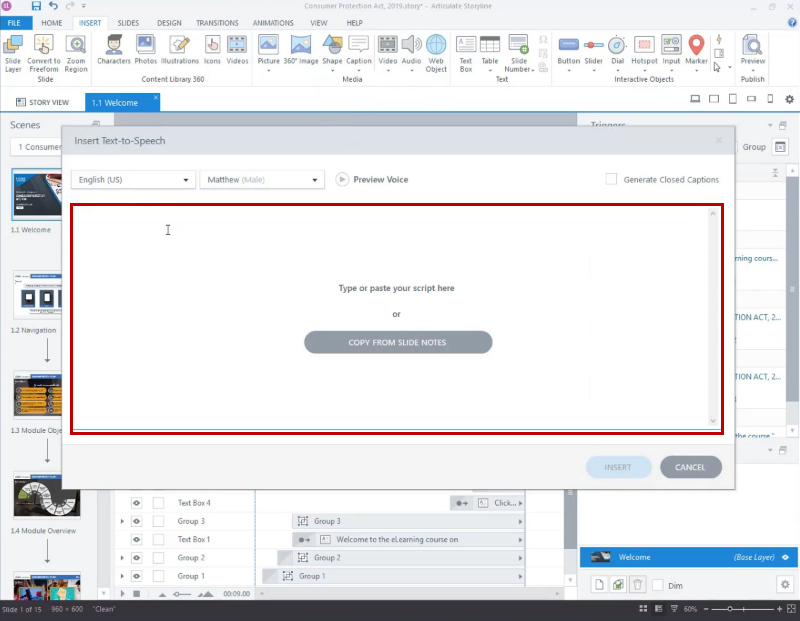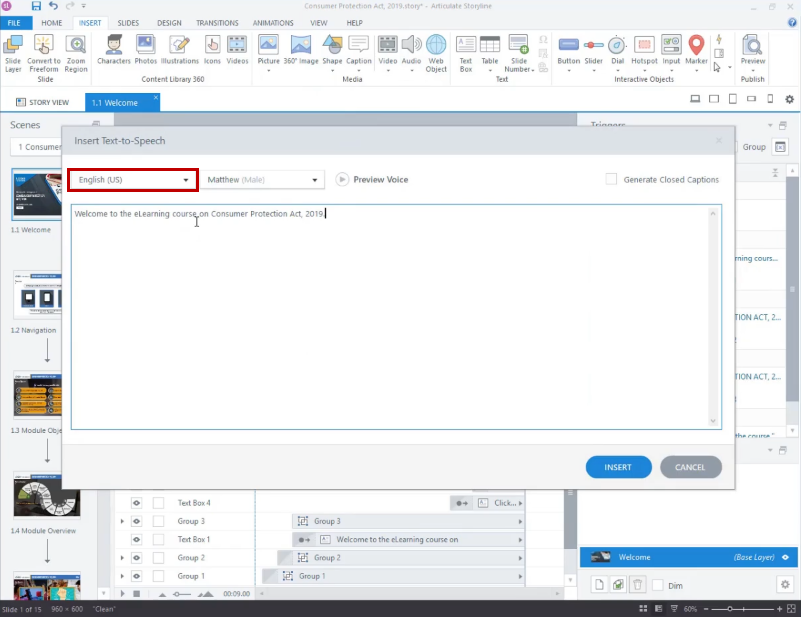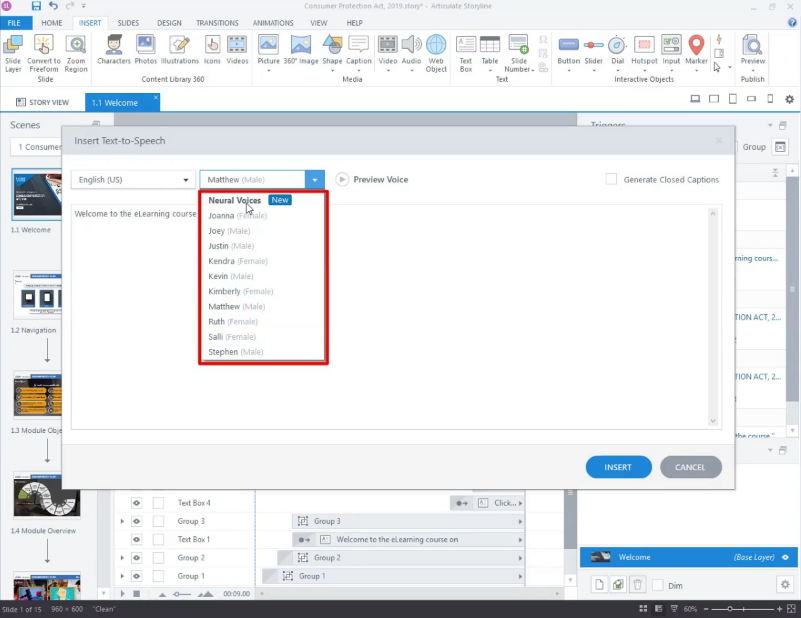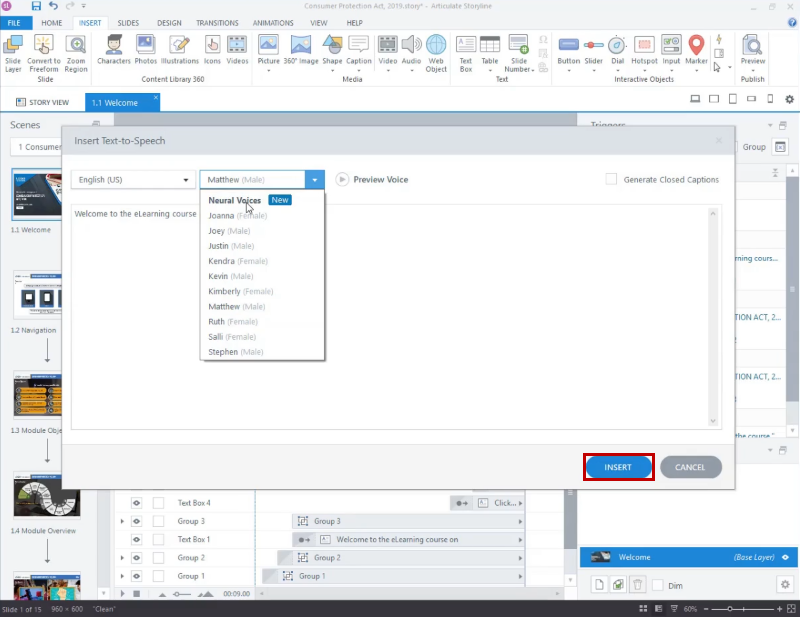 Step 5: 
To listen to the audio, double-click on the audio file and press the 'Play' button in the Pop-up window.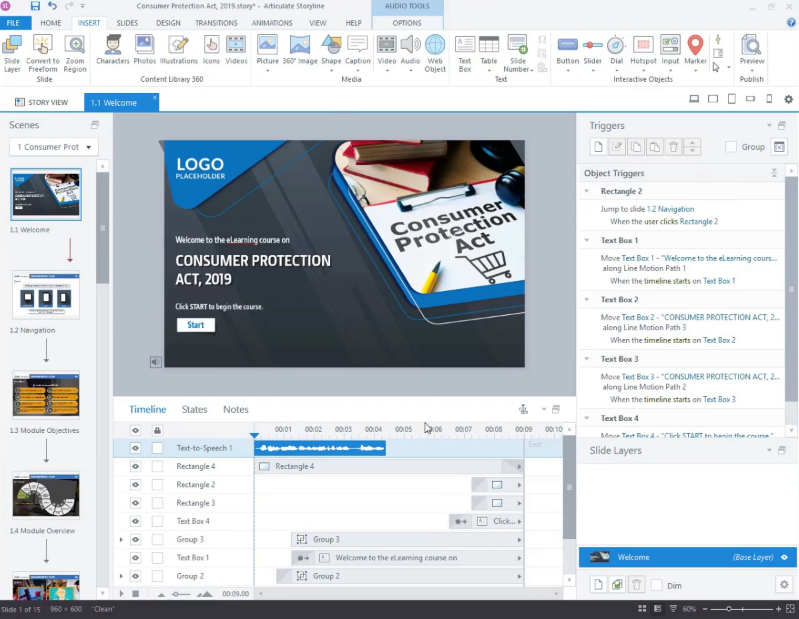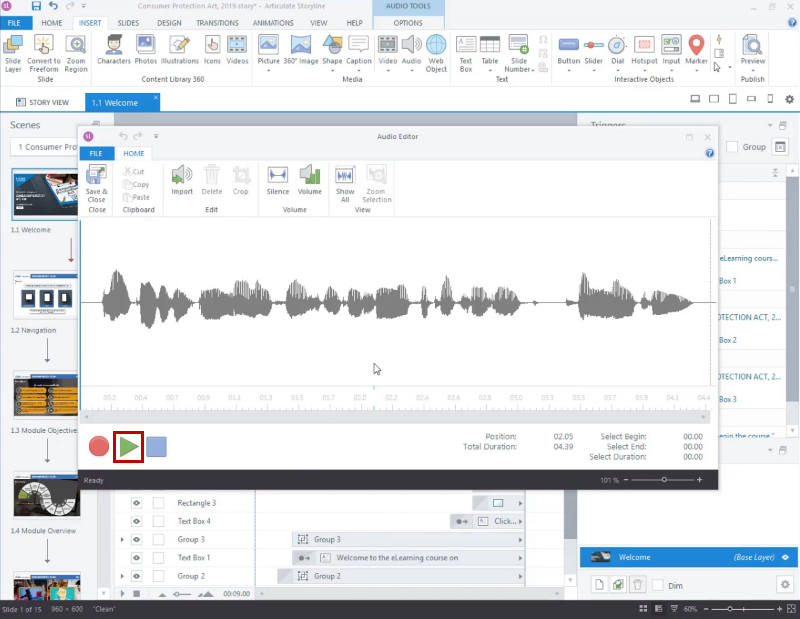 Step 6: 
In the latest storyline 360 version, numerous voices and audio languages are available.
Below, we showcase a selection audio languages and their respective speakers. Feel free to choose according to your requirement.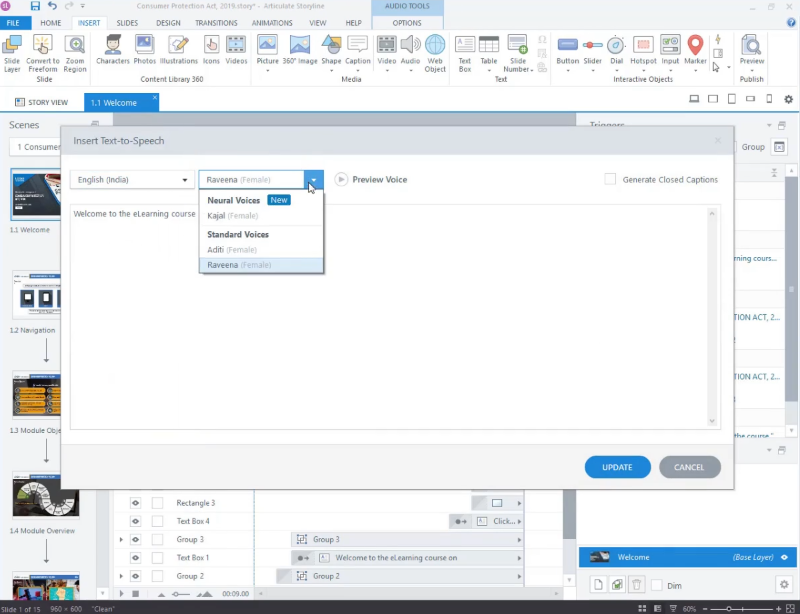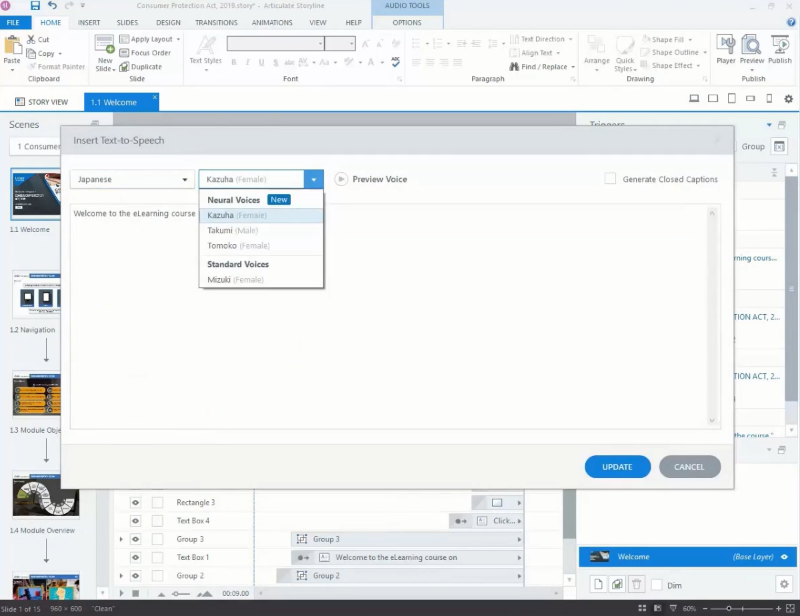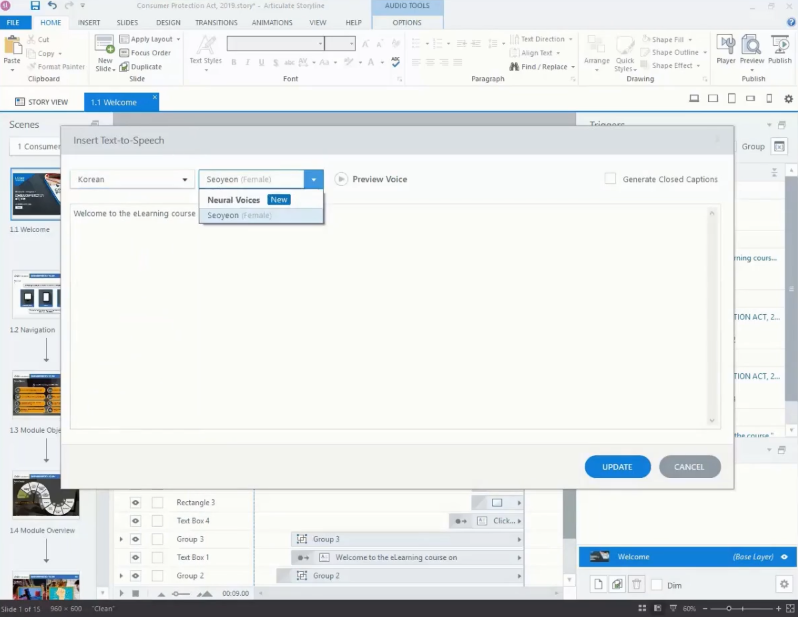 Conclusion:
The ability to generate neural voices in Articulate Storyline 360 represents a transformative leap in the field of e-learning and digital content creation. This technology brings a new level of realism and expressiveness to course narration, enhancing the overall engagement and impact of e-learning materials.
Throughout this guide, we've explored the methods and tools available to harness neural voices, allowing you to infuse your courses with lifelike, dynamic audio. By leveraging this cutting-edge technology, you not only enhance the auditory experience of your content but also create a more immersive and compelling learning environment for your audience.
The adoption of neural voices aligns with the ever-evolving landscape of technology and the increasing demand for more interactive and engaging educational experiences. It empowers e-learning developers, instructional designers, and educators to captivate learners in innovative ways, ensuring that the spoken content is as engaging and effective as the visuals and interactions.