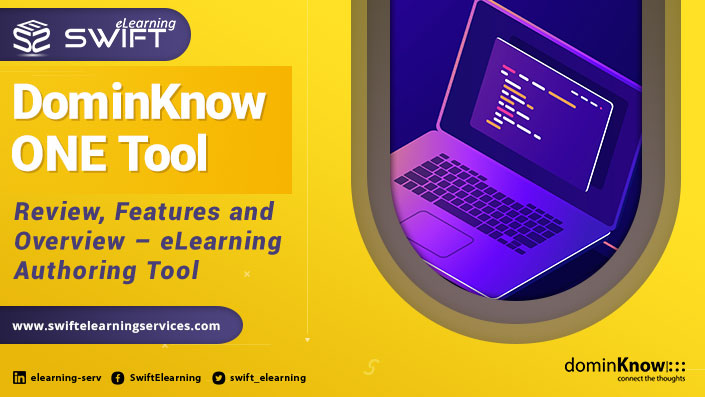 DominKnow | ONE Tool – Review, Features and Overview – eLearning Authoring Tool
Introduction
We at Swift have developed an eLearning module for one of our clients using DominKnow | ONE. Our client is a hospitality management company that specializes in training the personnel in the field of room services and hotel management.
Being a Rapid development authoring tool, DominKnow has a wide variety of in-built features that has helped us to develop the module in a very short time-span. We have developed the course using eLearning strategies like interactivities (clickable tabs, flip-cards, drag and drops) and assessments (Multiple choice, single and multiple select).
In this blog we will share our experiences about working/ creating projects in the DominKnow | ONE authoring tool and the features it contains.
Dominknow | ONE is an all-in-one cloud-based eLearning authoring tool that helps you in developing engaging and effective learning content by;
Reducing the number of tools you need to develop eLearning content
Centralizing content management
Reusing assets
Collaborating as a team
Dominknow | ONE combines Claro classic course authoring with PowerPoint conversion and Flow responsive authoring, allowing you to build eye-catching eLearning courses.
Dominknow | ONE can also help you to build a range of responsive content for formal learning, performance support, and micro-learning applications in addition to eLearning material. With a range of templates and digital assets, it allow you to create dynamic and engaging learning experiences on any device with no restrictions or alterations.
With Dominknow | ONE you can future-proof your content production with automatically created xAPI statements, SCORM, AICC, and PENS distribution, as well as accessible and HTML5 compatible material. You can also publish to an LMS, LRS, online, print, PC, or mobile app quickly and easily.
By accessing your content, reusing assets, and collaborating as a team, you'll be able to do more in less time with Dominknow | ONE.
Dominknow | ONE is a full-featured collaborative authoring tool, featuring responsive, traditional, and software simulation, as well as an adaptable UI that makes it simple enough for users while still being strong enough for expert designers to develop a course.
Dominknow | ONE Features
Flow: Use this option when you want to create responsive design that will fit to a device's resolution and orientation.
Claro: This is the main option to create non-responsive learning. This will also work on mobile devices, but at a fixed width and height. This option uses a slides metaphor.
Import: This option lets you start a course from an uploaded PowerPoint file, after which you can add any element you wish.
From Recent: Select a prior project and copy it as the basis for a new project.
Baselines: These are the projects that you've set to be duplicated, so that all will have a similar structure. Think of baselines as project templates.
Top Features
Audio/Video Recording
Gamification
Interactive Learning
SCORM Compliance
Template Management
Tests/Assessments
Overview of Dominknow | ONE
Embedding: Mobile Application, Self-Hosted Cloud-based, Self-Hosted System Software as a Service / Cloud.
Browsers: Google Chrome, Internet Explorer, Mozilla Firefox, Apple Safari.
Platforms: Windows, Linux, Mac.
Preparation: Documentation, In Person, Live Online, Videos, Webinars.
Supported eLearning formats: SCORM 1.2, SCORM 2004, SCORM 2004 3rd Edition, SCORM 2004 4th Edition, AICC, PENS, Section 508, xAPI/Tin Can API.
Features of Dominknow Authoring Tool
Responsive
When you use Dominknow | ONE to create flexible eLearning, you're already creating content for desktops, tablets, and smartphones. You can concentrate on generating amazing content, while Dominknow takes care of how it looks on different devices. All of the heavy lifting is done by Dominknow.

The capabilities of traditional authoring tools are available in Dominknow Flow mode. You can create content that is fully responsive to any screen size and add any interaction or animation, and dominKnow will take care of the rest with no changes required.
Translation and Localization
eLearning courses can be developed in multiple languages by simply importing the translated course file back into Dominknow. All textual material should be exported as an XML or Excel file. The files have been tested to function with common translation systems and to support languages written in the right-to-left direction.
You can choose from over 50 pre-loaded languages to automatically change system text and course interface for functions like tool tips and navigation when you clone a course.
Software Simulation
With a simple setting change, content developers can use simulations in a variety of ways which are given below:
Show me: step-by-step demonstration.
Guide me: user interactions, with hints as needed.
Try me: unstructured task exploration.
Practice Test
Scored Test
Since the lessons are HTML5-based and sensitive, they can be accessed on a desktop, laptop, or handheld device!
Powerful authoring modes
Flow Responsive Mode:
You can create a variety of responsive content while maintaining functionality and user experience. Flow doesn't simply reduce material; it adjusts it to every device automatically, resulting in responsive courses.
Easily get started with loads of templates and features to customize and create engaging and visually-stunning content.
Claro Course Elearning Authoring Tool:
Claro is Dominknow's original authoring tool for eLearning. Claro is a common alternative for conventional eLearning development. Claro courses are HTML5-based and scalable to fit any screen size. They also have responsive players for a better mobile learning experience.
Choose a template or convert existing PowerPoint files into eLearning courses that are both effective and engaging.
Publishing modes
Create SCORM and AICC compatible material and publish it with a single click to all SCORM and AICC versions. You may simply upload material to your LMS in one click with Dominknow PENS. Updates are straightforward and are provided to the LMS without the need to republish. The majority of workplace learning occurs through informal training on the job. Dominknow | ONE gives the freedom to provide any form of learning to your learners, on any device, whenever and wherever they need it.
Some of the publishing modes are:
LMS
SCORM
AICC
Web
Print
Desktop
LRS
xAPI
Mobile App
Accessibility
You can add additional supportive accessibility language for screen readers to read and activate or deactivate emphasis on each element for every item. Do all of this while you're writing your article. There's no need to open any other windows or pop-ups.
There are no special IDs required to allow Flash content since localized material that adheres to HTML5 standards automatically detects the course language.
Supports learners using assistive technology, allowing you to ensure that all users can get the most out of your material. Closed captions can be triggered on and off using action/button controls.
Performance Overview
DominKnow abilities:
Strong responsive design capabilities
Themes that are easily customisable
You can import content from PowerPoint
They have a wide range of "Actions" that give you flexibility in creating page types
Content translation and localization
DominKnow Weaknesses
The undo function is restricted. It would be fantastic if they had a way to reverse any changes made to the page.
The customizable theme settings are a bit restrictive
When using it, you must be connected to the internet at all time, just like any other entirely web-based product. If you need to work while traveling and don't have a consistent connection, this might be a problem.
When it comes to loading the page, I believe it might get better. Overall, it's a fantastic piece of software.
https://www.swiftelearningservices.com/wp-content/uploads/2021/07/DominKnow-ONE-Tool-Review-Features-and-Overview-eLearning-Authoring-Tool.jpg
397
705
Swift Elearning Services
https://www.swiftelearningservices.com/wp-content/uploads/2022/09/Swift-eLearning-Services-logo_220.png
Swift Elearning Services
2021-07-24 17:54:10
2022-01-04 11:03:44
DominKnow | ONE Tool – Review, Features and Overview – eLearning Authoring Tool