Create A Better Learning Experience by Converting PDFs into E-Learning Modules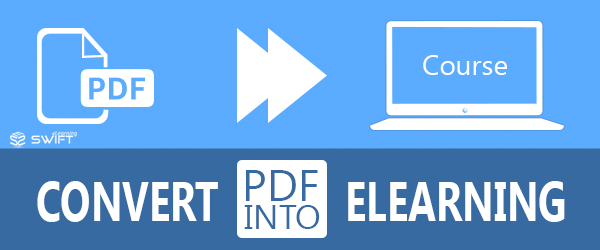 What do you know about PDFs? The first thing that comes in your mind is plenty of papers, lengthy written word documents, ultimately leading to boredom which cannot be resolved at any cost!! Thus to simplify this particular process it is better converting PDFs to E-learning modules. E-learning is a much easier and convenient way of learning as well as gaining extra knowledge with a quicker pace.
E-learning modules are the converted versions of PDFs, thus converting PDFs to E-learning wont haunt you everywhere and every time. PDFs have been considered while creating company documents, announcements, terms & conditions, policies newsletters training material, etc. Due to the evolution in the technological know-how, there is availability of E-learning courses as well as e-learning modules as such.
These E-learning modules and E-learning courses help all the users with a systematic and easier version of PDFs. With the help of converting PDFs to E-learning, enormous amount of growth structure is observed. Whereas one of the biggest myths surrounding the peripheral of E-learning is that it is simply information provider on the computer screen. But here, E-learning in today's time is much more than just information provider. It provides with all the necessary things possible which are not provided by any other source.
Now-a-days, lengthy PDFs cannot be considered as a part of E-learning courses and E-learning modules. Whereas, the existing PDFs can be converted into E-learning modules and E-learning courses with the help of following assessments:
Chunking Content: content chunking would be considered as the base for converting PFDs to E-learning. Large identifiable sections should be divided for the whole PDFs. Scrutinise each section to make it even smaller. When concerned with e-learning or even M-learning, small is also considered to be big. While at the time of list creation, don't go for more than two levels of indentation as such.
Designing the layout of the PDFs to be converted: The PDFs are usually not very appealing to your eyes. Thus, it is important to design it in such a manner that it would attract the readers and users. Even while designing it, keep the text adequately spaced and optimum to view. Possibly use different colour schemes for different kinds of topics and themes. For e.g., use the colour scheme of blue and black for e-learning modules for training whereas, black and red colour scheme for courses category as such.
Embedment of multimedia and interactivity: Addition of various multimedia options such as videos, images, labelled diagrams, etc. is equal to numerous words unless you add them in the correct place and at the right time. For difficult words and even weird terminologies, create mouse over events, as this will simplify the process in a better way.
Our Services: Rapid eLearning, Translation and Localization, eLearning Content Development
https://www.swiftelearningservices.com/wp-content/uploads/2022/09/Swift-eLearning-Services-logo_220.png
0
0
Swift Elearning Services
https://www.swiftelearningservices.com/wp-content/uploads/2022/09/Swift-eLearning-Services-logo_220.png
Swift Elearning Services
2015-06-23 17:19:47
2021-07-09 18:35:12
Create A Better Learning Experience by Converting PDFs into E-Learning Modules