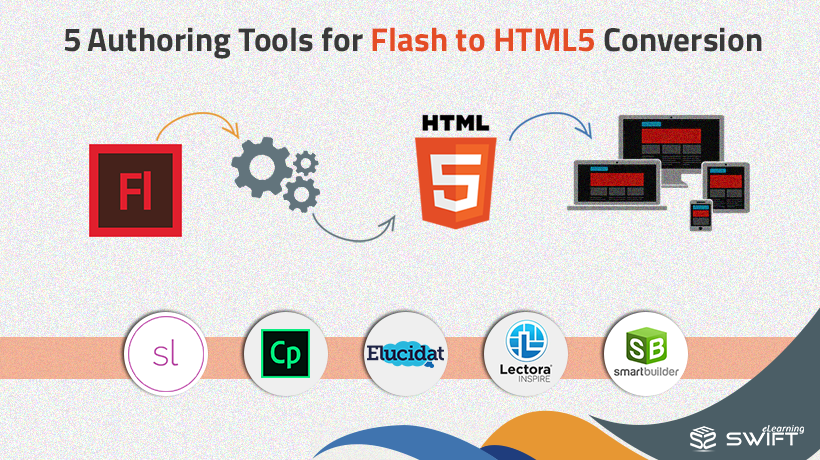 With the phased out and inconvenient legacy of Flash, organizations are wishing to facilitate the latest and versatile technique (HTML5) that can flawlessly meet compatibility issues and programmer needs while convert flash to html5.
This is a great boon that renders technology to go online without sweating or wastage of time. But a pertinent question is, how to streamline conversion efficiencies? And, this is where rapid authoring tools come to play.
Undoubtedly, Array of tools are available in the market, but choosing appropriate and sustainable tools that best meet one's needs is very challenging. Well, organizations should be very careful in the proper selection of tools that reminisce the functionality of eLearning courses. So, let's check out what the tools are-
Articulate Storyline 360

One of the latest, versatile, and responsive tool that offers:

Ease of customization
Easy learning curves,
The host of interactivities such as interactive sliders, royalty-free images, and icons, etc.,
Allow multiple developers to work on a single project and many more.

Articulate is a perfectly designed authoring tool that allows content looks great in terms of attraction, interaction, investment, and irrespective of devices to view the course.

Adobe Captivate


Adobe Captivate is an authoring tool with latest features that successfully complete conversion efficiencies in minimal steps. This tool offers flexibility, reliability, and also benefit html5 trackers to resolve problems that are encountered in the flash to html5 conversion of eLearning courses.

Lectora Inspire


Compared to other tools, Lectora is versatile enough to handle both the quality of simulation and heavy-text content irrespective of diversified device platforms. This is due to the presence of the Scroll bar option which accommodates more content on screens.

Also, this tool is capable enough to create content as simple as a quiz to more complex scenarios and provides a Switchable interface with which learners can opt for their preferred language. This is a unique feature of the Lectora tool.

Elucidat

Elucidat is a User-friendly and rapid authoring tool that hastens the eLearning process with highly engaging content including interactivities, templates, theme collection, etc.,

This tool enables the learner to create their own activities, interactions, and beginners can easily access, as no prior training is required when you use this tool.

Smart Builder

Smart Builder is one of the amazing tools that facilitate easy learning by converting complex content into simpler and productive forms. This tool offers flexibility, acceptability, compatibility, and allow to run across all browsers and mobile gadgets.
CONCLUSION:
Convert from Flash to HTML5 eLearning courses is to create mobile-friendly interactive learning content for global audiences. However, you can customize or update the course content to meet new learning requirements and improve the visual appeal of the course.