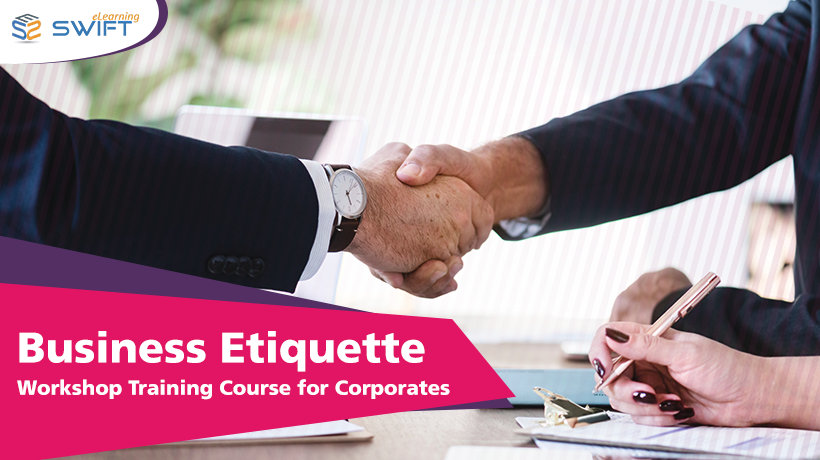 In every organization irrespective of the team size, we frequently hear about the word Business Etiquette. Though it may vary from country to country and/or region to region, some etiquettes will stand common irrespective of place and time.
So what is Business Etiquette exactly about?
Business Etiquette is the rules unwritten that you must follow in the organization so as to create an environment where your co-workers feel comfortable and secure.
What is the Importance of Business Etiquette?
To foster a good working environment by giving respect towards our sub-ordinates which builds healthy relationships within the company. As a result the productivity of teams and individuals increases which leads to the success of an organization.
What can you achieve with the Business Etiquette Training?
Nurturing Business Etiquette will create a positive work culture between one another and helps in behaving professionally with others in your profession. When you're well-mannered and considerate in dealing with others, you create engaging, productive, and long term business relationships.
What are the different types of Business Etiquettes?
Following Business Etiquettes tips, establish confidence in individuals that makes a good first impression. Meet and greet etiquette, table manners and meal etiquette, business email etiquette, workplace etiquette and telephone etiquette are some of the Business Etiquettes.
What are the effects of Business Etiquette Course?
Cheer up your colleagues when there is a chance. Creating a culture of applauding others for their performance will boost their confidence and they'll be more tending to work harder in the future. Hence people show up the best of their abilities in their work that leads to getting the tangible results in an organization.
It is as-important-as to learn not just the technical side of a business, but how to conduct one's self in the company of others. Here is a training program where it acts as a complete guide to Business Etiquette and provides guidelines for the practice of Business Etiquette across different situations.