Articulate Storyline 360 – How To Switch From Classic Player To Modern Player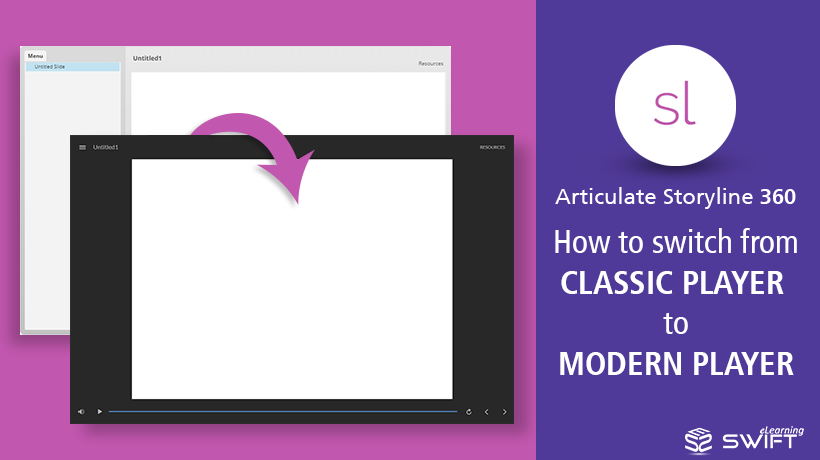 Articulate Storyline 360 introduced a modern player which can be customized as per your course needs with a modern look by adjusting the player theme, accent color, adjusting the font, etc. The modern player appearances same on all the devices.
By default, a project will continue in classic player until you switch it to the modern player. Though it gives you same experience in viewing the content, there could be some differences between a classic player and a modern player.
Let's look at some of the differences between both the players:
In a modern player, the top bar Tabs are on the right and the sidebar will be on the left and vice-versa. Whereas in classic player, the Tabs will be on both right and left side of the player.
| Modern player: | Classic Player: |
| --- | --- |
| | |
Individually, you can enable/disable the play/pause button and seekbar options in all new modern player since they are detached.
Let's see the steps to switch from classic player to the modern player:
Go to the Storyline ribbon and click on Home tab.
Then, click on Player option.
Next, from Player style drop down list, select Modern option.
Note: Similarly, to switch to classic player you need to follow the same steps and select the classic player.
How to Turn OFF Menus and Player controls
Follow these steps to enable or disable the navigation buttons in Modern player:
Go to the Storyline ribbon and click on home
Then, click on
Next select OFF option from Menus & Controls drop down-list.
| Standard Player: | Chromeless Player: |
| --- | --- |
| | |
In this way you can customize the player types in Articulate Storyline 360 to meet the learner needs and requirements.
We are just a step away to fulfill your eLearning requirements. For any queries on course-ware development please contact us at [email protected].
Our Services: eLearning Solutions Company, Convert PowerPoint to eLearning, Rapid Development Solutions
https://www.swiftelearningservices.com/wp-content/uploads/2022/09/Swift-eLearning-Services-logo_220.png
0
0
Swift Elearning Services
https://www.swiftelearningservices.com/wp-content/uploads/2022/09/Swift-eLearning-Services-logo_220.png
Swift Elearning Services
2018-08-02 16:51:32
2021-07-13 18:55:17
Articulate Storyline 360 – How To Switch From Classic Player To Modern Player