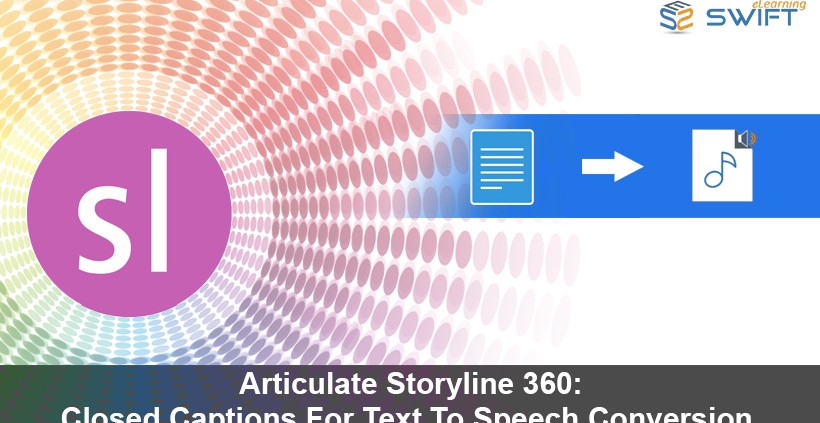 Articulate Storyline 360: Closed Captions for Text to Speech Conversion
Articulate storyline 360, a rapid e-learning tool come with enhanced features day-by-day to improve the learning experience of the learners and to ease work from development perspective.
Articulate Storyline 360 released a powerful feature which is, generating closed captions for text-to-speech conversion. Yes, you heard it right. Now the text to speech narration will generate subtitles to your course that automatically harmonizes with your text.
We have two methods to generate closed captions for text to speech narration. Let's look at them:
First method:
Go to the respective slide where you need to generate captions. In the slide's timeline, you can see text to speech audio track

Now, right click on the audio and select Text-to-speech from the menu.

A popup window "Insert text to speech" will open along with the script. In the same window you can see Generate Closed Captions box in the top right corner, Check this box and click on update button.

Second method:
You can add captions by using closed captions editor on the ribbon.

To do so, select the audio in the timeline and click on the options tab on the ribbon and then click on add captions.

Captions will be generated automatically in sync with your text to speech narration.

Now, click on save & close option on the ribbon.

We are just a step away to fulfill your eLearning needs. For any requirements on course-ware development please contact us at [email protected].
Our Services: Custom eLearning Course Development, eLearning Vendor, eLearning Solutions, Flash to HTML5 Conversion, Convert PowerPoint to elearning, Rapid Elearning Development, Translation and Localization
https://www.swiftelearningservices.com/wp-content/uploads/2019/04/Closed-Captions-For-Text-To-Speech-Conversion.jpg
460
820
Swift Elearning Services
https://www.swiftelearningservices.com/wp-content/uploads/2022/09/Swift-eLearning-Services-logo_220.png
Swift Elearning Services
2018-10-17 14:25:40
2022-02-01 15:36:09
Articulate Storyline 360: Closed Captions for Text to Speech Conversion