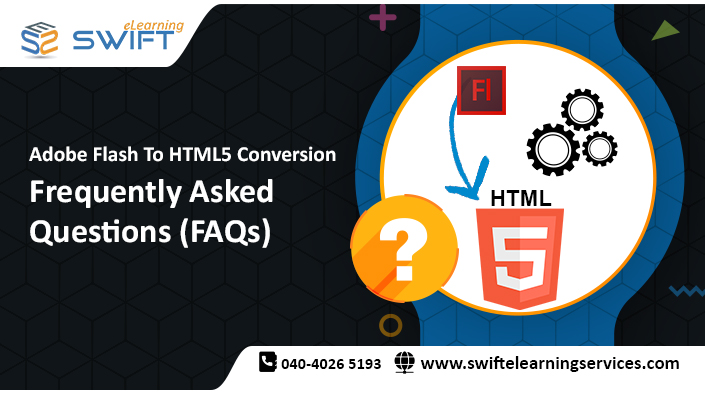 Adobe Flash To HTML5 Conversion – A Complete Guide With Frequently Asked Questions
In this article, we will see what clients generally expect from Adobe Flash To HTML5 Conversion courses and also discuss some simple solutions which help the clients meet their expectations.
During its golden era, Adobe Flash reigned in the eLearning industry helping content developers create great training courses with a wide range of interactive and animations. But, the usage of Flash has dwindled due to its inability to support the browsers and also due to the emergence of rapid authoring tools, which proved to be better alternatives for rapid content development. The final blow to Adobe Flash has come in the form of the advent of smartphones. Content developers and clients now want the courses to be played on these little gadgets, expecting to make online learning 'anywhere, on any device.

As a result, Adobe and other prominent browsers have withdrawn support to Adobe Flash player at the end of 2020. Content developers have identified HTML5 as the best alternative for the legacy Flash courses to be converted. HTML5 is a potent alternative web technology for eLearning courses to be played on multiple devices. HTML5 is lightweight and fast, and it takes less time to load the web pages. HTML5 doesn't require any additional browser plugins to be installed. So, many companies are converting the legacy Flash content to HTML5. Flash courses into HTML5 conversion is now rampant in the eLearning domain.
Now, these Flash to HTML5 conversion courses should be on par with other newly-built courses. They should meet the client's expectations – both in terms of quality and content. When we convert Flash courses to HTML5, the courses should align with the client's needs.
01. Is the content compatible with mobile services?
HTML5 is an open-source language and is compatible with many platforms. As it is not a proprietary product, it will last longer, supported by developers across the domain.
02. Do the courses play on all operating systems?
Flash to HTML5 converted courses will play on all the latest operating systems – ios, android, and windows.
03. What about the security of my online content?
HTML5 offers robust technology, compared to Flash. Flash with its plugins, would be vulnerable to online threats. HTML5 doesn't require any additional plugins to play the content.
04. Can it support device-independent learning?
Courses converted from Flash to HTML5 support all devices and browsers. Learners can use any type of device to access the training courses.
05. Can the courses be accessed offline?
Through a rapid authoring tool such as Lectora or Articulate Storyline, training courses can be viewed online as well. These authoring tools have the feature to publish the courses offline.
06. What sort of changes can be made in the content when we do the Flash to HTML5 conversion?
HTML5 supports various content changes taking place such as enhancing instructional design, changing graphics, and updating content as well.
07. Can we convert our lengthy courses into microlearning?
Microlearning is the trend of the day. The majority of learners today prefer relatively small learning units. Microlearning generally involves modifying the storyboard as well as design changes to such a level that the learning needs demand. When lengthy Flash courses are to be converted into HTML5, microlearning is the obvious choice, which is perfectly possible.
08. Are my courses Flash To HTML5 Conversion localization-friendly?
In fact, one rising global phenomenon in eLearning is localization. Learners across the globe – especially those who are using non-English as their medium of communication – love the idea of learning any course in their native language. There are various rapid authoring tools in the market, which can help in the translation and localization of these Flash to HTML5 converted courses.
09. I don't have Flash source files. Can I still convert my courses into HTML5?
Even if the Flash source files are not available, the course can be converted into HTML5 by screen-capturing the whole course while playing it. The recording will be saved as MP4 video output, which is HTML5 compatible.
This screen-capturing is a better way of conversion when there are not many significant interactivities or when only the basic concepts are taught in the course, which is self-explanatory. The other option is to use decompile software and extract all the assets from SWF. Using these assets, the course will be redeveloped from scratch using eLearning authoring tools.
10. We want to add some minor changes to the existing Flash courses. Is it possible through conversion?
When the requirement is to add only minor changes such as adding additional content and interactivities, it can be done. Interactive slides, hotspots, quizzes can be added to the existing content to improve the course quality.
11. One of our Flash courses was made way back. We like the content, but it needs revamping from scratch level. Can it be done?
Understandably, the content needs to be changed from the level of storyboarding. According to the storyboard updates, all the course slides can be redesigned afresh.
12. Some of our Flash courses were developed using an older version of an authoring tool. What can we do with them?
If you have the authoring tool source files, they can be re-published using the latest version of the authoring tool. That way, we can update the course content.
13. The media elements we have used in a Flash course are useful to us. Can we make use of them?
You can rebuild the course using a new authoring tool, where you can incorporate the media elements.
14. We have many Flash courses in store. But, we are a bit confused about which ones to convert and which ones to leave behind? How to handle this?
In fact, you have to use a thought pattern to handle this. First of all, check if all the existing adobe Flash courses are relevant for today. If no, then make a list of courses that need to be converted into HTML5. Then, update the status of each course – whether they have source files, whether they are a built-in older version of authoring tools, whether they need many modifications in the course or they need minor content edits. So, according to the status chart, you can come to a conclusion by taking an appropriate decision regarding the conversion to HTML5.

Looking for Flash to HTML5 Conversion? Contact us now.
Rapid eLearning Development, Convert PowerPoint to eLearning, Translation and Localization, Custom eLearning Development, Flash to HTML5 Conversion Services, Learning Management System
https://www.swiftelearningservices.com/wp-content/uploads/2021/05/Adobe-Flash-To-HTML5-Conversion-Frequently-asked-questions-FAQS.jpg
395
705
Swift Elearning Services
https://www.swiftelearningservices.com/wp-content/uploads/2022/09/Swift-eLearning-Services-logo_220.png
Swift Elearning Services
2021-05-21 01:37:11
2022-02-02 14:48:29
Adobe Flash To HTML5 Conversion – A Complete Guide With Frequently Asked Questions