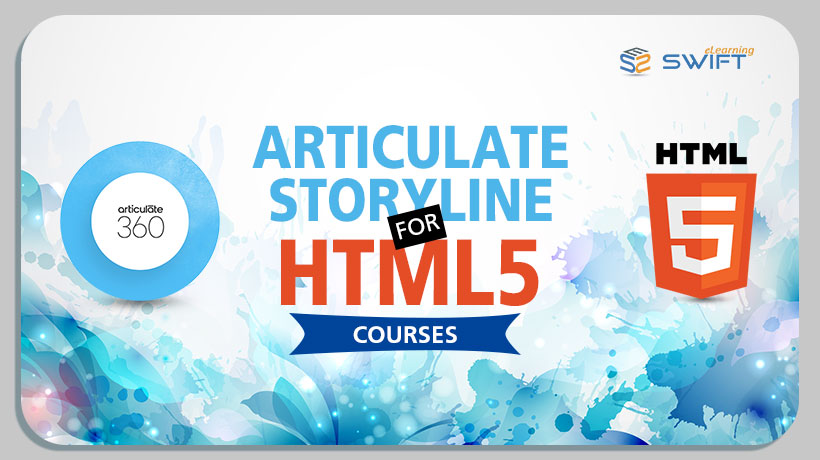 Organizations have made huge investments in Flash-based legacy courses. Until a few years ago, Flash was a prominent authoring tool; thanks to its ability to create an extensive range of animations and interactivities. However, with the end of Flash by 2020, organizations have realized that it is imperative to convert their Flash-based courses to HTML5. Since the present generation is inclined towards mobile learning and perform most of the activities on their mobile devices, it has become necessary to re-purpose the legacy courses such that they become compatible with mobile devices.
Converting legacy courses to HTML5 necessitates the selection of an appropriate authoring tool. There are various authoring tools such as Articulate Storyline, Adobe Captivate, Lectora, Elucidat, etc., which make the Flash to HTML5 conversion process possible.
Articulate Storyline is one of the powerful standalone authoring tools which helps in creating engaging interactive courses. Articulate Storyline delivers cross-platform and cross-format content including HTML5, Flash, and loads of other up-to-date technologies. Storyline comprises features such as screen-casting, triggers, and slide layers which facilitate the user in designing different types of interactions with ease. Here is a list of features that make Articulate Storyline undoubtedly one of the best when it comes to Flash to HTML5 conversion.
Compatible with all devices
The responsive player feature of Articulate Storyline offers users with the best viewing opportunity across all devices of varying properties and screen sizes such as smartphones, desktops, iPads, and tablets. Therefore, when you convert Flash to HTML5 using Articulate Storyline, a single course can be published into multiple devices, saving cost and time.
Customization
There are many ready-to-use templates available within Articulate Storyline that can be used or modified to create effective learning materials and speed up the overall conversion process. These in-built templates come with 'triggers' and 'variables' that enable users to create Flash-like interactivities like slider, dials, drop buttons, etc.
Visually Stunning Animations
Articulate Storyline has a special feature called 'Motion Path' which aids in developing animations easily. Thus, while converting Flash to HTML5 using Articulate Storyline, there is no worry about losing amazing animations within the Flash courses.
Seamless Translations
Course content can be effortlessly exported using Articulate Storyline. When a course is created in English, it can be speedily exported to Word or XML for translation purposes. Moreover, Articulate Storyline supports the translation of Double-Byte Character Set (DBCS) and right-to-left languages. Also, the translated content can be swiftly imported back into Articulate Storyline for publishing into different devices.
Thus with changes in technology and shift of training industry towards multi-device compatibility, Articulate Storyline is one of the cost-effective and best authoring tool that can fit all conversion needs and course requirements.