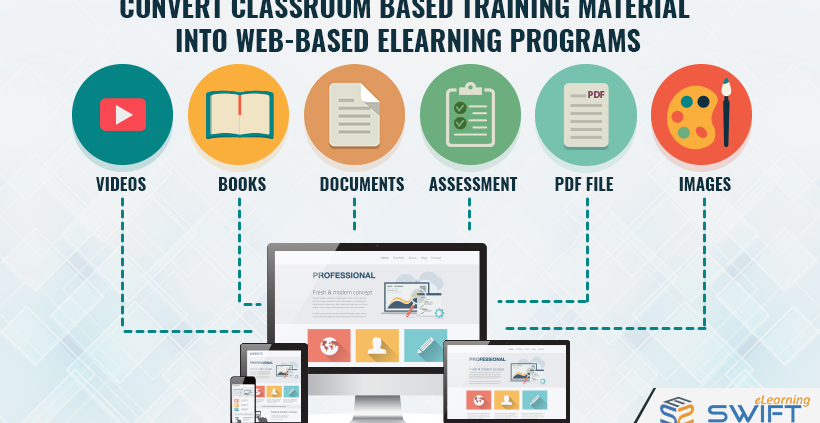 Rapid eLearning Approach to Convert University Courses into Web-Based eLearning Programs
An Australian University transforms Optometry Supplementary Material into Interactive Elearning
Highlights
Long list of PowerPoint presentations are converted into eLearning modules
Consistent instructional design approach is adopted to enhance learning impact and reduce cost
Detail-oriented science education is simplified using creative interactions and relevant media elements
The eLearning authoring tool chosen for this project – Articulate Storyline 2
Requirement Profile
One of the top 30 universities of Australia tasked Swift (an eLearning solutions provider from India) with the challenge of converting their large number of Vision Science – Optometry material into engaging online learning modules.
In regular practice, the training materials were supplied to students besides their classroom education as reference material. It includes PDFs, charts, videos, etc. University identified a need to integrate all the related materials into one learning package and deliver them through their own LMS (learning management system). The idea was to develop engaging eLearning modules for each topic. This will enable them to keep track of student learning and improve students' academic performance.
University also wanted these eLearning modules to be accessed from multiple devices such as smartphones, laptops, tablet along with PCs – a requirement of mLearning.
Proposed Solution
As the learner group shared similar features and the content type was closely related to one single concept i.e. Optometry; a proven Rapid eLearning model was proposed to create long list of eLearning courses in less time keeping it cost effective.
We used template-based approach (rapid eLearning templates) for different types of slides such as,
Interactive slides
Text and image slides
Animation slides
Infographic layouts
Assessment slides
Effective instructional design strategies for elearning are used to deliver engaging and simplified learning experience for University learners. Each eLearning course will demonstrate consistent visual as well as interaction design to reduce confusions and improve focus on the learning content. Our mobile learning experts took care of HTML5 output so that the courses can be viewed through multiple devices.
Business Impact
This digital learning initiative/online training program was a success. University transformed its large number of unorganized learning material into engaging eLearning modules. The developed modules were easily uploaded onto the University LMS and delivered throughout the University jurisdiction.
The Rapid eLearning model (an eLearning development process) enabled us to deploy more number of storyboard developers equipped with well-prepared list of eTemplates and standard guidelines. Our eLearning project management approach along with sound instructional design strategies helped us deliver the SCORM-compliant eLearning courses on time and with-in budget.
We, as one of the top eLearning vendor, consider this as the best Rapid eLearning case study for universities to convert their offline additional learning material into custom or rapid eLearning.
Examples

Our Services: Flash to HTML5 Conversion, Rapid eLearning, Custom eLearning Solutions
https://www.swiftelearningservices.com/wp-content/uploads/2017/03/Univercity-to-elearning.png
460
820
Abdul Wahab
https://www.swiftelearningservices.com/wp-content/uploads/2022/09/Swift-eLearning-Services-logo_220.png
Abdul Wahab
2017-03-01 10:10:51
2022-08-18 19:53:52
Rapid eLearning Approach to Convert University Courses into Web-Based eLearning Programs