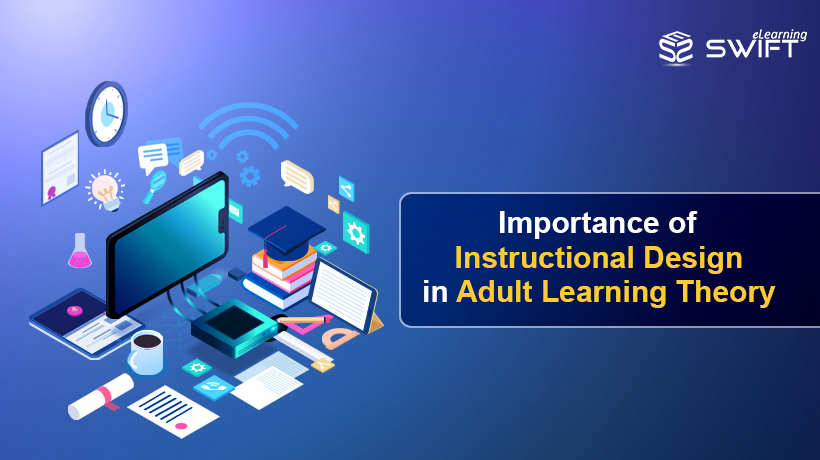 There is no specific area that defines the instructional design. It's an outstanding technique that makes big difference in audience lives by creating courses that motivate, inspire, and streamline the learning process.
With the paradigm shift to learning level, Instructional design has synthesized neurological facts and realities of adult-learning which hit the mark every time in its effectiveness. However, eLearning courses prove best with user-comfort zone, but here is the challenge due to different nature of audience.
As an instructional designer, one must invoke in understanding the curriculum of learner, because, here learners are adults with previous knowledge and fixed goals. Due to hectic environment and stressed-out folks, eLearning has revolutionized the adult learning by facilitating with trouble-free and facile courses.
In this article you will understand,
What is adult learning theory and the principle involved in it.
The role of Instructional designer in creating adult-learning course.
What is adult-learning theory?
Adult-learning also termed as andragogy, which is comparatively equivalent to pedagogy (child-learning).
It is the specialized art of effective learning, designs, instructions, deliver for adults to streamline the learning process that help them meet their needs and achieve their goals.
This theory focuses on collection of learning material along with development, implementation, and execution of course to facilitate the adult learning experience. The best part of andragogy is, learner needs to know why they are learning – to meet their needs, achieve their goals, be relevant and organized.
Principles Involved in Adult-learning theory:
The concept of andragogy was established by Malcolm Knowles in 1980. Knowles typically sketch the principles of andragogy based on characteristics of adult experience and needs. They are:
Learner's self- concept
Learners are more convenient when they are self-directed. As maturity increases, they are likely want to be independent rather than dependent personality.
Adult learners needs to be self-authorized to make their own decisions, find their own way, manage the life situation, and this is where they get motivated and self-directed.

Learner experience and knowledge
No doubt, adult learners are well-experienced with diverse knowledge that greatly aid the learning process. They should be provided with an opportunity to make use of their learning experience which improves their job status and even stubborn themselves.
Problem-solver and task-centered
Being adult learner they are keen in problem-solving as they are managing life situations. They can be best problem solver, only when they are offered with an opportunity to handle the task.
Motivation
Adult learners are motivated by two factors- extrinsic factor i.e., job satisfaction, promotion, etc., and Intrinsic factors- better quality of life, self-esteem, etc. These factors can either make or break the personal and professional life based on their usage.
Our thought provokes adult learning is much easier compare to child-learning, but it is really so? Absolutely not.
Adult-learning is not one-size-fits-all, rather it consider multiple techniques (Flexibility, Scalability, Consistency, etc.,) to engage adult learners with the course. These instructional design strategies have greatly followed by instructional designers to meet audience needs and impart them with best of their requirements. Therefore instructional designers play excellent role in adult-learning theory.
Role of Instructional designer in defining the course

Instructional designer is the one who is responsible for effective learning experiences for adult corporate learner.
Most of us are familiar with the ADDIE model of instructional design which curate all the disparate parts of instructional design into one knowledge center to develop sophisticated learning courses.
Similarly, Adult learning theory is a combination of different theories where all of them have one definite goal to streamline adult learning process-(Andragogy, experiential learning, transformational learning, self-directed learning, Neuroscience).
Instructional design and Instructional designer are integral and crucial part of eLearning in creating eLearning experiences that learners want to have.