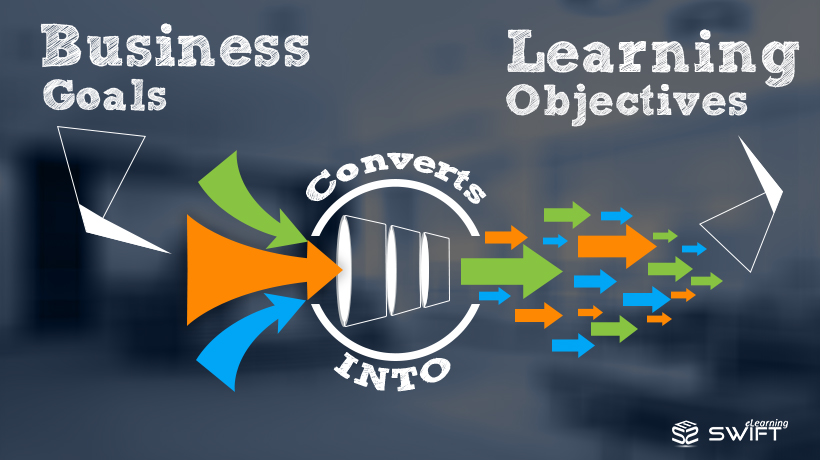 Every business will have their own goals to achieve and they make every possible effort to accomplish these goals effectively and efficiently. A very common goal that we find in most of the product/ service based companies is, providing an effective on-job training to up skill the staff. The best approach to meet the training goal is to establish direct connection between business goals and training.
In this blog we will discuss how we can connect business goals with training outcomes i.e. learning objectives?
Organizations should adopt a Top-down approach to reap maximum benefits out of their training efforts. The business goals should guide to define the skill sets and knowledge it requires in workforce.
But this transition is not simple as it appears to be. Generally, the business goals are defined in broader perspective and in different parameters – something which are defined in terms of monetary, market-share, technological advancements. These are quite different than an individual's achievements as training outcomes.
This means,
"The broader organizational goals should be converted into learnable as well as measurable individual achievements – in terms of specific knowledge and skill sets that enable an individual (a human resource) to achieve broader goals of an organization"
Turn Business Goals into Learning Objectives
Learning and Development (L & D) professionals or Instructional Designers are responsible to align aims of learning with business needs.
Step 1 – Analysis: Analyze the business needs and workforce current capabilities
The business goals may not be described in measurable terms, but they must be put-in using plain and specific terminology that describes those best.
Sample business goal areas are as follows:
Increasing market share to ____% in 6 months
Lowering production cost to ___% in 12 months
Increase marketing team to ____ numbers in 3 months
Improve customer service with not more than 10% of tolerance in failing to fix complaints on-time
Against to these business goals, check the current capabilities of the corresponding workforce. This is to identify the gap between what is the current competency and what is required to meet these goals. List down all the gaps in accordance with their priority to meet respective business goals.
Step 2 – Define: Break broader business goals into specific and measurable learning objectives
Define all the gaps using specific and measurable terms such as Bloom's verbs. Each gap may require multiple skills and knowledge areas, so list down the learning objectives as many as required to achieve business goals fully and effectively.
For example,
Business Goal: Improve customer service with not more than 10% of tolerance in failing to fix complaints on-time
Identified Gaps:
Customer care executives are not completely aware of the product features that company sells.
Customer care executives are not able to describe product features as mentioned in product manuals.
Learning Objectives:
List the product features as they are in the user manual supplied with the product.
Explain features using the terminology used in corresponding product technical manuals.
Conclusion
In step 2, you must have noticed how the business goal is transformed into learning objectives. The effectiveness of these transformation lies on the ability of L & D professional. After we develop learning objectives, we need to evaluate them; and the best approach is to develop sample content for each objective and check whether it is relevant in achieving the corresponding business goals.
Swift eLearning Services Pvt. Ltd. is one of the best eLearning companies in India helping organizations achieve their business endeavors using our custom eLearning solutions for workforce training.
Our Services: Custom eLearning Course Development, eLearning Vendor, eLearning Solutions
https://www.swiftelearningservices.com/wp-content/uploads/2015/01/logo_220.png
0
0
Abdul Wahab
https://www.swiftelearningservices.com/wp-content/uploads/2015/01/logo_220.png
Abdul Wahab
2017-06-13 16:03:07
2021-07-12 19:23:51
How to turn the staff training to contribute in the goals of an organization?