ELearning will Boost Up Return on Investment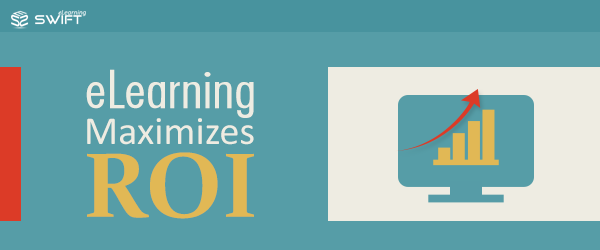 E-Learning Maximizes ROI
Generating maximum possible 'Return on Investment (ROI)' will be one of the principal objectives of all organizations. For achieving this, the best viable method is to keep the workforce engaged and contented. 'Investing in HR' has already become a regular organizational strategy of all modern companies. A positive work culture within the organization will inspire the employees and this will pave the way for the growth of the company. Besides, proper and professional job training will make the staff capable and equipped. Initiating operational Elearning programs that can be shared across a broad spectrum of workforce is a right way of doing this. E-Learning maximizes ROI and when compared with the conventional classroom coaching, the process is also cheap to run.
Benefits of ELearning Programs
ELearning Courses are Adaptable: Adaptability is a notable trait of ELearning programs. Participants can access the course contents whenever they require the same; they can have it while traveling and during working hours.
Boosts up Client Contentment: As ELearning programs open up the leeway for gaining 'work site' learning and training, the workforce will become more skilled in their respective trades. Moreover, because of the advent of diverse mobile training platforms, this is an easy task these days. When the employees become more proficient, customers will get excellent service and this will result in client retention. Very rightly it can be said that ELearning maximizes ROI.
Enhances Employee Satisfaction – Organizations are Benefited: When employees are provided with quality ELearning resources and the related 'on-site' training programs, their job proficiency gets increased, and this will be beneficial to the organizations concerned. Employees will wholeheartedly welcome such creative and constructive career development courses. Companies will appreciate the positive results that come to pass due to the productivity augmentation of the employees. This in turn will increase employees' fidelity. Consequently, employee retention level will get improved, and companies can cut back new recruitments and rein in unnecessary expenditure.
Prevent the Loss of Time and Money: There will not be any needless loss of working hours and money, because, the participants can avoid traveling to learning or training centers. ELearning resources can be utilized at the job site and learning is possible even during traveling hours. Thus companies can avert the probability of work loss.
Programs Can Be Customized: Customization to match with modern requirements is quite difficult in the customary classroom learning process; but it is easy in ELearning methods. This will be beneficial to both the employees and the employers.
Better than Classroom Learning: Pragmatically, ELearning courses are far better than the traditional classroom learning methods and are more result oriented. The latter one may become dull after some time, but ELearning courses will keep the participants engaged.
Economical Benefit: The rise of rapid authoring tools and the easy availability of diverse platforms such as smart phones and tabs have made ELearning process inexpensive and popular.
Do you want to maximize your online training ROI? Curious, how we could help your organization reach its business goals? Talk to us to discuss your elearning needs, and to find out the range of options our experts can offer.
Meanwhile, have a look at our eLearning showcase courses. Click the below button to access our eLearning portfolio.

Our Services: Translation Service Providers, eLearning Development, Convert Flash to HTML5
https://www.swiftelearningservices.com/wp-content/uploads/2022/09/Swift-eLearning-Services-logo_220.png
0
0
Swift Elearning Services
https://www.swiftelearningservices.com/wp-content/uploads/2022/09/Swift-eLearning-Services-logo_220.png
Swift Elearning Services
2015-06-03 17:13:34
2022-08-18 19:57:52
ELearning will Boost Up Return on Investment