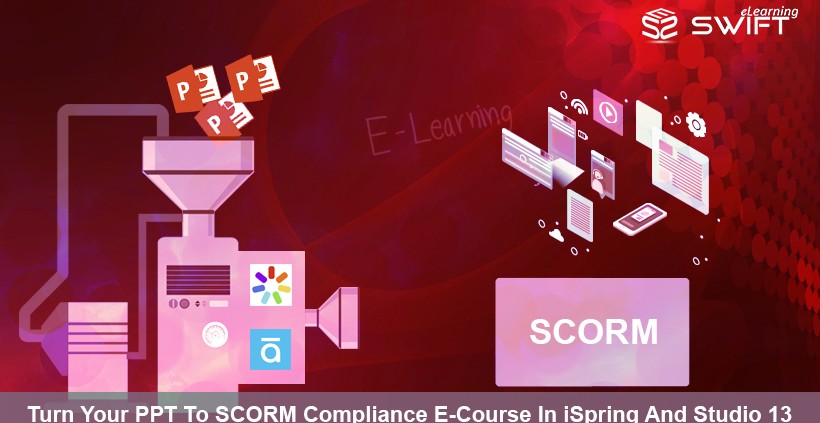 Convert PPT Presentation Into a SCORM Course With iSpring and Studio 13
iSpring suite 9 and Studio'13 converts PowerPoint presentation into an effective eLearning course with all PowerPoint effects and animations perfectly preserved. All you need to do is prepare a presentation in PowerPoint, apply the animations, interactions, effects, etc. and convert it as a SCORM course.
Let's see the steps to convert a presentation into an elearning course with iSpring.
Download a free trail of fully functional iSpring suite from iSpring website.

Then, open the PowerPoint presentation and select iSpring Suite option on the toolbar.

Then, click on Publish

Next, click on LMS option in the left side panel to upload your course on a third party LMS.

Then click on customize

You can customize the course by adding relevant Lesson title, Description and Keywords that help the learners to find your course faster.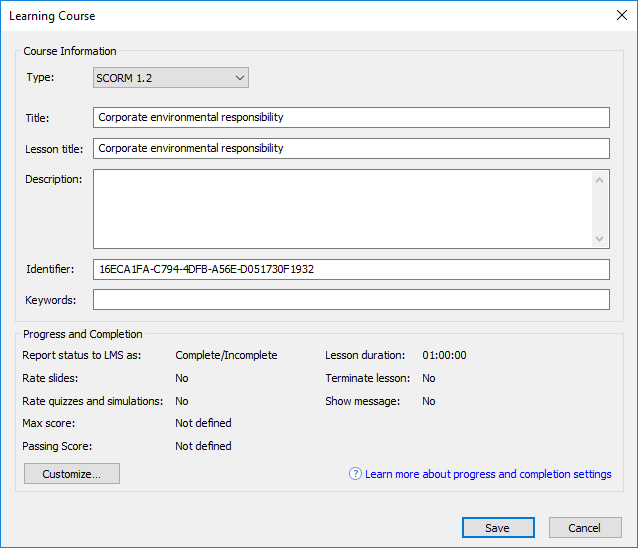 Then, click on Customize option under "Progress and Completion" section to set up the course progress and completion rules.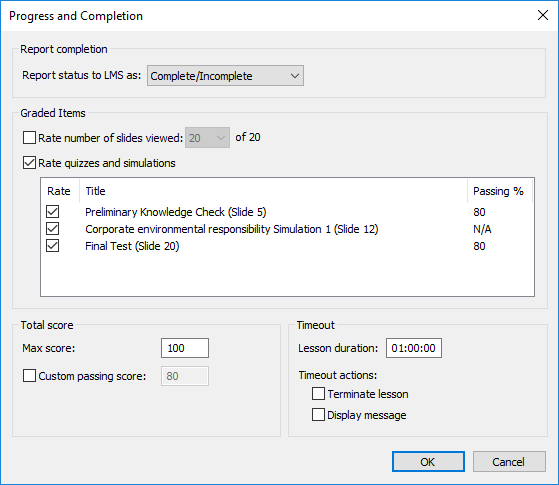 Click OK to save the changes.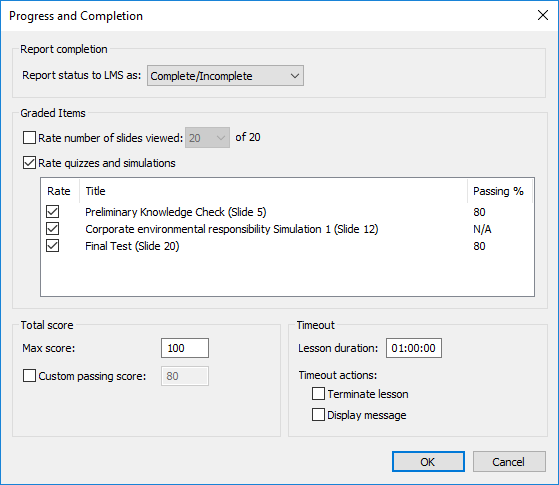 Finally, click on Publish to convert your presentation as SCORM compliance eLearning course.

Now, let's look at the steps to convert your presentation into an eLearning course with Studio 360.
Open the PowerPoint to convert into SCORM course.

Click on the Articulate on the toolbar.

Then click on Publish icon under the Articulate tab.

Next, click on the LMS option in the left side panel.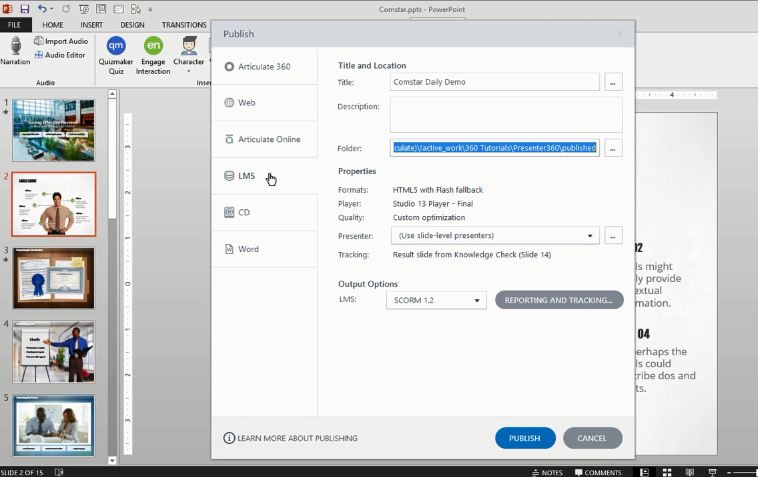 Then, select the LMS Output Option that your LMS supports.

You can click on Reporting and Tracking option to set up the course tracking and completion rules and then click on Publish

Therefore, with these tools you can convert your PowerPoint presentation into SCORM course seamlessly by preserving all your animations, triggers, simulations, etc.
Our Services: eLearning Solutions Company, Rapid Development Solutions, Custom eLearning Services
https://www.swiftelearningservices.com/wp-content/uploads/2019/02/Turn-Your-PPT-To-SCORM-Compliance.jpg
460
820
Swift Elearning Services
https://www.swiftelearningservices.com/wp-content/uploads/2022/09/Swift-eLearning-Services-logo_220.png
Swift Elearning Services
2018-10-24 17:11:30
2022-08-16 15:03:48
Convert PPT Presentation Into a SCORM Course With iSpring and Studio 13