5 Common Mistakes to Avoid While Selecting a Learning Management System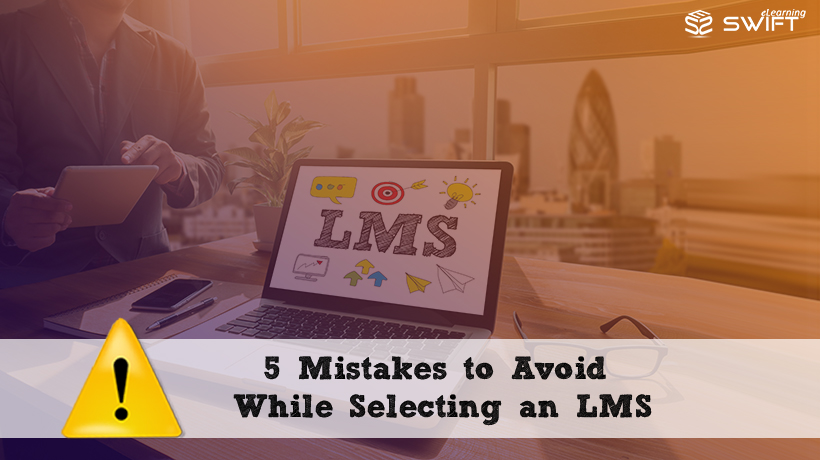 Learning management system software is surely one of the important and expensive tools in the entire online training. Choosing the right Learning Management System (LMS) can be a crucial aspect to efficiently manage your corporate training. But With over 700+ LMS vendors available in the market promoting their product, your chances of ending up choosing an inappropriate product becomes certain. You might end up committing these common mistakes in the process of selecting selecting an LMS.
In this blog, we will review the mistakes which should be avoided.
Do the Features Match your Training Requirements?
Your first step should be identifying the key training requirements and ensuring the LMS has those must-have features you are looking for.
 Many organizations only look for the range of features provided by LMS instead of focusing on the must-have features that serve the purpose. Having the unwanted features could sometimes even confuse and frustrate your users. This increases the unnecessary complexity which means more training and more difficulty in using the LMS.  Eventually, you might end up paying for the features you don't need. So, it is very important to list down all the essential features aligned to the organizational needs.
Not Asking for a Live Demonstration or a Trial Period
You take a test drive before you choose your favorite car, isn't it? Similarly, while choosing an LMS never hesitate to ask the LMS vendor for a live demo or a trial period as it allows you to see the LMS in action. Only after a certain time of using it live you will come to know about how LMS aligns with your requirements like usability and scalability. Going for an LMS vendor who is unwilling to provide a live demo or a trial period should be ruled out immediately.
You Don't Check the Scalability
Many organizations tend to overlook the scalability of LMS. This mistake can add to your ache as it stands critical to have a future forecast over something that is a being invested for a long term success. Ask your potential vendors how willing are they to discuss new features and their vision for the future of the product. The best LMS vendors open up and share their future ideas and gather feedback from users.
What are the Additional Costs for Updates and Features?
 Cost plays a vital role in purchasing an LMS. Many organizations assume LMS as one-time investment and that certainly isn't the case. Monthly and yearly updating cost, maintenance, customization, etc., are additional costs that could increase the price of your original document by a quarter. As such, you must have a clear idea of how much the LMS platform costs now and in the long run. Avoid this mistake; otherwise the ROI can drop down eventually.
How Intuitive is the Interface to Use?
 The user interface is the most important thing to consider when you choose an LMS. User interface sets the early impression which could decide the future of product. If the user interface isn't intuitive and easy, user may end up with a negative impression.
Final Thoughts
Before finalizing an LMS platform, make sure you are clear about your organizations current and future training strategies. Check all the above factors like cost, requirements, scalability and never forget to ask for a trial period. The list of mistakes can never be meticulous as we are bound to make mistakes, but the above mentioned tips help you minimize the risk in purchasing an LMS.
Swift provides a comprehensive learning management system which allows businesses, individuals Educators and Trainers to CREATE, MANAGE and SELL their online training courses at convenience.
Our intuitive learning platform uses a carefully crafted and adaptable approach, making it more customizable, reliable, secure and easy-to-use LMS to meet your unique learning needs.
Click here to experience the agile and smart LMS.

https://www.swiftelearningservices.com/wp-content/uploads/2022/09/Swift-eLearning-Services-logo_220.png
0
0
Sairam Chawhan
https://www.swiftelearningservices.com/wp-content/uploads/2022/09/Swift-eLearning-Services-logo_220.png
Sairam Chawhan
2017-04-26 15:33:23
2022-08-18 19:48:55
5 Common Mistakes to Avoid While Selecting a Learning Management System