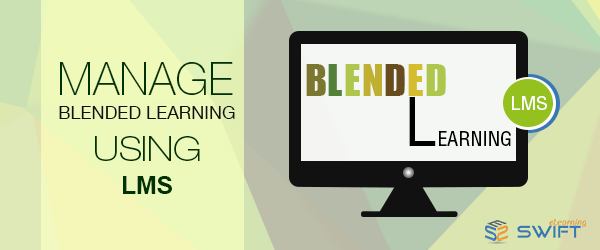 Our classrooms are expanding beyond the four walls. Learners and trainers are now looking for more avenues beyond the existing classroom training and eLearning methods. Blended learning is the new way to go. Blended learning is the type of learning method where we combine both virtual training and classroom training and design a highly effective and practical learning experience. A well designed and implemented blended learning course can help you in setting and achieving high learning goals.
There are many eLearning platforms that help learners and trainers to blend various learning methods. E-learning platforms such as Learning Management System (LMS) comes with different tools and widgets that help in accomplishing different tasks. It helps you bring both live classroom learning and virtual learning into a unique integrated environment. LMS as an eLearning platform helps you organise all kinds of learning activities effectively. They also help in organizing classroom training sessions and also store and analyse all training data. E-learning platform not only helps in managing the learning content, but also helps in proper documentation of the whole learning programme.
Here are the features of an eLearning platform.
Uploading Content: It provides you with tools to upload content
Classifying and Sharing the data: It helps you classify and share the data with different user groups
Creating Course Catalogues: You can create course catalogues and learning plans
Managing Training Activities: eLearning platform such as LMS helps you in managing the training activities
Planning & Scheduling: Planning and scheduling of the training programme has never been so easy with the help of these tools
Tracking: eLearning platform also tracks both, user and training data and helps companies with compliance requirements
Whatever be the learning plan that you have designed under the blended learning program, eLearning platform tools and features will help you in simplifying and streamlining the whole training process. The user database helps you create groups of learners and assign the role of teachers to specific individuals. The notification helps you promote your courses, share relevant documents and logistics, and send invites. For a 100% face to face training session, you can set out a calendar for the event, define a location for every session to be conducted, and also assign tools or equipment for the classes. Generating the training certificates and checking attendance are other added features. All this information is stored in a database, making it easily accessible. A single management tool helps you plan, organize, deliver, and even track all your learner's activities for the blended learning process.
Blended learning helps you utilise the full power of LMS. Your training strategies get uplift, and become more effective and easily manageable. Using all the features above, it is much easier to set and achieve high learning goals for your blended learning plan.